Edvinsson quick adjustment is a dream-come-true for the Red Wings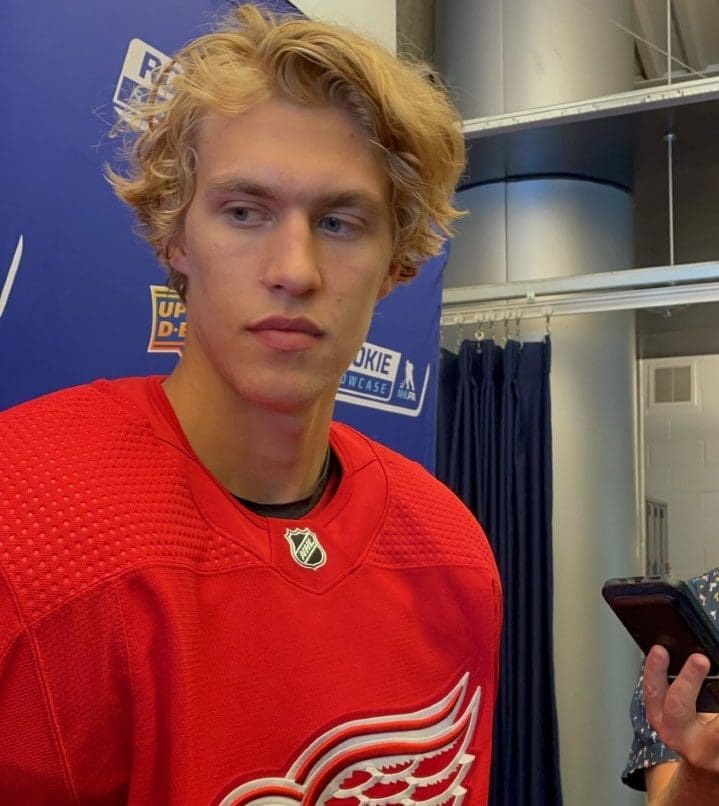 Detroit Red Wings Swedish prospect Simon Edvinsson is adjusting so quickly to life in North America that he says he has already started dreaming in English.
Edvinsson said he couldn't explain what his dream was about.
It would be a dream-come-true for the Red Wings if Edvinsson showed he's ready to play in the NHL on opening night. That's 21 days away. Everyone seems to be trying to encourage, maybe even push, 19-year-old Edvinsson to go all in to make the Detroit roster.
"(Coaches) put expectations on me," Edvinsson said. "I feel like they communicate good with me. They want me to be better every day."
Edvinsson is heeding the advice that Yzerman gave him."He said play your game of hockey," Edvinsson said. "That's why you're here. Listen to the guys who have been in the league and try to learn from them. That's what I've done. I've worked hard,"
Looked to me like Simon Edvinsson was skating with Lindstrom today to open camp. Seider with Chiarot. Hronek and Määttä.

— Max Bultman (@m_bultman) September 22, 2022
As a Swede, Edvinsson has grown up on the wider European playing surface There's less room to skate on an NHL rink and less time to make plays. Fellow Swedes Nicklas Lidstrom and Niklas Kronwall, now both working under Yzerman, have warned Edvinsson the adjustment to the ice and the league is challenging.
"They said I played good but I don't think I played that good," Edvinsson said. "I feel like I have higher expectations on myself. We talked a lot about this training camp and how to play in different kind of areas."
Using His Size
The 6-foot-6 Edvinsson said the area he needs to work on is being harder on the puck, and being harder to play against.
"Guys are on me, (captain Dylan) Larkin especially, to be harder, win my one on ones," Edvinsson said. "I have a pretty big body, pretty long reach. In Sweden you kind of time everything there. It's different kind of one on one duels along the boards. Here you need to be more aggressive and that's what I really need to be better on. If I work on that and feel comfortable with that the game is going to step up and I'll build my confidence from that. I'm a D-man and I want to be good on both sides, good on everything."
What stood out about Moritz Seider as a rookie last season was his toughness. He backed down from no one. Edvinsson has the size to do that as well. Does he have the commitment to do that? If he can come close to matching the instant impact that Seider showed, the Red Wings' rebuild will be accelerated.
Edvinsson has been watching Seider with the hope of emulating his impact.
"He's playing the kind of hard game that I want to develop," Edvinsson said. "I try to see the practices when he's on, how he plays. We have a different kind of play style but a lot of things that he does I can do as well, to play hard and play the puck."
Shutdown defenseman Ben Chiarot has taken Edvinsson under his wing, and Olli Maatta is giving Edvinsson advice. Gustav Lindstrom has also been helping with some of the team's defensive strategy.
Mini-golf Tour?
But it hasn't been all work and no play for Edvinsson. He went fishing with some teammates. "But we didn't get many," he said, "so that wasn't the best thing."
SIGNUP BONUS
UP TO $250


BONUS MONEY
BET NOW
He had a better result playing miniature golf with the Red Wings' Swedish contingent.
"I won that so that was the best thing here," he said, clearly having some fun. "I would say i'm the best mini golf player here."
But he didn't come to America to play on the miniature golf tour. He has made it clear that his objective is to win a spot on Detroit's roster over the next three weeks. Even though he is only 19, it would still be disappointing if he ends up in the American Hockey League, only because the fan base needs another layer of fun this season.
Edvinsson is trying to be realistic. He said it would be understandable if he must spend time in Grand Rapids. Historically, it takes longer for defensemen to develop. He said it's up to him to get it done. No one else.
"If I don't make a spot, I need to be better and earn my spot on the Red Wings roster," Edvinsson said. "It's just up to me. It's not up to anyone else."