The Breakdown: Simon Edvinsson Shows His Potential in Red Wings' Loss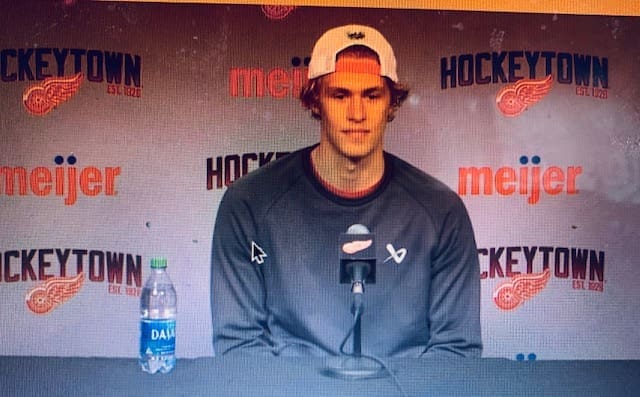 DETROIT- When new Detroit Red Wings coach Derek Lalonde watched rookie Simon Edvinsson play his first NHL preseason game it was as if he was watching the colt and envisioning the Thoroughbred.
"You can see where the ceiling is and it's pretty exciting," Lalonde said after the Red Wings lost 4-2 to the Chicago Blackhawks.
Edvinsson played 22:36, and posted one assist, two hits and one blocked shot.  He posted two shots on goal and was +1. He took a couple of penalties. Edvinsson played both power play and penalty kill.
"I thought he played an excellent first period," Lalonde said. "…his game probably tired a bit in the second and third."
Edvinsson is 19. Lalonde said he wouldn't have played him that much in a regular-season game.
What Lalonde liked best is that he showed improvement from his effort in the Red and White Intrasquad game. "He did some things tonight that were pretty darn good," he said.
The Red Wings are planning to play Edvinsson in several preseason games to make sure they have a clear picture of where his game is at. The Red Wings want to give him every chance to make the team. They want him to play fast, but simple.
Lalonde said the next step for Edvinsson is consistency. "See three periods of that (first period)," Lalonde said.
Facts and Observations
Moritz Seider and Ben Chiarot were defensive partners in this game. They were on the ice together in the sloppy opening seconds of the game when Dylan Sikura scored to give Chicago a 1-0 lead. It was like flashback to last season when too many games started like that.
Defenseman Jeremie Biakabutuka made his NHL preseason debut. He was on the ice for Chicago's second goal. He's the nephew of former University of Michigan and NFL running back Tim Biakabutuka.
Elmer Soderblom set-up Adam Erne's first goal for an assist. He has two preseason points in two games.  Elmer's brother, Arvid, was in net for the Blackhawks.
 Strong performance by Erne who had a pair of goals in the game. He only six last season, down from the 11 he scored the previous season. With all of the offseason changes, Erne has been a forgotten player. He did lead the Red Wings with 161 hits last season. "He had a good camp," Lalonde said.
This is such an odd training camp for the veteran players. GM Steve Yzerman brought several new players and the team has a new coach. It's like starting over for the veterans. "The first day I came in I didn't know half the guys," Pius Suter joked.