Givani Smith Making Presence Known For Red Wings
Givani Smith fighting to maintain place on Red Wings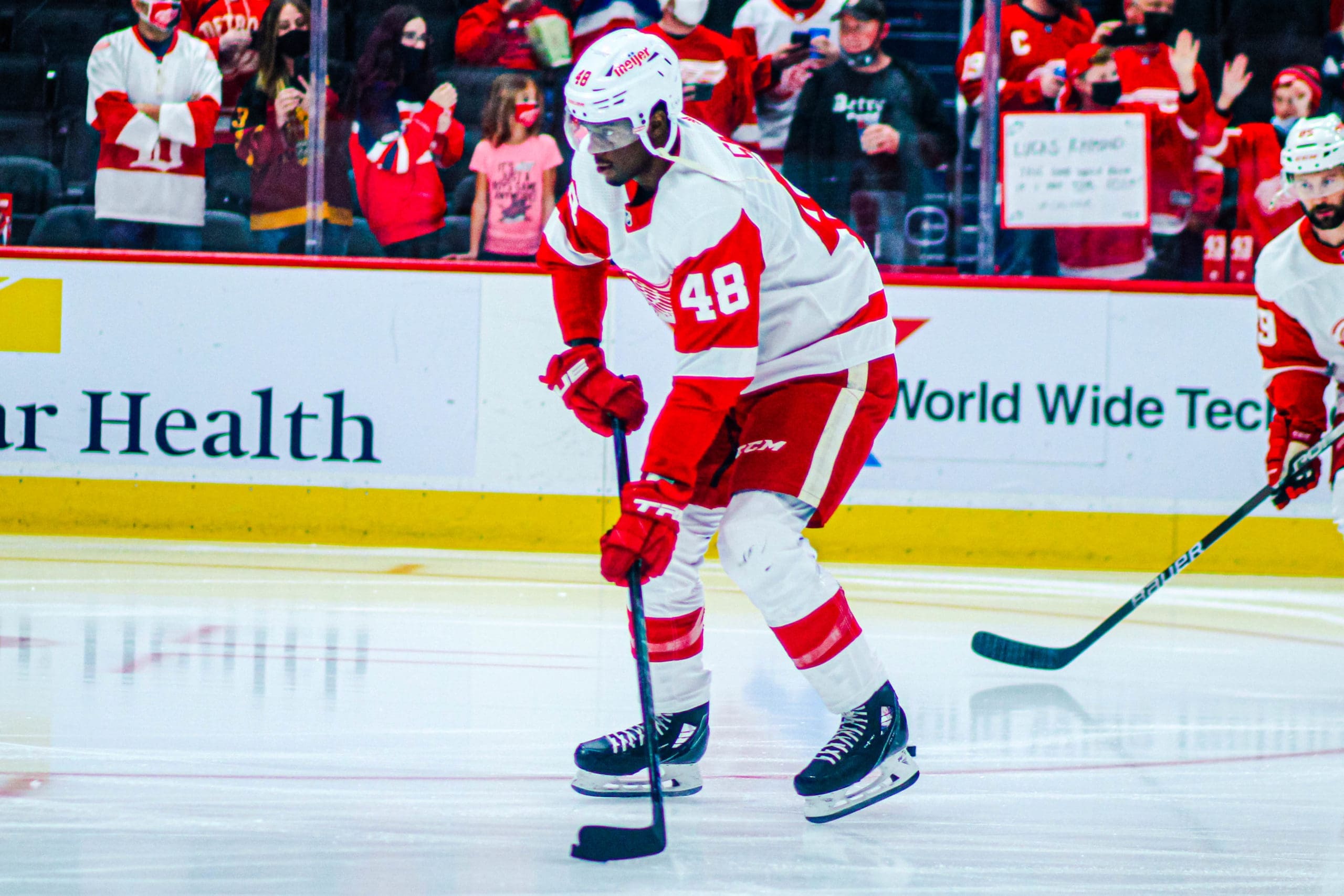 In what is a crowded space for forwards in Hockeytown these days, the Detroit Red Wings are watching and noting who stands out and who doesn't. Against Chicago, Lucas Raymond had three points, and Dylan Larkin seemed to be everywhere on the ice 5-on-5 and beyond.
Givani Smith also made sure his presence was felt in Chicago without adding to the scoresheet.
Smith Was In The Middle of Many Scrums
Whenever there was a collection of agitated Blackhawks and Red Wings, it was often Givani Smith emerging from the scrum with words or actions. The 24-year-old forward caught the attention of fans, and head coach Derek Lalonde.
"I think every player has gotta find a way to get involved," Lalonde said of Smith's ice time on Saturday. "He had a role tonight. I know he personally felt a couple of their guys were running around a little bit, and I think he took that personal. It was a little bit of the pushback."
Everybody should hope to have a friend like Givani Smith to always have your back #LGRW
pic.twitter.com/ynRImly97g

— Barstool Detroit (@BSMotorCity) January 10, 2022
It's a role that Smith embraced last season and in his tenure with the Red Wings. He's already notched a Gordie Howe hat trick back in February 2021 against Florida. Last season, he often doing the same things–going to the nasty parts of the ice and inserting himself where he would be there to defend teammates.
In 83 games, Smith has 14 points, with goals and assists equal. While his role may not be as defined, it's surely taking shape.
Role with Red Wings A Unique One
Looking up and down the Red Wings lineup, Smith is one that is likely on the bubble. There's competition everywhere, from prospects Elmer Soderblom and Jonatan Berggren to veterans Adam Erne and Joe Veleno. So while Smith has showed a knack for goal scoring at times, he's clearly using his talent to upend and defend as a means to carving out his spot on the final roster.
Detroit is certainly not flush with the physically-minded players. Last season, there was concern about the targeting of the team's more skillful players by other teams–at times in ways that would warrant punishment if the other way around.
There isn't anything important that happens here. I just really love Givani Smith. #LGRW pic.twitter.com/9eDBOSMXNz

— everett (@borntodanhard) February 12, 2022
Smith's role then is no different than a Veleno. Or Erne. Heck, it harkens back to that of former Red Wing Justin Abdelkader, a hard-nosed forward with a penchant to find the net.
It remains to be seen if he'll have the same output as Adbelkader did earlier in his career. It's still a question as to whether Smith ends up on the final roster. Pointedly, if exposed to waivers, would another team snag him?
It's a fact that Smith may end up staying in Detroit due to the requirement of passing through waivers before being being sent down. That being the case, it wouldn't be surprising for him becoming a rotating forward in the lineup.
5-on-5 Efforts Benefit Both Smith and the Red Wings
Lalonde likes what he sees and believes Smith's style of play fits in with what his staff is preaching to the team. When Wyatt Newpower was in an altercation during the second period, it was Smith jumping in and chirping all the way back to the bench.  When the buzz of the crowd rose as post-whistle shenanigans took place, Smith was often in the middle of it.
BetMGM Sportsbook
States: All States Where Legal
GET THE APP
SIGNUP BONUS
UP TO $1,000!


Up To $1000 Paid Back in Bonus Bets
BET NOW
That role of agitator and defender is evolving. Might more follow? Smith isn't playing tonight, but he'll have a chance to show it again.
For his part, Lalonde believes it's aiding Smith and the team.
"I think that helped his 5-on-5 game after that," Lalonde said of Smith's role in the game. "And I think it helped the team's 5-on-5 game after that."