Ultimately, Red Wings GM Yzerman Will Be Making Call On Edvinsson Destination
Simon Edvinsson continues to play impressively during the NHL preseason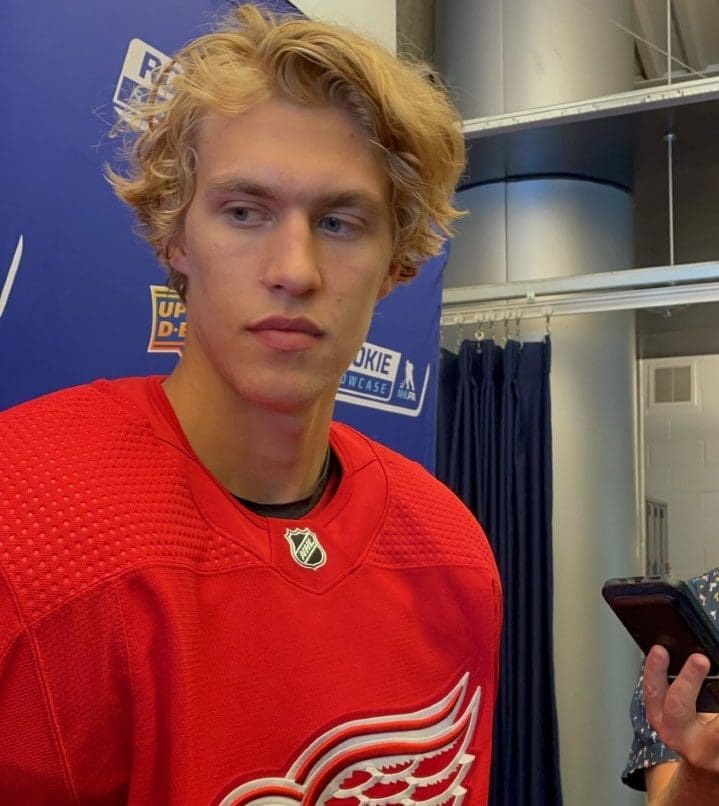 With each passing day, two factors are becoming abundantly clear in regards to Red Wings rookie defenseman Simon Edvinsson.
Firstly, he's getting better all the time. Secondly, where he'll continue that upward trend once regular-season play gets underway is entirely going to be a decision made by Red Wings GM Steve Yzerman.
"Steve's job is the big picture," Detroit coach Derek Lalonde said. "I'm the coach, I want to win every game. Steve's probably got to protect the big picture."
Simon Edvinsson through 2 preseason games:

1 assist, +1, 5SOG, 7 hits, 3 blocks, 21:31 TOI/GP pic.twitter.com/qEsXlDDtFy

— IcehockeyGifs (@IcehockeyG) October 1, 2022
Whether Edvinsson is best suited to be part of the Red Wings defense, or skating big, important minutes in the AHL with the Grand Rapids Griffins, is going to be Yzerman's call.
"I think it's where he (Edvinsson) is going to be in time, what best suits him," Lalonde said.
Unfairly Compared To Seider
That Edvinsson is currently skating in the same defensive corps as Calder Trophy winner and fellow first-round draft pick Moritz Seider is very exciting in regards to Detroit's future. In the present, though, it may be making things tense.
"I know the typical fan or people who have these huge expectations on him," Lalonde said.
Edvinsson doesn't have the same year of AHL competiton under his belt that Seider did when he got to camp last season. Edvinsson is stil learning the North American game. However, he's proving to be a quick study.
"I've liked him through the whole camp," Lalonde said. "He's big, he's got a long stick. He's probably a little better positionally defensively then I would have anticipated. And he's got great poise."
Derek Lalonde on Edvinsson, "people have these huge expectations on him & I've liked him through all of camp. We've been really happy with him." #LGRW

— Daniella Bruce (@daniellabruce_) October 4, 2022
Lalonde pointed to the Red Wings red and white scrimmage in Traverse City, when Edvinsson was a turnover machine. That problem was quickly corrected, and hasn't resurfaced.
"Those turnovers he had, I haven't seen them in these exhibition games," Lalonde said. "We've been happy with him and he's a 19 year old playing this game and he's shown very well.
Lalonde can see Edvinsson's confidence on the ice growing by leaps and bounds.
"I think it's slowed down a bit for him," Lalonde said of the pace of the NHL game. "The first couple of games, the practices, even the red-white game, he was like. 'It's just so fast.' I think it's slowing down for him, which is good.
"He's committed. He wants to get better. He's seeking video out the next day. Any criticism you take to him is constructive. He wants to get better. What he is so far for me is very exciting."
What Does Immeidate Future Hold For Edvinsson?
The read from talking to people in the game is that the Red Wings probably came into camp leaning toward Edvinsson going to Grand Rapids. Then again, the same could've been said a year ago of Lucas Raymond, and that plan didn't take long to be changing.
Where is Edvinsson going to be playing on opening night? At this point, it's anyone's guess. Even the Red Wings decision makers are admitting that right now, they can't be certain of anything.
DraftKings Bet $5 Win $150
All States Where Legal
GET THE APP
SIGNUP BONUS
BET $5, WIN $150


New Player Bonus
BET NOW
"We have a couple more games," Lalonde said. "I'm not being guarded. I really couldn't tell you how this is going to play out next week.
"The fact we're going to have some of these tough decisions is certainly a positive going forward."