Five Observations As Red Wings Head Into Preseason Stretch Drive
Thoughts on Soderblom, Chiarot, Copp, Smith and talk of the process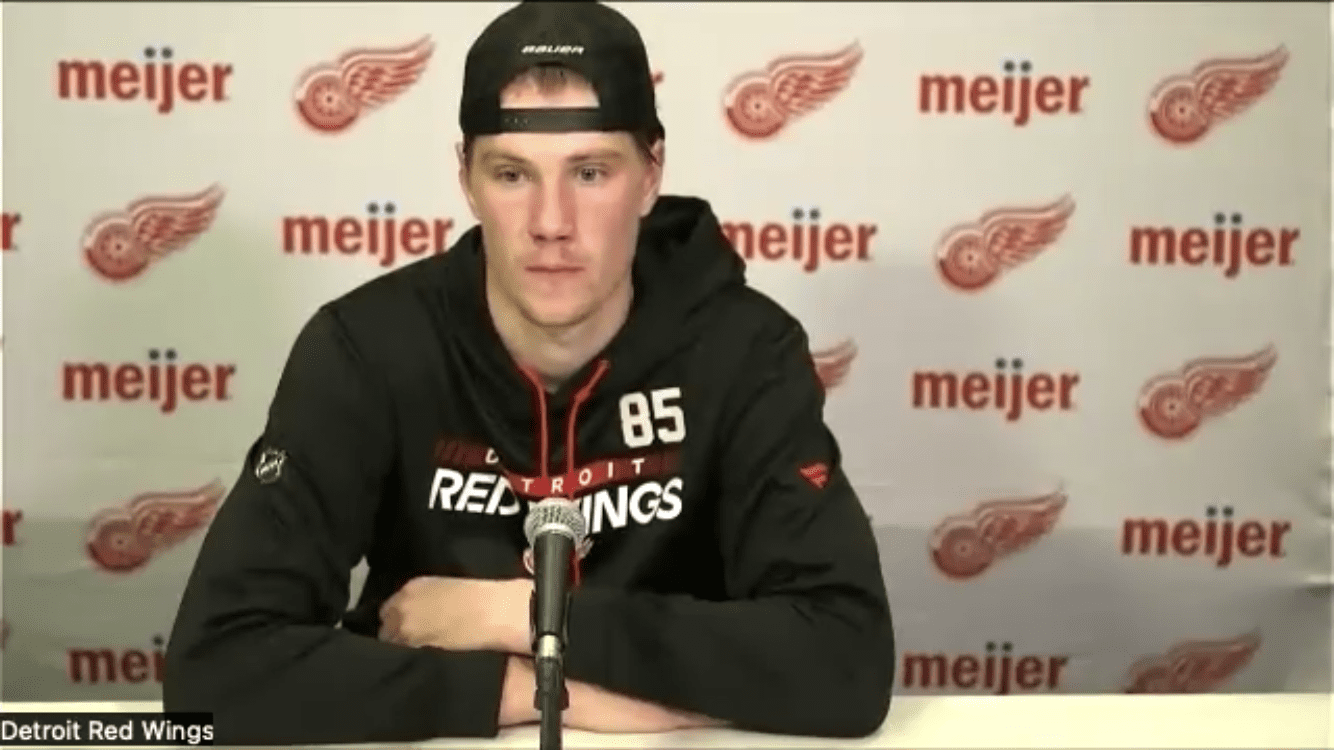 Detroit Red Wings coach Derek Laonde is admitting that with three preseason games to go, he truly has no idea what his 23-player roster will look like for the 2022-23 NHL regular season.
"It's still fairly wide open," Lalonde said. "We have (three) games to clear things out. You'll see that with the lineup. Some of those young guys might end up getting three of the last four games if not all four to kind of make a pitch for us a little bit."
Other than goal, where Alex Nedeljkovic and Ville Husso will hold forth, there are battles for roster spots taking place all over the ice. Let's have a look at some of the things we're learning about this club as the regular season launch is looming.
Red Wings Coach Lalonde Said The P Word
Not being part of the Detroit organization during the Jeff Blashill era, excuse coach Lalonde for being unaware that Red Wings fans view process as a four-letter word. It was one of Blashill's go-to catch phrases over the years. The fact that he's no longer in charge is all the evidence required to prove that the process didn't pan out. That Lalonde uttered the P word following Detroit's 3-2 loss to the Pittsburgh Penguins on Monday made it all the more haunting.
"We preach to the guys it's process over outcome," Lalonde explained. "And this was a perfect example. This is a game that we did a lot of good things and we just found ourselves down 3-0. But the process was really good."
Chiarot Can Drive Offense
Certainly, his work as a shutdown defender was the decider in why the Red Wings pursued and ultimately were signing defenseman Ben Chiarot as an unrestricted free agent. But don't sleep on Big Ben's offensive skills.
No, you won't mistake him for Cale Makar. Chiarot is a man who knows his limitations. In the O-zone, he focuses on getting the puck to the net from the point and letting the skill guys and the muckers set off in search of goals from the scoring areas.
Take a listen as Ken and Mick chat with new @DetroitRedWings defenseman Ben Chiarot, who inked a 4-year contract this offseason. #LGRW I @ThinkFordFirst pic.twitter.com/fd28EHQeHc

— Bally Sports Detroit (@BallySportsDET) October 3, 2022
"He's got a better stick than I had anticipated," Lalonde said. "We're not going to lean on him or expect offense from him but obviously anyone who can chip in secondary scoring, it's great. His overall skill set is a little better than I had thought coming in.
"He's got a heavy shot. He's going to shoot it. We're going to simplify it if he gets an opportunity, to get pucks to the net."
Soderblom A Work In Progress
Historically, there's been an adjustment period for Red Wings forward Elmer Soderblom at each level of hockey. In training camp, it's been evident that the 6-foot-8, 249-pound Soderblom is still working on methods to make his big body even more of an asset in the North American game.
— Detroit Red Wings (@DetroitRedWings) September 28, 2022
"He still has a habit of exposing pucks," Lalonde said. "For a guy that big he can still be easy to defend because he has a habit of exposing pucks, exposing his hands. At this level, people are going to kill you. He's a guy who can spend some more time with the puck. I think pace, everything around him, the more he plays it starts to slow down around him."
Copp Can Play Power Play For Red Wings
Much like Chiarot, Andrew Copp's assets of being a physical, competitive performer who's hard to play against were certainly pivotal in creating the attraction for him within the Red Wings organization. However, he's a guy who can work on an NHL power play as well.
Last season, Copp ended up collecting 10 of his career-high 53 points on the power play. In 2020-21, he was scoring six times with the man advantage.
"The last three years a good amount," Copp answered when asked about his power-play ice time. "In Winnipeg we kind of went back and forth between having one go-to unit and then two even units, so I'd been on the power play there for the last two years. I kind of alternated between being the bumper guy and being on the half wall.
"I think that's part of my game that's definitely developed over the past couple of years. There's a lot more to it than just the high-end skill. It's something that I think I'll be able to do. I think both special teams I can impact in a positive way."
Consistency Needs To Be Smith's Trademark
Last season, there were brief spurts when winger Givani Smith was displaying the type of qualties that could make him a valuable NHLer. In a battle for a bottom-six roster place, he'll be needing to provide a physical presence, stand up for teammates on be hard on the puck every night if he wants to maintain a role with the Red Wings.
"I worked on smaller, tight areas of the game to help me prolong keep playing with the puck," Smith assessed of his offseason objectives.
BetMGM Sportsbook
States: All States Where Legal
GET THE APP
SIGNUP BONUS
UP TO $1,000!


Up To $1000 Paid Back in Bonus Bets
BET NOW
Consistency and simplicity need to be Smith's calling cards.
"Simplify his game," Lalonde explained as to what he's seeking from Smith. "Less forcing the game. Keep things simple, control the things he can control, just manage his game. We don't need him trying to force offense. We just need him to be simple, hard to play against, stick up for teammates.
"We'd like to see that all the time from him, not some of the time."