The Daily: Defensemen Like Red Wings Edvinsson Taking Center Stage as Rosters Trim: NHL News and Rumors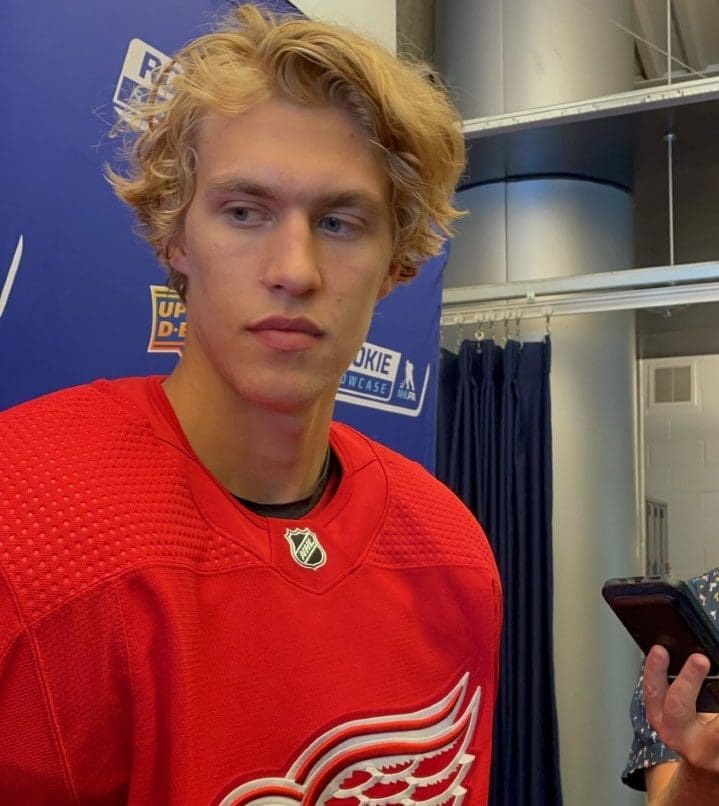 Paul LaDue is a darkhorse for making the New York Islanders roster. At 30-years-old and on what many analysts feel is the wrong side of things, LaDue has been steady and strong as one of many defensemen seeking a shot..
LaDue has ping-ponged back and forth with the Islanders organization in terms of ice time, seeing if he'll make the final cuts as rosters are announced for both defensemen and forwards.
New York Hockey Now's Stefan Rosner quoted LaDue on his journey in New York.
"I was up for a couple of weeks there, but you know, just how professional it is, and love the style of play," LaDue said. "I'm a very defensive player, so I feel like I can help all with this team in the system. And you know, it was a little bit of a learning curve coming to a new team last year, but I'm comfortable now and feeling pretty good."
It's the opposite for the Detroit Red Wings as Simon Edvinsson, 19, enjoyed another solid game and potentially puts the coaching staff and front office in a a real analytical situation. Will the 19-year-old Swede make the final roster, or will he be sent back to Grand Rapids for seasoning?
"It's the tough balance of what kind of minutes and touches they would get in Grand Rapids vs what it would look like here in Detroit," Red Wings coach Derek Lalonde said of young players such as Edvinsson." That's always a tough balance. It's something we'll have to weigh over the next 48 hours here."
The final preseason game with Toronto tonight should help solve the rest. Defensemen in Detroit will certainly be watched closely.
In Case You Missed It
Elmer Soderblom and Joe Veleno make their case for minutes in Red Wings 4-2 Win
Robert Hagg may find himself in the opening lineup
Will Anthony Mantha and Jakub Vrana ever take each other with their new team?
Who could be the 20-goal scorers this season with Detroit?
National Hockey Now
Boston: Matt Grzelcyk is cleared for full practice: Boston Bruins
Colorado: Five questions asked? Those five questions answered by Adrian Dater. Colorado Avalanche
Montreal: The latest on Logan Mailloux. Montreal Canadiens
Philadelphia: Joel Farabee has had Flyers fever since he was a kid. Philadelphia Flyers
Pittsburgh: Two defenseman fighting for position as the regular season looms. Pittsburgh Penguins
Vegas: Jake Bischoff feels he can take anything on. Vegas Golden Knights