Red Wings Weighing Pros And Cons of Keeping Soderblom in Detroit
Elmer Soderblom will know his fate by 5 pm today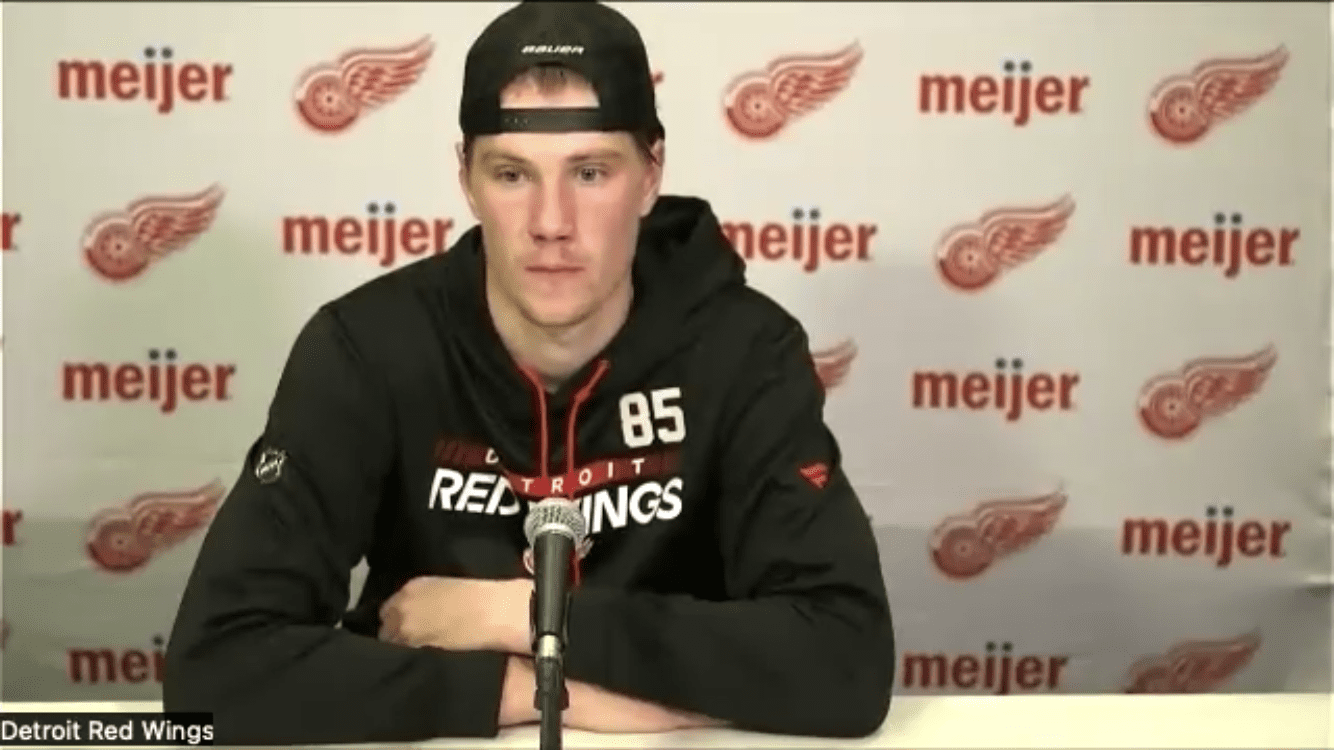 As of this moment, rookie forward Elmer Soderblom is still with the Detroit Red Wings. Will he still be in that situation in a few hours time? That's what Red Wings coach Derek Lalonde and GM Steve Yzerman are discussing as you read these words.
"That'll be a 5 o'clock decision today," Lalonde acknowledged of the decision about whether they'll be assigning Soderblom to AHL Grand Rapids. "Possibly, but I think that's something we'll discuss even after practice today."
NHL 23-player rosters must be finalized by 5 pm ET today. Including injured players, the Red Wings still have 32 players in camp, including Swedish rookie forward Soderblom.
"Elmer's done some good things," Lalonde said. "He's put himself on the good side of that evaluation. It's something Steve and myself will talk through this afternoon."
Certainly, there are pros and cons to both choices. At 6-foot-8 and 249 pounds, Soderblom would be providing to the Red Wings a size quotient not prevalent among the club's forward group.
At the same time, he's still got much to learn about protecting the puck and playing responsibly in his own zone. Those factors might be better learned in the AHL. Of course, ice time is also a vital component in the equation. If Elmer Soderblom isn't going to be working on the Detroit power play and skaing important minutes, he'd be better off honing his skills in Grand Rapids.
Let's look though all of the elements that Lalonde and Yzerman will be weighing in their discssion.
How Much Will Soderblom Play In Detroit?
The conversation about Soderblom always starts with ice time. He isn't going to become a better player by sitting on the bench or in the press box.
"It's how we look at it, too," Lalonde said. "We talk about that balance of what it would look like for minutes here vs what it will look like for minutes in GR."
Soderblom was skating in practice Monday on the fourth line with Michael Rasmussen and Oskar Sundqvist. Sundqvist (knee) is working his way back from injury. If he isn't good to go for Friday's season opener against the Montreal Canadiens, that could be working in Soderblom's favor.
"Yeah, I think the four days here is going to allow us to see if Sunny's available and where he's at," Lalonde said. "A couple of bodies could slide in there."
Will He Play On The Power Play?
Certainly, coupling with the overall ice time issue is the necessity for Soderblom to be getting looks on the power play. If he can't figure in the Red Wings' top-two power-play units, he could be performing with the top PP group in Grand Rapids.
"We foresee him being a net-front power-play guy when he's ready to be an every day NHL guy," Lalone said. "If we're gonna keep Elmer, I think part of that would be developing him on the power play also and getting him more minutes. If not, if we can't find power play time for Elmer, we'll probably consider what Grand Rapids will look like for him as far as opportunity and minutes.
"And again, that balance of will he get that here, or would he get that likely on a first unit in Grand Rapids? Again that balance of what is role would be in Grand Rapids vs his role here?"
Soderblom Must Learn To Protect The Puck
Similar to the 6-foot-6 Rasmussen, Soderblom is still mastering the skill of utilizing his massive frame to keep the puck away from defenders.
"I still think he exposes too many pucks," Lalonde said. "I think there's some detail with him protecting pucks, wanting to spend time with the puck. And I think you've seen throughout camp he'll have some zone time and then he'll have a rush play to the slot, or a hope play to the slot.
"I think there's still some growth in his game where he can protect the puck and protect his hands and be really hard ot play against, especially in the O-zone."
You Can't Teach Big
It's an old saying, but it's as true today as it was when Gordie Howe was a rookie. You can't teach someone to be big. And in NHL circles, Soderblom is a skyscraper.
"I just think having that big body is something that's a little different than a lot of forwards we have," Lalonde admitted.
Soderblom D Zone Work A Work In Progress
Defense is always the last element a young player masters. Soderblom is no different in this capacity. He's still trying to figure out the nuances of playing the NHL game without the puck.
"He's still growing in the D zone," Lalonde said. "Even today, he got lost a few times in our D zone coverage, which is understandable. We want to work with him on that."
Soderblom's long reach can enable him to overcome some of those misplays, but the last thing the Red Wings want is for that to become habit forming.
"We don't want him to rely on that," Lalonde said. "Do the right things like we ask everyone else. A few strides to get back and be on the good side of the play. Just don't rely on the long reach, because he'll find out the hard way that he'll still get beat that way come Friday and moving forward in the season."
Elmer Is A Quick Learner
Soderblom scored twice in the NHL preseason, including a highlight-reel tally in Friday's win over Toronto. When he does tread along the wrong path, Lalonde is discovering that Soderblom is quick to be correcting the error of his ways.
"Puck possession, even him managing his game throughout camp," Lalonde was assessing as the quality he found most impressive in Soderblom's game. "He had some turnovers. I believe somewhere in there he had a two on one that he turned into a turnover because he went between his legs and behind him.
DraftKings Bet $5 Win $150
All States Where Legal
GET THE APP
SIGNUP BONUS
BET $5, WIN $150


New Player Bonus
BET NOW
"Even as camp progressed, he started having a little of that risk taken out of his game. He played a below the goal line type game."
Will Soderblom be staying or going? The Red Wings frankly admit that aren't 100% certain about that outcome. But it's being discussed right now, and the answer will be known in a few short hours.