Where Does Filip Zadina Fit in for the Red Wings?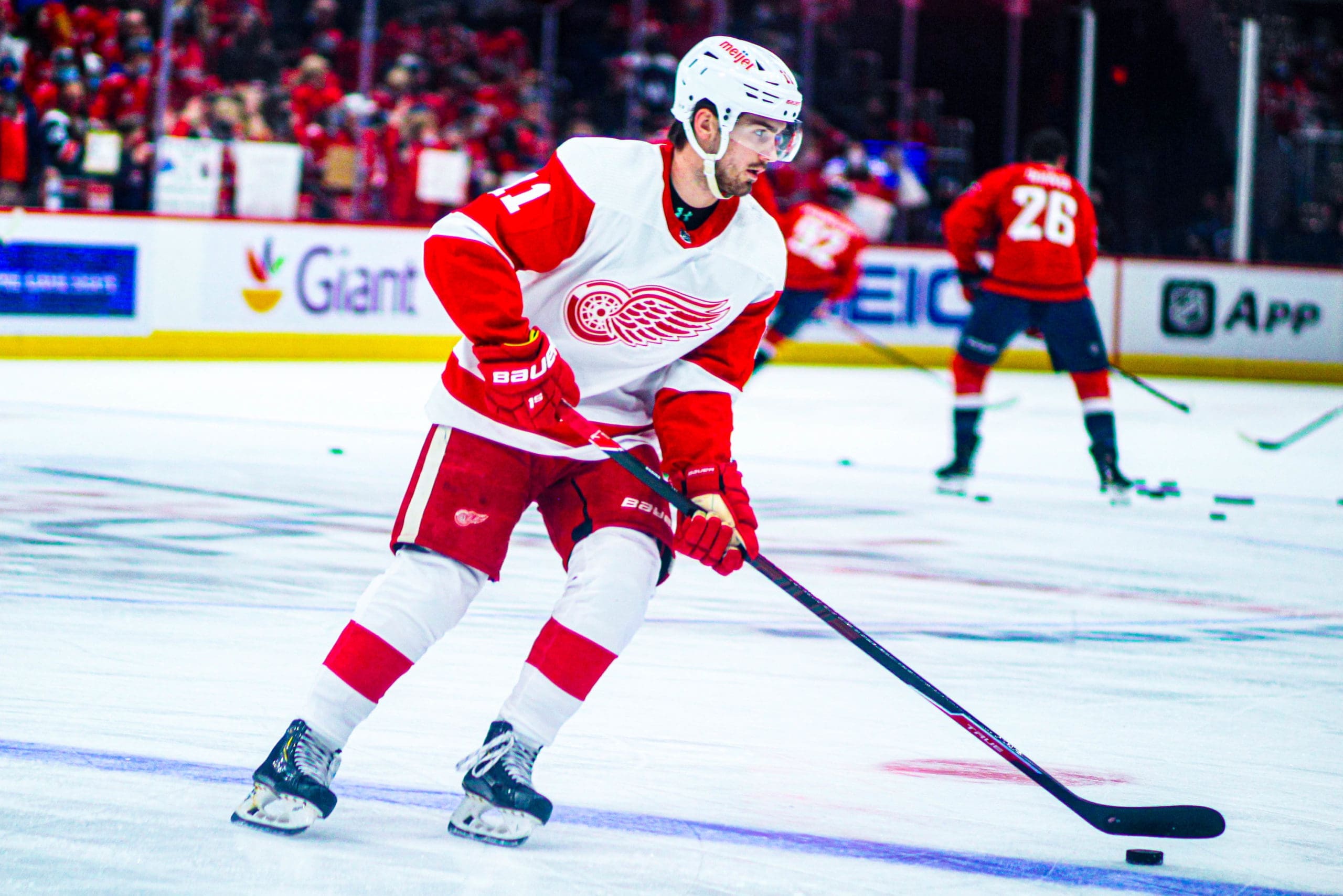 It was an all too familiar scene for forward Filip Zadina during the Detroit Red Wings 5-1 loss to the Toronto Maple Leafs. In what was a golden opportunity on the man advantage, Zadina slammed the puck into the post and it ricocheted away, killing one of Detroit's best scoring chances. Zadina would skate off, a bewildered look on his face, likely wondering if last year's bad fortune had carried into this season.
2018 Draft Expectations Have Not Materialized
It was Zadina who boldly proclaimed that he would fill the net with pucks against teams who passed him by during the 2018 NHL Draft. Zadina, slotted by many to be the third overall pick, slipped to Detroit at six. Hindsight has written a revisionist's history that Detroit should have taken Quinn Hughes. Detroit did need defensemen desperately, but the pick was celebrated at the time by fans. In fact, many couldn't believe the good fortune that the Red Wings stocked up with Zadina, Joe Veleno, and Jonatan Berggren with their first three draft picks.
Filip Zadina
Joe Veleno
Jonatan Berggren
Jared McIsaac
Alec Regula
Seth Barton
Jesper Eliasson
Ryan O'Reilly
Victor Brattstrom
Otto Kivenmaki
No dumb trades
10 picks in next year's draft

What an absolutely amazing draft for the Red Wings.

— Brad Krysko WWP 🇺🇦 (@BradKrysko) June 23, 2018
But it didn't materialize like it should have. In spite of advanced stats showing that Zadina should have had more goals last season (instead of his 10, Evolving Hockey has him with an ixG of 14.95), it doesn't change the fact that he's not scoring at the clip the Red Wings need–or expect.
Ironically, Zadina and Veleno were the 13th and 14th forwards in practice today. Berggren is back in Grand Rapids, though that's more about playing time. But the sixth overall pick fighting to work into the top twelve is certainly not what Zadina nor the Red Wings envisioned back in 2018.
Where do the Red Wings and Zadina Go From Here?
If general manager Steve Yzerman felt it was a significant issue, he wouldn't have re-signed him in the offseason. Zadina inked a three-year, $5.475M deal that averages out to an AAV of  $1.875M. It's not breaking the bank–but it's a raise from his entry-level deal.
It also makes it pretty simple to move should Detroit decide it's just not going to work anymore. This is the extreme move, and that time hasn't arrived yet.
Head coach Derek Lalonde was up front at the morning skate when asked what more he needs to see from Zadina.
"Managing his game. I'll have that conversation with him today," Lalonde said.  "There literally could've been five or six guys that were in that 13 or 14 spot for practice today. Most guys, and I think he kind of reflects everyone, most guys had good camps but there was holes in guys' camps. That'll be a message for five or six of our guys throughout this week."
So he's not the lowest ranked guy. But he isn't the highest, either. Zadina is in a hockey purgatory of sorts.
BetMGM Sportsbook
States: All States Where Legal
GET THE APP
SIGNUP BONUS
UP TO $1,000!


Up To $1000 Paid Back in Bonus Bets
BET NOW
Former coach Jeff Blashill talked about how he wanted a well rounded game from Zadina and for him to worry less about just scoring goals. But with every missed chance, or every puck that goes wide when it should have gone in, it sure seems that Zadina is gripping the stick tighter and fighting to get out of his own head.
Who can blame him?
But as the roster only grows more talent and younger players like Elmer Soderblom are forcing their way aboard, it only begs a logical, albeit tougher question.
Is time running out?