Soderblom, Red Wings Playing Waiting Game
Just because they made it past Monday's cutdown to the 23-player roster is no guarantee that Elmer Soderblom and Joe Veleno will still be with the Red Wings for Friday's opener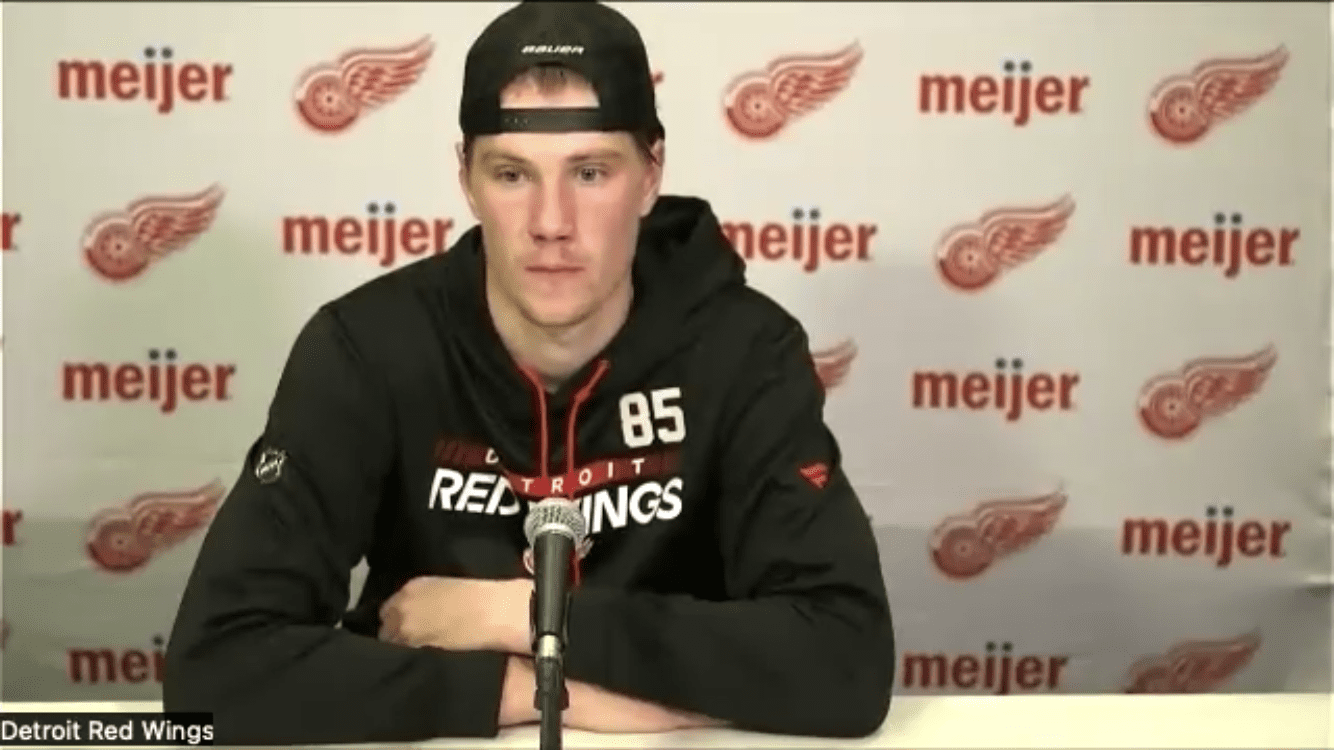 Elmer Soderblom was filled with a mixture of gratitude and getting his nose back to the grindstone when he got word Monday that he'd survived the final cutdown of the Detroit Red Wings. The Swedish rookie forward was earning himself a place on Detroit's 23-player roster.
"It feels good," Soderblom admitted. "I'm so excited and honored to be in this spot. I'm just enjoying this time."
To say he's holdiing it with a tenuous grip is to also be grasping at understatement. There's every chance that this will be a limited time offer.
At Tuesday's Red Wings practice, Soderblom was sharing time on the fourth line with veterans Oskar Sundqvist and Pius Suter, as well as fellow bubble boy Joe Veleno.
Elmer Soderblom with a casual backhand tying the game for the @DetroitRedWings… not a big deal. 😲 pic.twitter.com/aYqMYx5xci

— NHL (@NHL) October 8, 2022
If Soderblom and/or Veleno can't bite off a regular chunk of ice time in the Detroit lineup, odds are that one or both will be heading west on I-96 to the AHL Grand Rapids Griffins. And there's no guarantee that it won't happen prior to Friday's NHL regular-season opener at Little Caesars Arena against the Montreal Canadiens.
"I think what we're fighting through is if we're not going to be able to find significant minutes and roles for Elmer and Joe, then we have to have that balance of what's going to be best for their development," Red Wings coach Derek Lalonde said. "So I think we're still fighting through that and I think that's going to take a life of itself this week and even into the weekend."
Soderblom Getting Power Play Time
During Tuesday's practice, Soderblom found himself working the net front on Detroit's second power-play unit. It's roles such as this that will prove vital is he's to remain with the Red Wings long term.
So far, so good, according to his coach.
"He may have put himself on the good side of that line where we're evaluating," Lalonde said. "Now it's black and white.
Elmer Soderblom is an incredible find for the Detroit staff. What a fascinating prospect

— Kyle Cushman (@Kyle_Cush) October 8, 2022
"When we get into these games on this weekend, we want him to get significant minutes, or find a role where he's gonna get significant minutes. If he's not going to be able to do that, I think it will probably be in his best interests and all of our best interests for him to go down to Grand Rapids."
Soderblom is accustomed to the net-front spot from his time in the SHL last season with Frolunda, where he scored a team-leading 21 goals.
"I am familiar with the role," Soderblom said. "I get tips and tricks every single day and can watch video."
Sundqvist Status Another Factor
Veteran Sundqvist was missing in action the entire preseason due to a chronic knee ailment. He's still trying to find game condition, which is challenging when he hasn't played any games. If he can't get to the necessary level of fitness, it could also open the door of opportunity to Soderblom.
"We'll see how he responds, his body, but even where his conditioning is at," Lalonde said of Sundqvist. "He had a good day yesterday working hard. Same thing today. And you can see he was laboring a little bit toward the end of practice, which is understandable.
"It's hard to get real game-like reps, which he has not had. I think that'll be evaluation, too, throughout the week."
Soderblom Preparing For All Outcomes
Excited by the looming chance to skate in his first NHL regular-season game, Soderblom is also recognizing that it could all change at a moment's notice. Lalonde's advice to him is to control what he can control, and Soderblom is embracing that concept.
DraftKings Bet $5 Win $150
All States Where Legal
GET THE APP
SIGNUP BONUS
BET $5, WIN $150


New Player Bonus
BET NOW
"I feel I have nothing to lose, I just got to play my game," Soderblom said. "If it's going well it's super-good. Otherwise, I get to play good minutes in Grand Rapids.
"I feel like I'm in a good spot."