Lalonde's Vision For Red Wings: Play Fast, Be Aggressive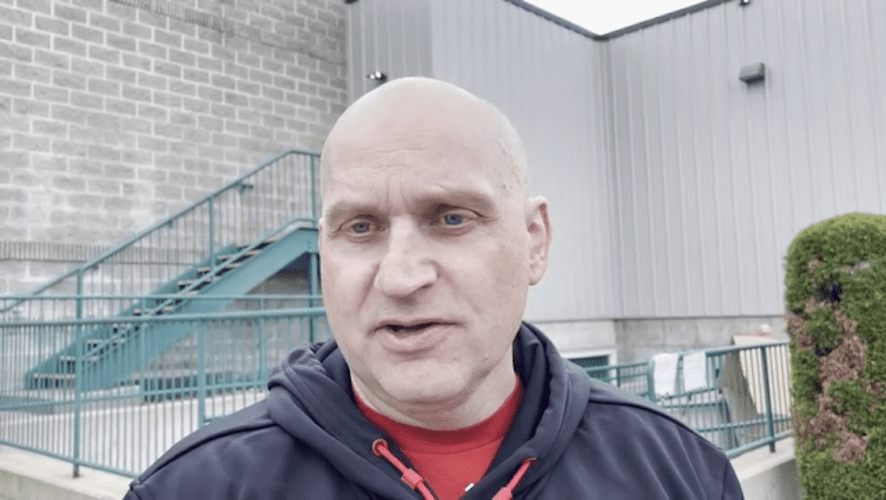 Detroit Red Wings coach Derek Lalonde can't emphasis one factor enough. He likes it on top.
When it comes to the type of hockey that makes the Red Wings coach absolutely fall in love with his team, staying on top is where it all starts.
"An on top team," is how Lalonde envisions Detroit's playing style for the 2022-23 NHL season. "I think you saw in the preseason. We had 5-on-5 success. I think teams had trouble getting out of their zone. We were gapping, we were in sync and just being on top.
"That's who we want to be. We'd love to have that to be our identity."
3 days away.

🎟 » https://t.co/n3wRcnZ3E7 pic.twitter.com/f7zA2603zP

— Detroit Red Wings (@DetroitRedWings) October 11, 2022
It all starts from playing the game with pace. They will be the go-go Red Wings season. Passive is changing to agressive. If you're an NHL opponent, the intent of Detroit players is to be in your face at all times.
"This team can skate," Lalonde explained. "Sometimes, people just think of that as skating with the puck. You see (captain) Dylan (Larkin) cutting through the neutral zone with the puck. We want to be skating fast away from the puck, getting on top.
"It's something we're gonna work on. I think when we're playing well, that's how we're gonna look."
Red Wings Will Be Aggressive At All Times
Even when down a man, Lalonde wants his players to be getting after it.
"The same thing, skating," Lalonde said of what he wants from the Red Wings penalty kill. "We're gonna be an aggressive penalty kill. We're gonna be a fast penalty kill. Hopefully, we're gonna make (the other team's power play) make some mistakes moving forward.
"I don't foresee our penalty kill sitting back."
A Work In Progress
Lalonde doesn't expect that the Red Wings will hit the ice running their new systems to perfection when they are facing the Montreal Canadien in Friday's NHL regular-season home opener at Little Caesars Arena. However, what he does demand is that they continue to progress toward mastering their new way to play.
Eventually, the coach wants to see his team playing this way night after night, as if it's second nature for them.
BetMGM Sportsbook
States: All States Where Legal
GET THE APP
SIGNUP BONUS
UP TO $1,000!


Up To $1000 Paid Back in Bonus Bets
BET NOW
"For me it's not fitting an identity," Lalonde. "I think we might look like that on Friday, but I think it's consistency within that identity.
"What you don't want to have happen is that we look like that one night and then the next night we're slow. When a team starts playing well, you see that night in and night out and that's gonna be our goal.
"Even in preseason, we flirted with it, we looked like it at times. Other times we didn't. It's certainly a work in progress."
Red Wings Players Buying In
Pointing to forward Dominik Kubalik, scorer of three preseason goals, Lalonde was citing the offseason free-agent addtion as someone whois clearly buying into what the coach is selling.
"Kubalik's had a really good camp and he's found the back of the net," Lalonde said. "There's been some offense there, but what he's done is put himself in position for that by being above and skating away from the puck."
Kubalik…just showed us something 🫢 #LGRW pic.twitter.com/f0F3Nxpb1A

— Red Wings Rant (@BODHockey) September 27, 2022
Kubalik is certain that speed is why he's killing it. He knows it's an identity that is a fit with the roster of the Red Wings.
"Speed is going to be the main thing I guess" Kubalik sees as Detroit's key asset. "I think we've got lots of talent, lots of young guys who can skate, so that's gonna be our strength. Just gonna play fast and be above.
"Everything starts with skating, so I think that's gonna be our strength for sure."
 Still Work To Be Done
The Red Wings aren't over the hump yet. However, Lalonde likes the passion the team is showing for the mission.
"We're not there," Lalonde admits frankly. "That's hard work for an identity. But that's what we're working on."