Red Wings' Walman Inching Closer to Return Along With a New Number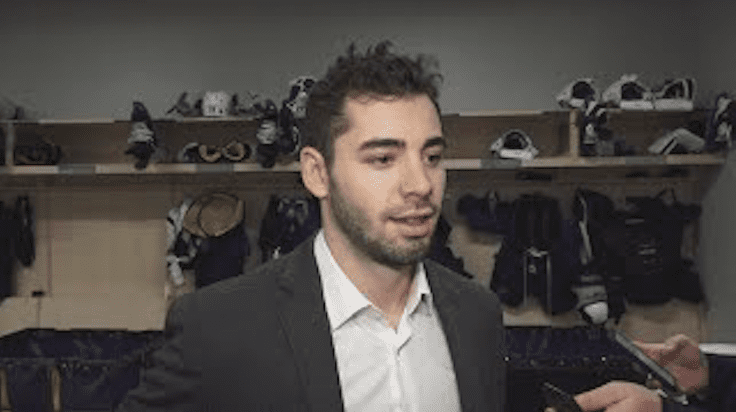 Jake Walman was a defenseman that general manager Steve Yzerman and his staff watched for some time. When the Detroit Red Wings acquired him from St. Louis at the trade deadline in March, he fit right in patrolling the blue line.
He played 19 games in a Red Wings jersey, including the season-ending 5-3 victory over New Jersey. But summer shoulder surgery prevented a preseason appearance.
The Winged Wheel takes a look at the 2022 NHL Trade Deadline where the #RedWings acquired forward Oskar Sundqvist, defenseman Jake Walman, and three draft picks.

Presented by: @BudLight Seltzer

— Detroit Red Wings (@DetroitRedWings) March 29, 2022
Walman appears to be getting closer to a 2022-23 debut.
But when he presumably makes his first appearance in November, it'll be wearing #96 instead of number eight, which he wore last season.
Walman Making Steady Progress
Detroit Red Wings head coach Derek Lalonde has been impressed–and measured–with what he's seen in limited amounts from Walman.
"Obviously I love the way he can skate," Lalonde said.  "For practices like that, he'll look good and pop, which is exciting. It's just getting him up to speed."
The earliest indications have him returning in November, be it early on or closer to the middle of the month as Yzerman predicted back in September.
For the all-important Thanksgiving time marker, the unofficial time to gauge how good a team really is, Walman should be back in the fold.
Until then, the Red Wings are taking every precaution to make sure his progress is steady, but careful.
"Obviously, he can't hit," Lalonde said. "He's in an orange, non-contact jersey today. Hopefully, he'll take that next step where he'll have contact and we'll go on from there."
Walman knows the mid-November date was a target. But if all goes well, he'll be on the ice as soon as doctors deem him ready.
"I think that was the rough timeline but I'm a competitor. I want to play right now if I could," Walman said. "I'm just kind of waiting on them. I feel great. I feel like I can play, so whenever they come back that I can play, I'm good to go."
BetMGM Sportsbook
States: All States Where Legal
GET THE APP
SIGNUP BONUS
UP TO $1,000!


Up To $1000 Paid Back in Bonus Bets
BET NOW
A Change In Numbers, Too
Walman wants #96 because it was his birth year. Cracking open the Red Wings history book, he suddenly realized that it belonged to a Detroit legend in Tomas Holmstrom.
Holmstrom, of course, was best known for camping out in front of the net and annoying goalies to death with his ability to redirect shots into goals. Holmstrom was so good, he collected phantom interference calls that under further review, were only bothering the opposing goalie's ego.
Regardless, Walman realizes he has quite the reputation to live up to throwing #96 on his back.
"Yeah I think I got some word that he . . . I was searching up who wore it," Walman said.  "It must have slipped my mind for a second. Then I asked around, making sure I can wear it without pissing anybody off. Hopefully I can represent it well."