Where Will Red Wings Soderblom Ultimately Rank Among Famous Elmers?
With a goal in his NHL debut, Red Wings forward Elmer Soderblom is adding his name to the list of legendary Elmers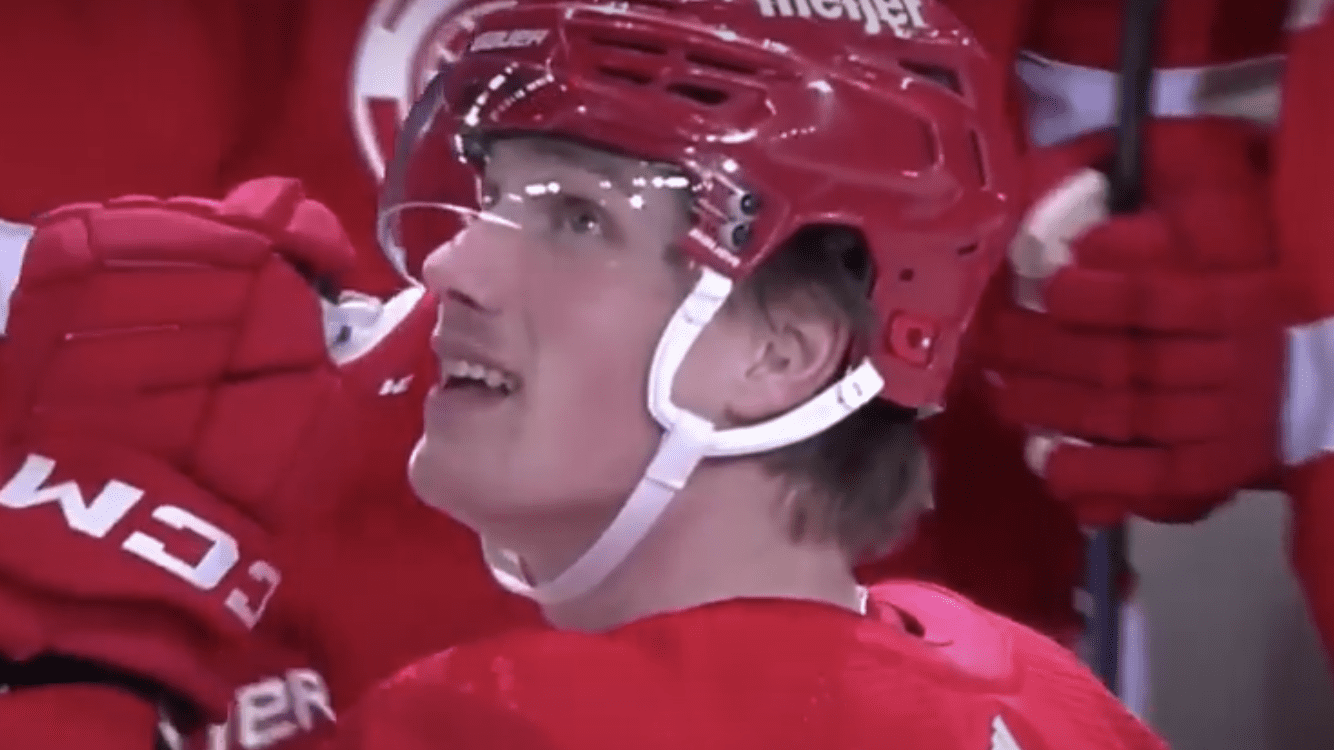 His NHL career couldn't have gotten off to a better start for Detroit Red Wings rookie forward Elmer Soderblom. In his NHL debut on Friday at Little Caesars Arena, with his parents in attendance, Soderblom scored the game-winning goal in a 3-0 victory over the Montreal Canadiens.
"It was unbelievable," Soderblom said. "The crowd and the fans were amazing. I just looking forward to play more games in front of them."
Soderblom Looming Large
At 6-foot-8, Soderblom is assured of looming large for the Red Wings. But how high will he be climbing on the list of all-time Elmers through the course of his NHL playing career?
🚨 First career goal alert! 🚨

Congratulations to Elmer Soderblom on the first of many! #NHLFaceOff pic.twitter.com/eetKlyDArv

— NHL (@NHL) October 15, 2022
Let's look at the Elmers who've come before Soderblom and see the challenge ahead as he seeks out Elmer fame.
Elmer Lach
Certainly, Soderblom has plenty of work ahead of him to become the most famous NHLer going by the name of Elmer. Playing his entire 14-season NHL career with the Canadiens, Elmer Lach led the NHL in scoring in 1944-45 and again in 1947-48. Lach won the Hart Trophy in 1944-45. He was a three-time First Team NHL All-Star selection and twice was named to the Second Team.
When Lach was retiring in 1954, he did so as the NHL's all-time scoring leader. Induction into the Hockey Hall of Fame would be following in 1966.
Elmer Fudd
The most famous fictional Elmer of them all, Fudd's sole purpose in life was to hunt down that screwy rabbit Bugs Bunny. Of course, it always went spectacularly wrong.
Elmer Söderblom's 1st NHL shift #LGRW pic.twitter.com/R4oyZqSXoX

— IcehockeyGifs (@IcehockeyG) October 14, 2022
Soderblom is also seeking to improve his hunting skills. "For myself I want to be a little more physical in the games," he explained.
Elmer Layden
One of the famed Four Horsemen of Notre Dame, Layden was a college football star for the Fighting Irish in the 1920s. He would go on to coach Notre Dame from 1934-40. He's also credited with restarting the tradiitonal rivalry between Notre Dame and Michigan that had been on hiatus since 1910.
Layden also served as commissioner of the NFL from 1941-46. He was inducted into the College Football Hall of Fame in 1951.
Elmer Vasko
Known as Moose to everyone, his parents christened him Elmer. Vasko won a Stanley Cup on the defense of the Chicago Blackhawks in 1960-61 beating the Red Wings in the final series.
There's symmetry with Soderblom. At 246 pounds, Soderblom is the NHL's heaviest player. With a playing weight of 242 pounds in his farewell NHL season for the 1969-70 Minnesota North Stars, Vasko was the NHL's heaviest player. He was also the nephew of former Red Wings defenseman Rick Vasko.
Elmer's Glue
Originating in nearby Ohio, adorning each bottle of Elmer's Glue is company mascot Elmer The Bull. Every dressing room needs a glue guy, so it's only fitting that Elmer is fitting in
so well with the Red Wings.
"He's a great player," Red Wings goalie Ville Husso said of Soderblom. "Big guy, lot of skill. Can shoot the puck pretty well, too. Dangerous player."
Elmer The Safety Elephant
We're talking hockey after all, and what is hockey without a little bit of unique Canadian content? And this Elmer holds a unique Detroit connection.
In 1946, when Toronto mayor Robert Hood Saunders visited Detroit he learned of that city's program designed to teach safety to elementary school children. Returning home, the concept of Elmer The Safety Elephant was born.
Elmer visits Canadian elementary schools, teaching childen his seven rules of safety. Schools that go the entire year with any student being involved in an accident get to proudly fly Elmer's flag.
Soderblom Makes Sensational Start
It's only one game, but it was quite the game that Soderblom was playing on Friday. His just the sixth player in Red Wings history to net the game winner with his first NHL goal.
"He handled (it) way better than I even expected," Red Wings coach Derek Lalonde said. "With those young guys, (Saturday at New Jersey) is exciting, it's a huge challenge, it's back to back.
Suiting up for his first career NHL contest on Friday vs MTL, 21-year old Elmer Soderblom broke a scoreless tie in the 3rd period en route to a 3-0 victory. As a result, he became the 6th @DetroitRedWings player (and the 1st in a quarter century) on this list of memorable debuts pic.twitter.com/shaSBBeeRn

— StatsCentre (@StatsCentre) October 15, 2022
"Want to try to replicate what he did (Friday). I trusted him in every situation, a lot more responsible with the puck. He didn't get lost in coverage at times, either through the neutral zone or the D-zone, which he did a little bit in our exhibition.
"So he got rewarded with a goal. Really happy with Elmer."