Red Wings' Oskar Sundqvist Is a Big Man With a Giant Personality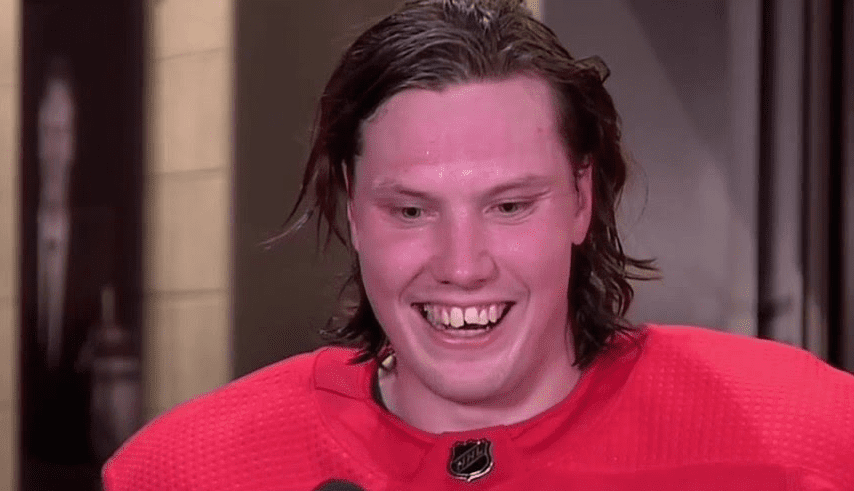 Oskar Sundqvist is all jokes, teasing and tomfoolery until he pulls on the Detroit Red Wings jersey. Then he becomes the symbol of blue collar work ethic.
"He's a great guy off the ice, too," said David Perron, who played with Sundqvist in St. Louis before joining him in Detroit. "Gets the boys together and gets everyone nice and loose. And then the moment he steps on the ice, he goes to work."
Since the Blues moved him to the Red Wings in the Nick Leddy deal last season, Sundqvist has played 21 games. But already he's established himself as one of the more popular players in the dressing room. He boasts an extra-large personality. Sundqvist always seems pleased with life.
An UNREAL defensive play by captain @Dylanlarkin39 paves the way for the game-tying goal from Oskar Sundqvist! 🚨#LGRW I @ThinkFordFirst pic.twitter.com/mSkQeMI0yC

— Bally Sports Detroit (@BallySportsDET) October 18, 2022
And he has also proven himself to be a versatile forward with a knack of making memorable plays. He did that Monday when he scored in the closing minute to help the Red Wings earn in a point in a 5-4 loss to the Los Angeles Kings.
"He's a fun-loving guy and then when it's time to focus come game time, he's a good pro," Red Wings center Michael Rasmussen said. "He works hard, puts a lot of smiles on guys' faces. At the same time, he gets serious and knows what he's doing out there."
Big Help From Big Line
New coach Derek Lalonde created one of the tallest lines in NHL history by combining 6-foot-8 Elmer Soderblom, 6-foot-6 Rasmussen and 6-foot-3 Sundqvist. The line has been called the Sky Line or the Tree Line.
"This is kind of an identity line for us right now," Perron said.
Fan buzz has mostly been about prize rookie Soderblom. However, Sundqvist, at least for now, is having the most impact.
He is tied for the team lead with four points in three games. His 56.8 Corsi rating is tops among Detroit Red Wings forwards. Sundqvist, 28, is playing 15:38 per game thus far.
Sundqvist also has the biggest personality on the new line. His dressing room contributions have been noticed by the coaching staff.
"Extremely valuable," Lalonde said. "Even not having him in camp, he was out early on, not in our every day process. We have a quiet group, just natural reserved type personalities. The second he came in our room it was a huge spark… Having that big personality is very valuable."
Teammates have plenty of admiration for Sundqvist because he plays hurt. He played last season on a very bad knee that needed an offseason repair.
"You don't know if one day he's gonna play or not, the way he's walking off the ice, but then he's out there just skating the hardest out there," Perron said.
Sundqvist confirms that this is the best his knee has felt in three seasons.
"It's no pain anymore, so I'm happy with that I've been able to do what I'm supposed to when I'm supposed to do it," he said. "It's been years since I felt like that. Last year was basically, skating with one leg, since the knee wouldn't work. I'm happy with it how it feels."
Instant Chemistry
Sundqvist said he felt like he "clicked" with his new linemates from the first practice they were together.
"We know our strengths and what we're good at. We're kind of just trying to get it down deep in their zone and then grind them down," Sundqvist said. "It's been working really good so far. We just need to continue working together and talk with each other and just continue on the same path."
Rasmussen said he has learned from watching Sundqvist's game. Sundqvist has played 291 games in the NHL and has a keen understanding of how he should play.
BetMGM Sportsbook
States: All States Where Legal
GET THE APP
SIGNUP BONUS
UP TO $1,000!


Up To $1000 Paid Back in Bonus Bets
BET NOW
"His positioning first of all is something that I watch," Rasmussen said. "I try to look at and see where he's at, where his stick's at. And then I think the biggest thing would be he's just very strong on his stick and he doesn't lose many puck battles. I think that's something that's made him really successful, something I'll try to continue to work on. He's just in the right place, right time, on most of the spots on the ice."
When analysts reviewed the Nick Leddy deal to the Blues, the important part of the return from the Red Wings' perspective was the second round pick. But in final analysis, Sundqvist could end up being just as valuable.