After 25 Years, Red Wings Lidstrom Still Remembers The Excitement
It was 25 years ago that the Red Wings were ending the club's 42-season Stanley Cup drought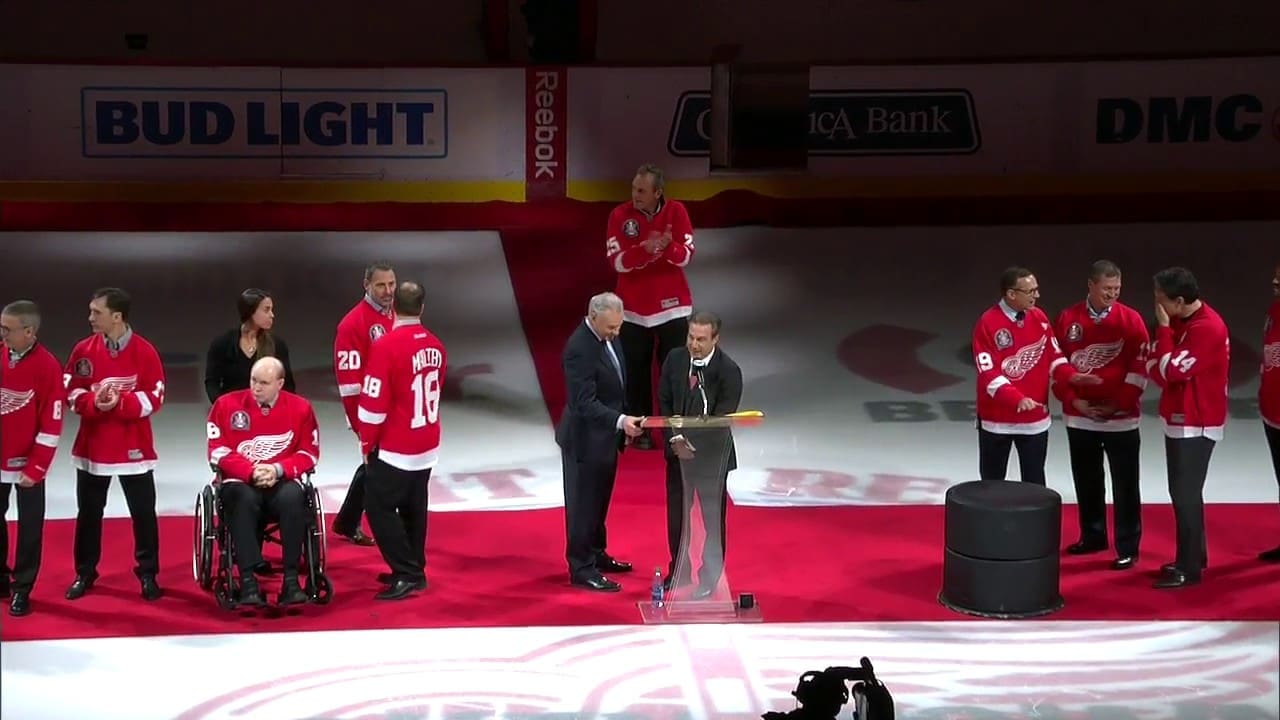 Driving to the rink that June night in 1997, Detroit Red Wings star Nicklas Lidstrom remembers not the opportunity, but rather the building excitement in the anticipation of that moment.
As he and the rest of his Red Wings teammates were arriving at Joe Louis Arena, so was the most famous trophy in hockey. The Stanley Cup was in the building, and for the first time since 1955, the Red Wings were in with an opportunity to win it.
Important notes for this weekend! ⤵️

More » https://t.co/0BRjxhAg98 pic.twitter.com/GoYoq4M0mX

— Detroit Red Wings (@DetroitRedWings) November 2, 2022
"I remember going down to the rink before the game," Lidstrom recalled. "You could feel that there was something special about to happen.
"Even though you can't really go in there and think you're going to win for sure, you could sense there was some electricity in the building. Fans were so excited about being that close to winning the first Cup in 42 years."
They'll be bringing that electricity back to the building, albeit this time at Little Caesars Arena. The Red Wings will be honoring the 1997 Stanley Cup winners prior to Thursday's game against the Washington Capitals. Prior to the Saturday afternoon meeting with the New York Islanders, the 1998 team who successfully defended the title will be given recognition.
Lidstrom Broke Ice For Red Wings
The Red WIngs wound up sweeping the Philadelphia Flyers in the 1997 final, but Game 4 was no easy victory. It was scoreless late into the opening period. That's when Lidstrom drove a point shot past Flyers goalie Ron Hextall to open the scoring, sparking Detroit's 2-1 win.
Always fun going down memory lane with Drapes & Ozzie. We'll be celebrating the '97 champs at LCA tomorrow! Be here at 6pm for the on ice celebration!! In the mean time, check out the full interview ⬇️⬇️

🎥:https://t.co/EcVwY4Hbe4 @DetroitRedWings #LGRW pic.twitter.com/AXen0DsBSE

— Daniella Bruce (@daniellabruce_) November 2, 2022
"I do remember that goal," Lidstrom recalled. "There was no score late in the first period. I remember getting a pass and just taking a one-timer, making sure I'd get the puck through and put it on net.
"It was a big sigh of relief to see that puck go in. Scoring the first goal settled everything down for the whole team to be able to win it that night."
Bowman Brought Cup to Skinner
The next morning, with the Stanley Cup in tow, Red Wings coach Scotty Bowman crossed the USA/Canada border into Windsor, Ontario. His mission was bringing Lord Stanley's mug to the home of Jimmy Skinner. Skinner was coaching the Red Wings when they previously were Stanley Cup champions in 1955.
The moment saw these two Stanley Cup-winning Detroit coaches sharing coffee, conversation and the Cup.
"It was a bunch of star players that molded together as a team," Bowman said of those back-to-back Cup winners. "We could play any way we wanted. We were good, solid defensively, could protect leads, and then we had great centermen. We were so strong down the middle.
"And everybody accepted their role. It was a wonderful time in the NHL probably for about a decade at least. I would say the ownership and the management were close together."
Red Wings Were A Tough Bunch
Certainly recognizable for the terrific skill level with the likes of Lidstrom, captain Steve Yzerman and Sergei Fedorov, those Red Wings clubs were also tough as nails. They could wear opponents down physically.
"We really had a tough team with (Darren) McCarty, (Joe) Kocur, (Brendan) Shanahan, (Martin) Lapointe," Bowman said. "These were pretty aggressive players. Vladimir Konstantinov, nobody was tougher than him."
Overcoming Loss Of Konstantinov To Defend Title
Less than a week after winning the 1997 Cup, tragedy truck when Konstantinov suffered debilitating brain injuries in a limousine crash.
After sweeping Washington and retaining the Cup, the Red Wings wheeled Konstantionov out on the ice to be joining in on the celebration.
BetMGM Sportsbook
States: All States Where Legal
GET THE APP
SIGNUP BONUS
UP TO $1,000!


Up To $1000 Paid Back in Bonus Bets
BET NOW
"It was very special," Lidstrom remembered. "We didn't have a great regular season. We had our ups and downs. We had Vladdy's locker intact with his gear and everything right next to my locker, so you were reminded daily of
what happened to him as well as seeing him come down to the locker room the odd time.
"You got a sense of once we hit the playoffs, that gave us motivation to have success again and to go all the way again. And then having him in Washington for that last game, having him come out on the ice in a wheelchair, giving him the Stanley Cup in his lap and skate him around with Slava (Fetisov) and Igor (Larionov), it gives me chills to this day seeing that "