When Zadina Returns, Raymond's Words Should Be His Mantra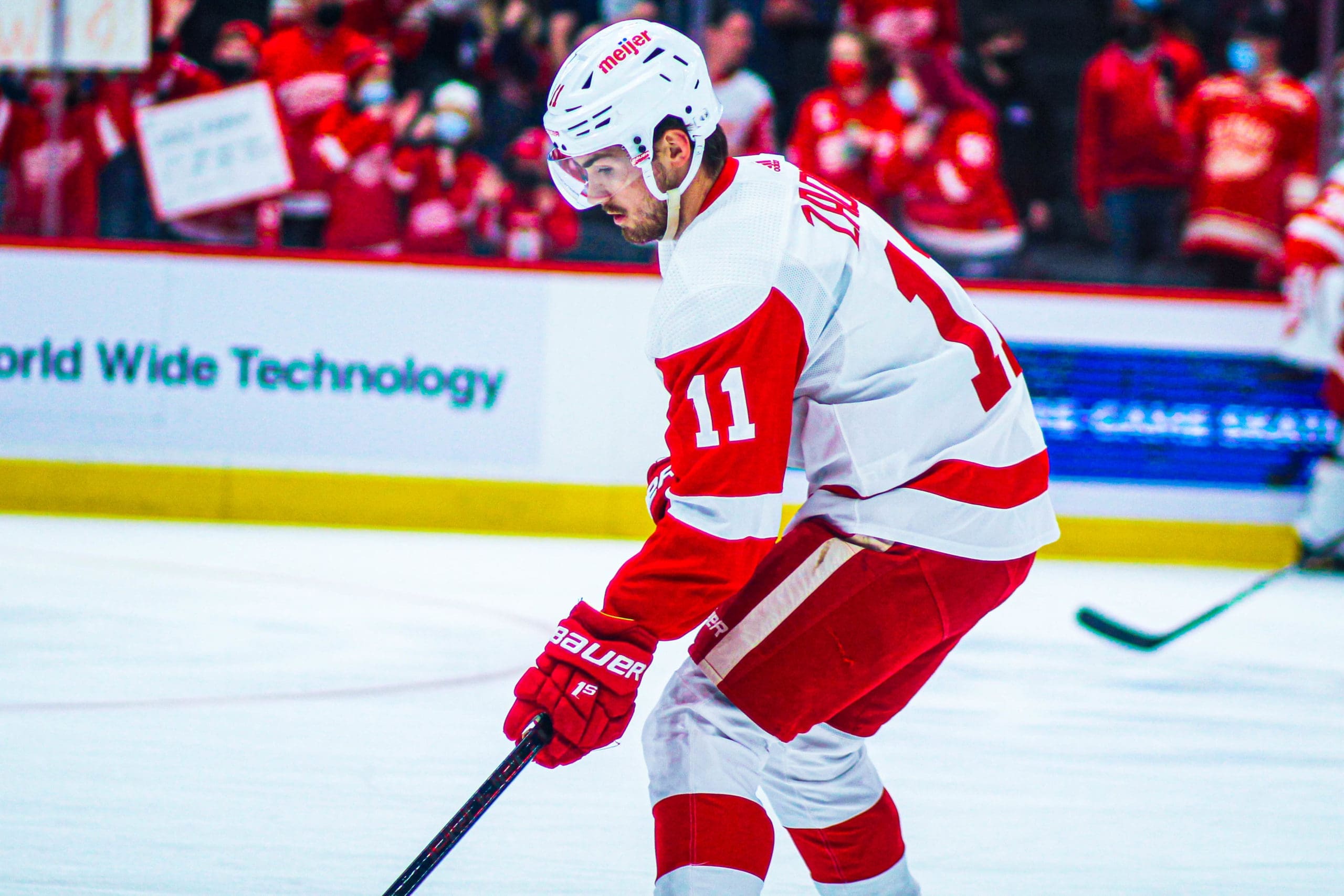 Filip Zadina was lost in the final minutes of the Detroit Red Wings' 3-0 victory when he blocked a shot and had to be helped off the ice. It will be some time before he's back.
The 23-year-old was still forechecking and playing the game as the two-way forward the organization has wanted him to turn into. Zadina suffered the injury after doing the right things, which included taking a puck in his own zone.
One can only think that at some point, fortune will smile upon him instead of delivering frustration.
A week ago, Lucas Raymond was asked if the lack of scoring had been weighing on him. His straightforward response could serve as solid advice to Zadina when he returns.
"No, not really,"  Raymond said. "I think my focus was playing the right way. I know that good things will happen. We had a good game tonight, so just build off that."
It's exactly what Zadina should embrace after he recuperates and returns to the ice.
Zadina Off to a Slow Statistical Start
It's been rehashed often on how Zadina slid to the Red Wings at the sixth spot in 2018. But it's been rehashed more by fans and pundits who now wonder if maybe the first five teams knew something Detroit didn't see.
Hindsight does that. But at the time, the selection was lauded.
It also can't be denied that Zadina has experienced unbelievably bad luck, with Saturday's injury just piling onto it.
What's interesting about zadina is that he's got a curse or something. Put him with known finishers copp and perron? Nobody finishes. Put him with 3rd and 4th liners? Nobody finishes. I'm certain that if he was with 71 &23, they also wouldn't finish https://t.co/8usixpZvxY

— In Yzerman we trust (@GoaliemanSRD) November 1, 2022
In the previous eight games prior to yesterday's, head coach Derek Lalonde has only tinkered a bit with his linemates. The Kubalik-Rasmussen- Zadina line was the first that didn't pair him with a familiar face going back to the initial line with Andrew Copp and David Perron.  A look at his first eight games this season, beginning with the most recent win against Washington sees that consistency
The interesting part of the lines are that Zadina is at a significant career low in offensive zone starts at just 36.5% at even strength. It's a steep drop from his 50.7% oZS last season. The only forwards trailing Zadina in that category with a similar sample size of games? Raymond and Copp.
But here's another underlying stat: Zadina's Corsi Relative percentage. Zadina is second on the team at 8.5% at 5v5, trailing only Michael Rasmussen. At even strength, the team is producing more offense with him on the ice, giving some credence that he's generating offense without finding the back of the net.
This is a small sample size but a couple metrics that potentially explain why Zadina's numbers aren't better. But as seen in the game Saturday, Zadina is doing the little things that add up in time.
If anything, seeing Raymond score again after his drought should serve as some type of inspiration.
Listening to Raymond's Response
It seems simple enough that heeding the advice of Raymond is the likeliest course of action. But like everything else in life, the mental aspect of the game has to be considered. Just a casual viewing of the 2018 draft and the comments made by Sportsnet when Zadina's name was called reveal the expectations cast on him from the start. Being compared to Nikita Kucherov and being called a high-end sniper sets the bar immediately.
It's not to be used an excuse. It's simply going back four and a half years ago and seeing what was expected. With just 25 goals in 169 NHL games, it's certainly not the return the Red Wings expected.
But maybe the high-end sniper prediction was rewritten during his time through the rebuild. Former coach Jeff Blashill wanted him to be a more complete player, and Zadina has grown into that the last couple seasons. The goal scoring hasn't been there, but a stronger two-way game has been.
BetMGM Sportsbook
States: All States Where Legal
GET THE APP
SIGNUP BONUS
UP TO $1,000!


Up To $1000 Paid Back in Bonus Bets
BET NOW
Lalonde said it's what he was looking more from him, understanding that Zadina would clearly lean harder into the goal-scoring aspect of the game.
"He's an offensive guy that judges himself on offense," Lalonde said.  "Obviously, we'd love him producing offense but just managing his game. There's some risk, there's some turnovers in his game. All great players, skilled guys are going to have those natural turnovers, but just limiting them."
Returning to Raymond's words, playing the right way.
Zadina has been doing that. And maybe as Raymond believes, the rest will take care of itself once Zadina is healthy again.