Bertuzzi, Walman To Join Red Wings on West Coast Trip; Sundqvist Back Thursday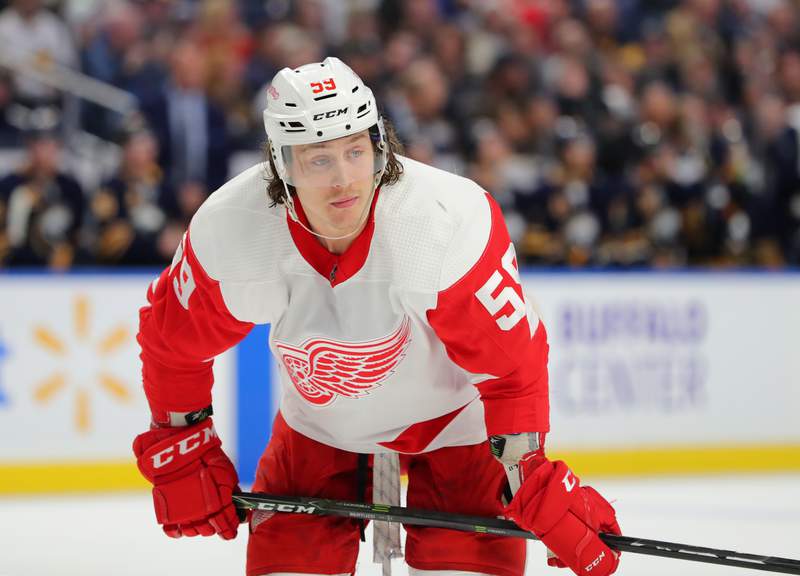 Tyler Bertuzzi skated with the Detroit Red Wings this morning and coach Derek Lalonde said he anticipates Bertuzzi and Jake Walman joining the team on the upcoming West Coast trip.
"(Oskar) Sundqvist is day to day," Detroit coach Derek Lalonde said. "Bert,we're hoping to see on the West Coast trip. Maybe that 7-10 day range. I'd put Walman in that same 7-to-10. (Filip Zadina) is lower body, 6-8 weeks. Obviously not positive but a little more optimistic than we originally thought. (Robby Fabbri) and (Mark) Pysyk are still in that Jan. 1 range."
The Red Wings play the Los Angeles Kings on the road Saturday, and then play road games against the Anaheim Ducks on Tuesday and San Jose Sharks a week from Thursday. They will be in Columbus on Saturday, Nov. 19.
Meanwhile, Oskar Sundqvist (upper body injury) is targeting a Thursday return against the New York Rangers. Sundqvist will miss his seventh consecutive game tonight when the Red Wings play the Montreal Canadiens at home.
Bertuzzi only played two games this season before suffering a hand injury while blocking a shot against the New Jersey Devils. Walman has been on injured reserve after shoulder surgery.
The fact the Red Wings, dealing with multiple injuries, are off to their best start in more than a decade speaks to their improved depth. Lalonde has adjusted his lines, promoted Matt Luff and Austin Czarnik from Grand Rapids, and the Red Wings have remained competitive.
"Those two have been excellent, Luff and Czarnik," Lalonde said. "They understand our system, safe, very little risk in their game, above on everything, actually created some offense for us the other night."
The Red Wings had a longer morning skate this morning, mostly because they didn't practice Monday. The Red Wings are 0-2-1 when they play the day after an off day. Lalonde doesn't like that trend. Everything matters to the Red Wings' new coach.
"We've give up a ton of goals (19)." Lalonde said. "Not committed to that. We've tried as a staff to evaluate ourselves, what we do different. Morning skate was a little longer than usual, a little more tempo to it. That's our next challenge tonight."