Cross Hanas Continues His Rise Through the Red Wings Pipeline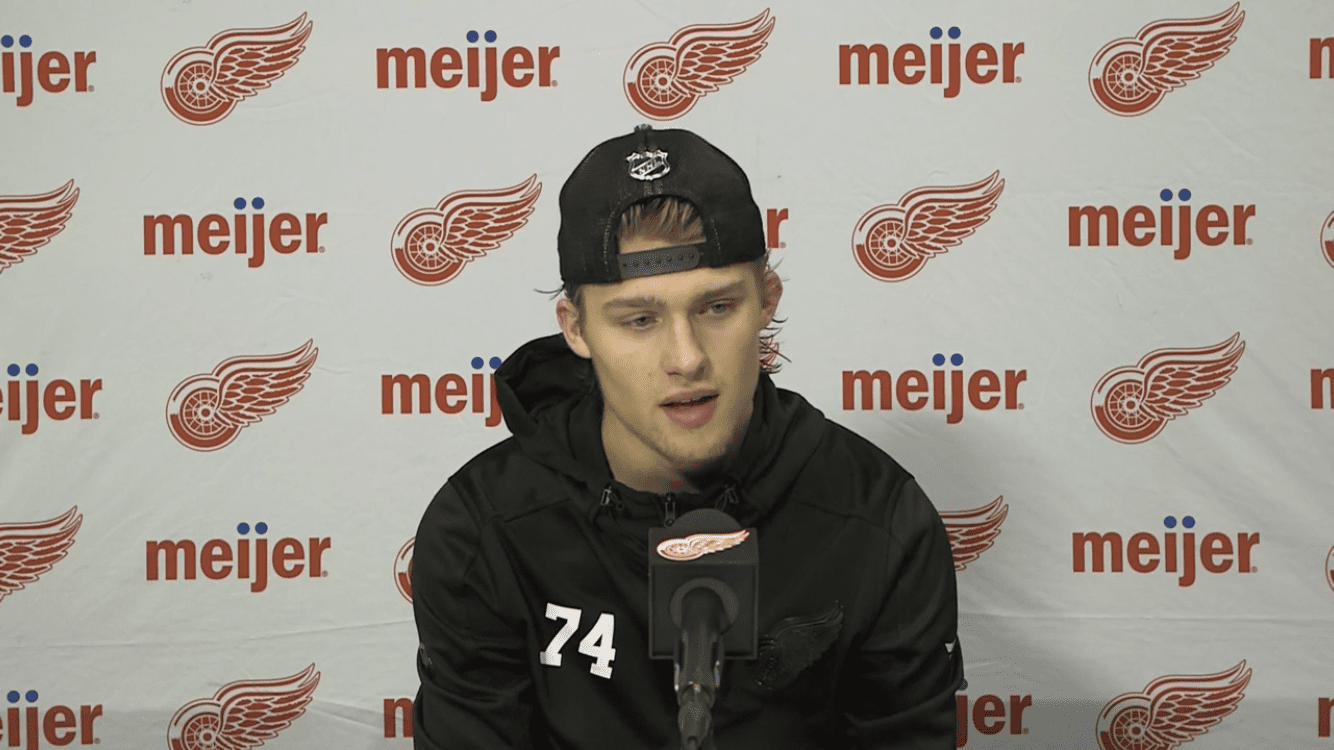 It was just over seven months ago that Cross Hanas inked an entry-level deal with the Detroit Red Wings. At the time, Hanas referred to it as a "weight off his shoulders."
Now he's throwing his weight around in the American Hockey League. Through today, Hanas is tied for second among all rookies with five goals while leading the Griffins as well. Hanas' ascent through the Red Wings pipeline continues as he asserts himself on a team full of prospects knocking on the NHL's door.
From Western Hockey League Playoffs to Grand Rapids
It's been a busy time since Hanas first put pen to paper. First came a disappointing seven-game loss in the opening round of the Western Hockey League playoffs, where Seattle would rally from a 3-1 deficit and knock off Hanas's Portland Winterhawks. In spite of his recent successes with Grand Rapids, the loss still stings.
"We were expecting ourselves to do pretty good," Hanas said of his former club. "We were up in the series, and they came back, took it to seven, and then won in our home rink to take the series. Thinking about it still makes me pretty frustrated. Things happen, it's hockey, it's sports. You have to move on from it somehow and you'll get better from it."
Hanas's next hockey stop was the prospect tournament followed by the preseason. He stood out in both, and off he went to Grand Rapids.
And it's been one goal after another.
"I thought I've had a pretty good overall start," Hanas said. "From preseason camp to the start of the year for me here, I feel like I'm getting more confidence in my play. Transferring into a pro, you have to work on a lot of little details."
His first goal as a Griffin was courtesy of working on those little details.
"It's something the staff pointed out to me, a little detail to keep working on and get better at," Hanas said. "That goal popped out to me in the slot. It was a great pass from (Griffins teammate Dominik) Shine from down low. Thankfully, it came right to me in the slot and thankfully, got it past the goalie, too. It was a really cool moment for me to get that first one by and I had some family in the crowd, too."
Cross Hanas first professional goal!!! #GoGRG #LGRW pic.twitter.com/9FuekdJfcj

— Griffins Nest (@GrGriffinsNest) October 15, 2022
Grand Rapids head coach Ben Simon said the coaching staff sees how Hanas, in line with the team, make the consistent effort to be better on a daily basis.
"He's finding that he's making big steps early in just the first ten games," Simon said. "He's playing with the puck, and away from the puck. The biggest strength is that he's consistent at the team level. He's competitive. He's got the practice habits. I think all the guys have been  receptive to our teaching, to the constructive criticisms, to wanting to get better every day."
Paying attention to those little details–along with putting in the work–is paying off handsomely. Essentially, Simon explains that Hanas' adjustment to a more well rounded game on the ice has resulted in more chances for Hanas to find success.
"He's going toward the puck and supporting the puck more," Simon said. "To play with the puck more, you have to be more sound defensively. If you take care of things on the defensive side of things, you'll have the puck more."
Not only has Hanas had the puck more. He's finding the back of the net with it, too.
Red Wings 2020 Draft Selections Continues to Impress
The Detroit Red Wings 2020 Draft is starting to look like quite the haul. Beginning with top pick Lucas Raymond (fourth overall), many names in the draft have been lauded which includes Willliam Wallinder (32nd overall), Theodor Niederbach (51st overall), Hanas at 55th overall Donovan Sebrango (63rd overall), and Eemil Viro at 70th overall.
The latter two included with Hanas are with him in Grand Rapids. Wallinder and Niederbach are playing in Sweden. Regardless of location, the talent infusion and development occurring is strengthening what was once a depleted prospect base.
A glance to Detroit, where the lineup is populated with draft picks propelling the Red Wings out of a rebuild. Seeing the growth in Grand Rapids amongst draft picks only bodes well for the future.
Hanas is one of them.
But for the 20-year-old Texas native, the journey he's on boils down to being the best player–and person–he can be.
"I'm trying to be the best teammate that I can, as good of a person first," Hanas said. "I keep trying to do what I'm doing on the ice. Keep playing confident, keep having the coaches be able to trust me in every area, and keep growing my game."
If his game does indeed continue to grow, so too will his chances for landing on Detroit's roster.