Red Wings Prospects Wraparound: Cossa Starring in Toledo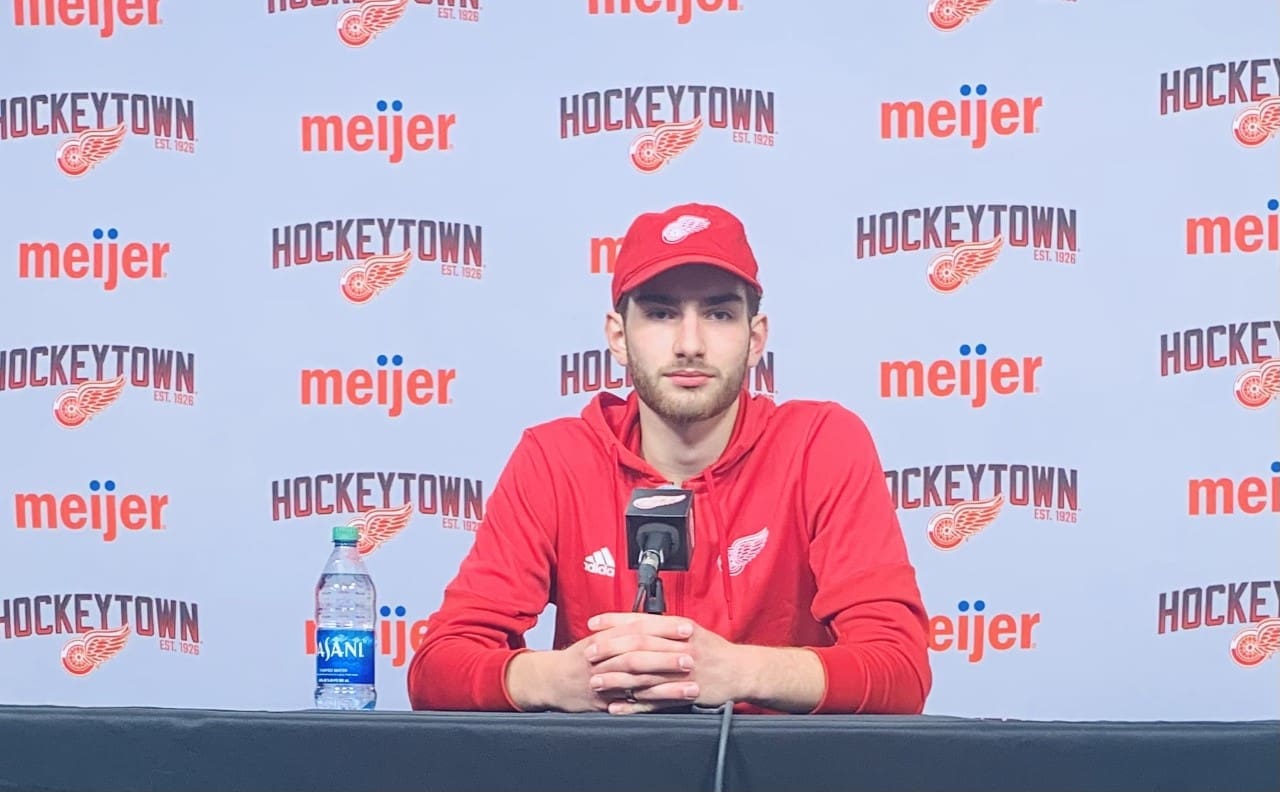 The Detroit Red Wings' prospect Sebastian Cossa has been making a pilgrammage between Grand Rapids and Toledo for the start of his professional career. While the ping-ponging back and forth might upend some, Cossa hasn't missed a beat.
On Thursday night, Cossa stopped 40 of 41 shots in Toledo's 2-1 win over Fort Wayne. Saturday didn't result in as many shots, or a victory, but Cossa was sharp again, making 27 out of 29 saves in a 3-1 loss to Kalamazoo last night.
It's Cossa's eighth appearance for Toledo, and he has a 4-2-1 with a .913 save percentage. While he's only had two appearances so far in Grand Rapids, Griffins head coach Ben Simon attributes Cossa's early success to his attitude.
"He's had a great attitude and a very confident kid," Simon said. "But he's not cocky. He's just a confident kid who wants to play and be the best player he can be."
Cross Hanas Remains Hot in Grand Rapids
Hanas now is alone in second among rookie scorers in the AHL with seven goals, burying the game winner in overtime against Toronto Friday night. On Saturday, he forced overtime with a tying goal but the Griffins fell n the back-to-back series with Toronto.
Hanas now has 11 points in 13 games, and continues to build on a strong second half in the Western League last season with the Portland Winterhawks. His 11 points is tied for fourth among rookies while his goals are tied for ninth in the league.
The 20-year-old forward has been on fire for the Griffins and doesn't appear to be cooling off anytime soon.
DOUBLE CROSS HANAS!! He does it again!! Ties it up on a rocket with 9 seconds to go #GoGRG #LGRW pic.twitter.com/qQLaA2NYxO

— Griffins Nest (@GrGriffinsNest) November 13, 2022
Jared McIsaac Continues His Steady Play
Though not as loud as Hanas' performance, McIsaac has quietly been very steady and productive; for the Griffins. In 13 games, he has eight points (1-7) and has been earning more time on the ice for Grand Rapids. He's also been quarterbacking the top power play, which has been one of Grand Rapids' biggest strengths.
"His consistency and maturity has been fantastic," Simon said. "He went a little under the radar last year. I think the success he had last year as spring-boarded him this year by playing with way more maturity."
After gutting out a few seasons upended by injury, McIsaac is yet another of Detroit's 2018 draft picks (Zadina, Veleno and Berggren the others) to be making his case to see some time with the Red Wings sooner rather than later.
BetMGM Sportsbook
States: All States Where Legal
GET THE APP
SIGNUP BONUS
UP TO $1,000!


Up To $1000 Paid Back in Bonus Bets
BET NOW
Marco Kasper Holding His Own with Rögle
He's cooled off a bit since having three points in his first three games with Rögle but Kasper is still showcasing the offensively ability he has. With 10 points (3-7) in 16 games, Kasper is revealing his physical side, too.
Kasper the unfriendly👻#LGRW pic.twitter.com/OlVQ412hlI

— IcehockeyGifs (@IcehockeyG) November 5, 2022
The eighth overall pick in the 2022 NHL draft considered by many analysts to be one of the most polished prospects in the draft, is already likely to blow past his point output last season. In 46 games, Kasper had 11 points (7-4). This season, Kasper already has 10 points (3-7).
It certainly looks as if the roster decisions Detroit made this past season could be even more complicated when the 2023-24 season rolls around.
It appears Detroit's talent in the prospect pool is rising to the top.