Detroit Red Wings Stock Index: Options and Futures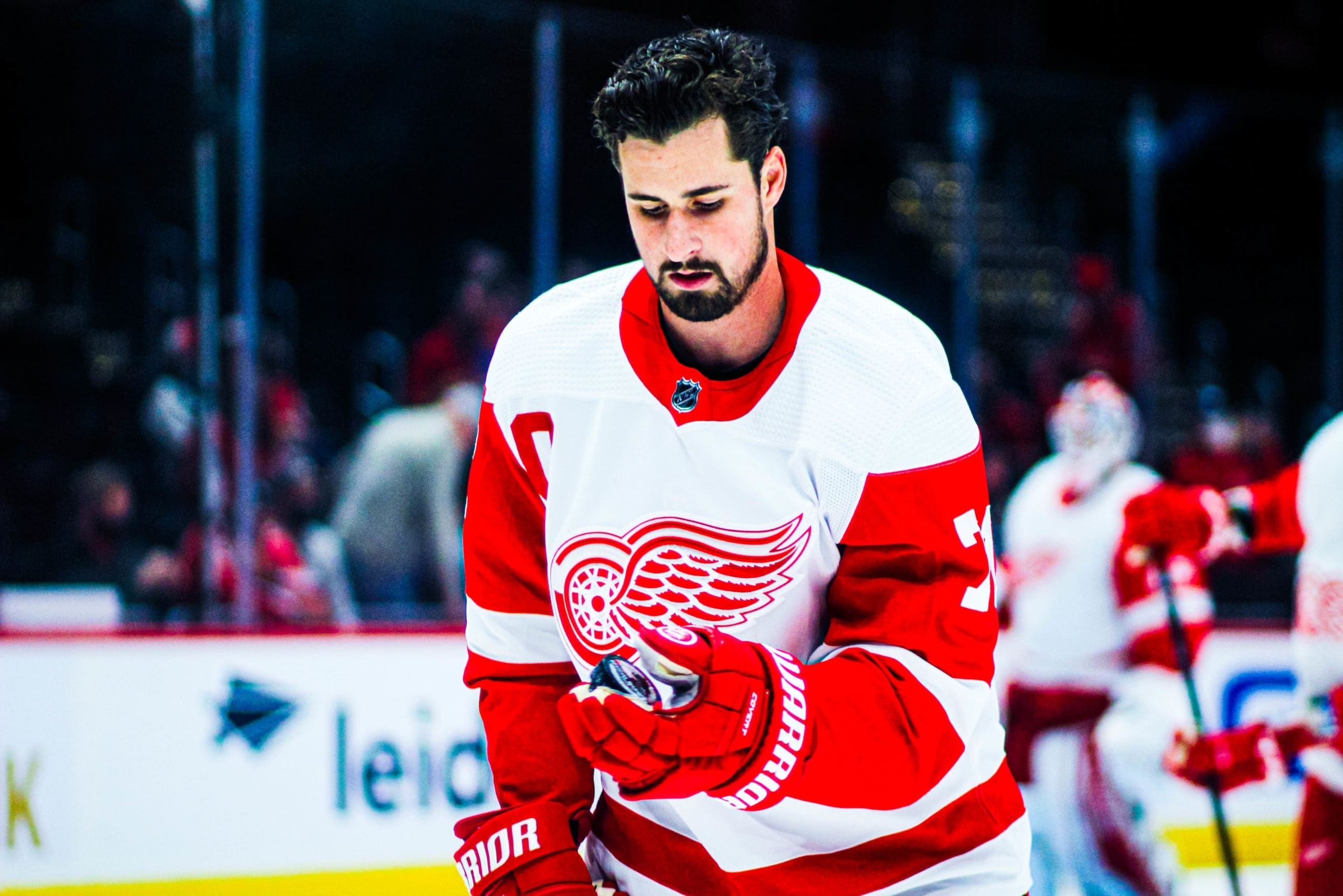 It's a two-game losing streak right now for the Detroit Red Wings but what should be a simpler slate of games are on the horizon with Anaheim, San Jose, and Columbus in that order. A 3-1 finish is certainly possible, but they'll need to have regular contribution from a variety of sources.
This edition of the Detroit Red Wings Stock Index, however, is less about the now and more about the future. With many players in the final year of their contracts, some are pushing their value up while others are either holding even, or potentially playing their way off.
There's a strong stable of prospects waiting in the wings, a problem Detroit is more than happy to have.
Here's a couple names in their final contractual season and what the long term options with their future in mind.
Dylan Larkin
One Word To Describe His Season So Far: Dominant
Contract Status: Final Year
Futures Outlook: Long-Term Deal
Larkin has been the heart and soul of the Red Wings for the last three seasons and this year has cemented his place for the future. Tied for the team lead in both goals and points with Dominik Kubalik, Larkin is in the final year of his contract and an extension is all but certain. Term and price are the only unknowns, but signing on for eight seasons isn't out of the question.
Dylan Larkin gets the Wings back in it early in the third. #LGRW | @ThinkFordFirst pic.twitter.com/Yz9vUJ4aX2

— Bally Sports Detroit (@BallySportsDET) November 13, 2022
Seven years ago, Red Wings manager Steve Yzerman re-signed Steven Stamkos to an eight-year extension just days before free agency opened. Stamkos was coming off of a similar deal of five years and re-upped for the maximum term with an AAV bump of just one million dollars.
To be fair, Stamkos and Larkin are not in the same category of player. However, for Yzerman to re-sign Stamkos at a reasonable price to keep Tampa's foundation in place sets the table for what Larkin's re-signing could look like.
In other words, fans fretting about Larkin's future should look at Yzerman's previous work. Detroit's captain is staying and likely for a long while.
DraftKings Bet $5 Win $150
All States Where Legal
GET THE APP
SIGNUP BONUS
BET $5, WIN $150


New Player Bonus
BET NOW
Alex Nedeljkovic
One Phrase to Describe His Season So Far: Inconsistent
Contract Status: Final Year
Futures Outlook: Cheaper Short-Term Deal or None at all
When Nedeljkovic was acquired, he was the bonafide #1 in net. When the Red Wings traded for Ville Husso this past summer, he was now in a tandem. After six games this season, his numbers are slightly off what was expected.
Some has to do with bad luck. Another part of it is the lack of goal support. Some, like a couple goals Saturday night against Los Angeles, he just missed.
Regardless, Nedeljkovic has been described as a good personality in the locker room and is popular in the fanbase. Going a bit deeper into the stats, his save percentage in high danger chances is .793. His scoring chance save percentage is .896, 23 points higher than last season. Husso, by comparison, has numbers of .813 and .873 respectively.
Kevin Fiala (5) beats Alex Nedeljkovic five-hole with the backhand and gives the Kings the lead on the power-play.

Assists:
Drew Doughty (7)
Adrian Kempe (4)#GoKingsGo #LGRW #LAKvsDET pic.twitter.com/CcSVX4D6kH

— LA Royalty (@LARoyalty1967) November 13, 2022
The Red Wings are likely another season away from Sebastian Cossa being with the big club. There are potential options but it's still too early in the season to feel the smae confidence about Nedeljkovic's future as Larkin's. It's an entirely different situation.
To be sure, a lack of improvement likely muddles Nedeljkovic's future in Detroit. The $3.5M AAV price tag is likely more than Yzerman is willing to take on, especially if they decide to move Cossa up earlier than expected or find a backup who is more cost efficient.
Should Nedeljkovic start trending back to the numbers expected, it's likely he gets at least another year. But the early returns, attached with the current price, makes future predictions tougher to hammer down.