Is It Time For Red Wings To Block Their Shot-Blocking Obsession?
While the Red Wings have improved their shot-blocking numbers, they've also lost four players to injury due to shot blocks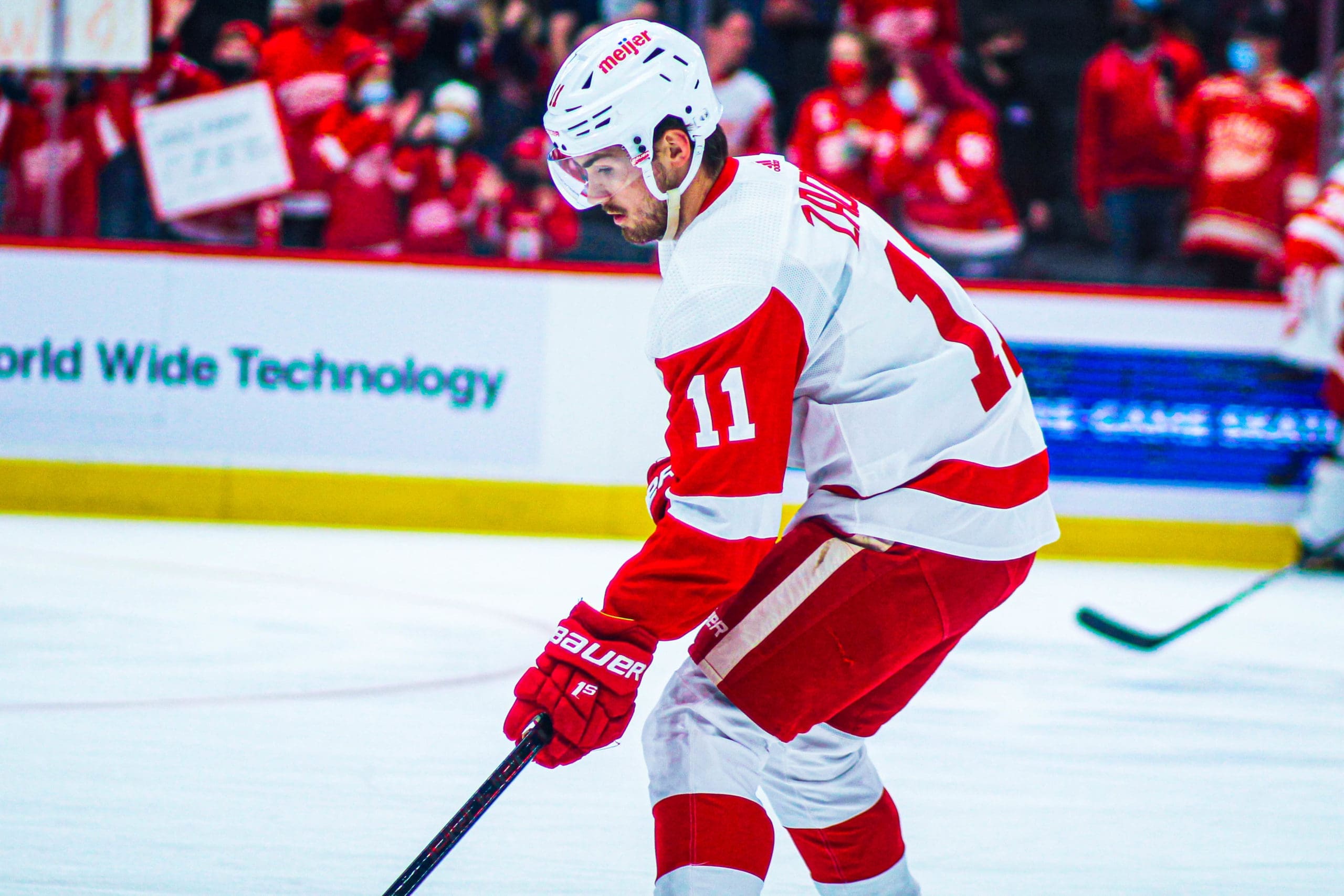 The Detroit Red Wings currently rank ninth in the NHL with 250 blocked shots. In terms of blocked shots per 60 minutes, they are seventh overall in the league (16.46).
Looking to turn around a team that ranked 31st in the NHL in goals against last season, one of the main demands from new head coach Derek Lalonde is a team that is showing more dedication to making the commitment to and sacrifices required in order to play competent team defense.
DraftKings Bet $5 Win $150
All States Where Legal
GET THE APP
SIGNUP BONUS
BET $5, WIN $150


New Player Bonus
BET NOW
In today's NHL, that translates into blocking shots as though their lives depend upon it. Ever since the John Tortorella-coached New York Rangers reached the 2015 Stanley Cup final by going on a shot-blocking rampage, players putting their bodies in front of sizzling pucks has become a mandatory part of the game.
But is the reward for taking that risk worth the price that players are paying for playing this brand of defensive game? Already this season, four Red Wings players have missed time due to injuries suffered while blocking a shot.
Bertuzzi First Red Wings Player To Fall
The carnage began in the second game of the season at New Jersey. Tyler Bertuzzi got in front of a shot and it hit him in the hand, which was fractured.
At the time, Lalonde sung the praises of his 30-goal scorer making such a sacrifice for the betterment of the team.
"He puts his body on the line and that sets the tone," Lalonde said of Bertuzzi. "That kind of changed the game in Jersey."
Bertuzzi left the game injured after blocking this shot with his hand/arm and will not return. #LGRW pic.twitter.com/DQIhdOVbyf

— Ryan Hana (@RyanHanaWWP) October 16, 2022
Lalonde was willing to accept the tradeoff of losing a key player to injury in exchange for the tone it set within the team structure.
"It's part of the game," Lalonde said. "It's unfortunate, but when you see one of your top players do that, you want to go out there and block shots and do the little things to win."
Does it, though? If Bertuzzi hadn't chosen to block that shot and was instead around to shoot a few pucks into opposing nets, might the Red Wings find themselves in a better position in the NHL standings today? As colleague Kevin Allen was recently outlining, scoring goals has become a serious issue for this Detroit squad.
It's a fair question to pose and one which certainly does not have a definitive right or wrong answer. Bertuzzi can't be criticized for making such a commitment to his team. At the same time, is this wise usage of the team's second-leading goal scorer from last season?
More Carnage Ensues
Following Bertuzzi, forwards Filip Zadina, Matt Luff and Elmer Soderblom have lost time to injury following a shot block. Zadina will be out of action for 6-8 weeks. That's nearly 20% of the team's roster in sick bay because they blocked a shot.
"Our guys' commitment for their teammates, blocking shots and just that will has got us through this stretch," Lalonde said of his team's battle to stay relevant with so many regulars out.
Detroit forward Matt Luff took an 89 MPH slapshot off the chin last night against Minnesota, losing teeth and needing 16 stitches to repair the damage. He was on the ice for practice this morning. #LuffIsTough pic.twitter.com/zsBvcUIvsr

— Allan Walsh (@walsha) October 30, 2022
In fact, if it weren't for blocking shots, many of those regulars wouldn't be out.
It used to be that hockey's shot blockers were artisans, and most were defensemen like Al Arbour, Bob Goldham and Craig Ludwig. Today, the message it clear – blocking shots is everyone's job.
Certainly, the cause is noble. However, considering the cost, does the risk warrant the reward?