Hellberg Claim Reminds Us That Little Things Matter to GM Steve Yzerman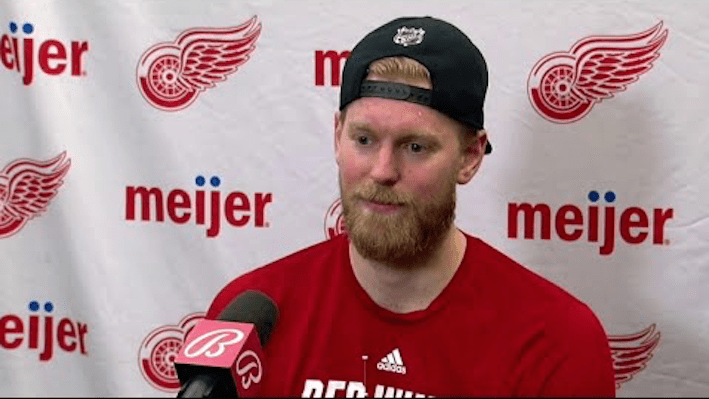 Think of veteran Swedish goaltender Magnus Hellberg as an insurance policy. The Detroit Red Wings hope they won't need him, but could be glad to have him if Ville Husso or Alex Nedeljkovic is injured.
Details matter to Steve Yzerman. That was case when he played and it's certainly true now as he works on a brick-by-brick rebuild of this team.
Although Yzerman hasn't explained his thinking on the Hellberg grab, it would seem Yzerman doesn't have full confidence in the Grand Rapids' goaltending tandem of Jussi Olkinuora and Victor Brattstrom. Finnish netminder Olkinuora did post a 3-0 shutout triumph last night against the Manitoba Moose. However, Olkinuora's goals-against average is still a bloated 3.71. His save percentage is .873. Brattstrom is at 4.05 and .874.
Magnus Hellberg joins #RedWings for morning skate today. pic.twitter.com/N224RJZrUm

— Ansar Khan (@AnsarKhanMLive) November 25, 2022
Sebastian Cossa, playing for Toledo in the ECHL, is too inexperienced to be factored into this equation.
When it comes to goaltending, two goalies can sometimes be too many and sometimes five isn't enough.
This Hellberg move has no risk for Yzerman. He had the roster spot and his salary cap situation is favorable. If Olkinuora or Brattstrom rise up, he could waive Hellberg or possibly trade him back to Seattle. Hellberg seems to be liked everywhere he goes. Don't forget that the Hellberg odyssey started when he was signed by the Red Wings late in the season and beat the New Jersey Devils in his only start.
Hellberg Odyssey
After Hellberg played impressively for Sweden at the World Championships last spring, the Seattle Kraken signed him. Hellberg had multiple teams interested. They lost him when they waived him with the hope of stashing him in the American Hockey League. The Ottawa Senators claimed him. He won a game for them. But when their injured goalies were ready, they wanted to keep him on speed-dial in the minors.
Nope. Didn't happen. The Kraken reclaimed him. Eventually, they probably figured it was safe to put him on waivers because every team had their goaltending situation settled.
That's when Yzerman decided having Hellberg upgraded his goaltending group.
"It's been quite the whirlwind," Hellberg said. "Going into the season, me and my family, we kind of knew that it could be a season like this, trying to break into the league. I think I have to take it as a compliment that
teams have the confidence in picking me up. I think it's just that I'm doing something good. Obviously, it's a little special, but I prepared mentally for it before the season."
His fiancee and dog have been travelling with him.
BetMGM Sportsbook
States: All States Where Legal
GET THE APP
SIGNUP BONUS
UP TO $1,000!


Up To $1000 Paid Back in Bonus Bets
BET NOW
It's a lot of credit to her to keep up with this," Hellberg said. "It's not easy for her to be along on this journey but it's great having her by my side, supporting us in all this stuff. I'm happy she's by my side,
supporting us in all this stuff. I'm happy we're together."
Special Delivery from Sweden
Hellberg had some spiffy Red Wings' goalie pads made for him when he was here before. He took them back to Sweden and used them this summer. Now, some of his friends are pulling them out of his storage unit and sending them to Michigan.
"We're gonna ship them on Monday," Hellberg said. "Hopefully, it goes overnight. Hopefully mid-week next week I will get them."
Yzerman told Hellberg to come in, work hard, and we will see what happens. Hellberg probably should stay packed for a while. At some point, Yzerman could try to get Hellberg to Grand Rapids to help there. It's not hard to believe he could be claimed again, maybe by Seattle.
But if you are a Red Wings' fan, you have to appreciate this Yzerman move. Would Yzerman be buying goalie insurance if he didn't believe this team had a chance to make the playoffs?