Bertuzzi Still Shaking Off Rust From His Game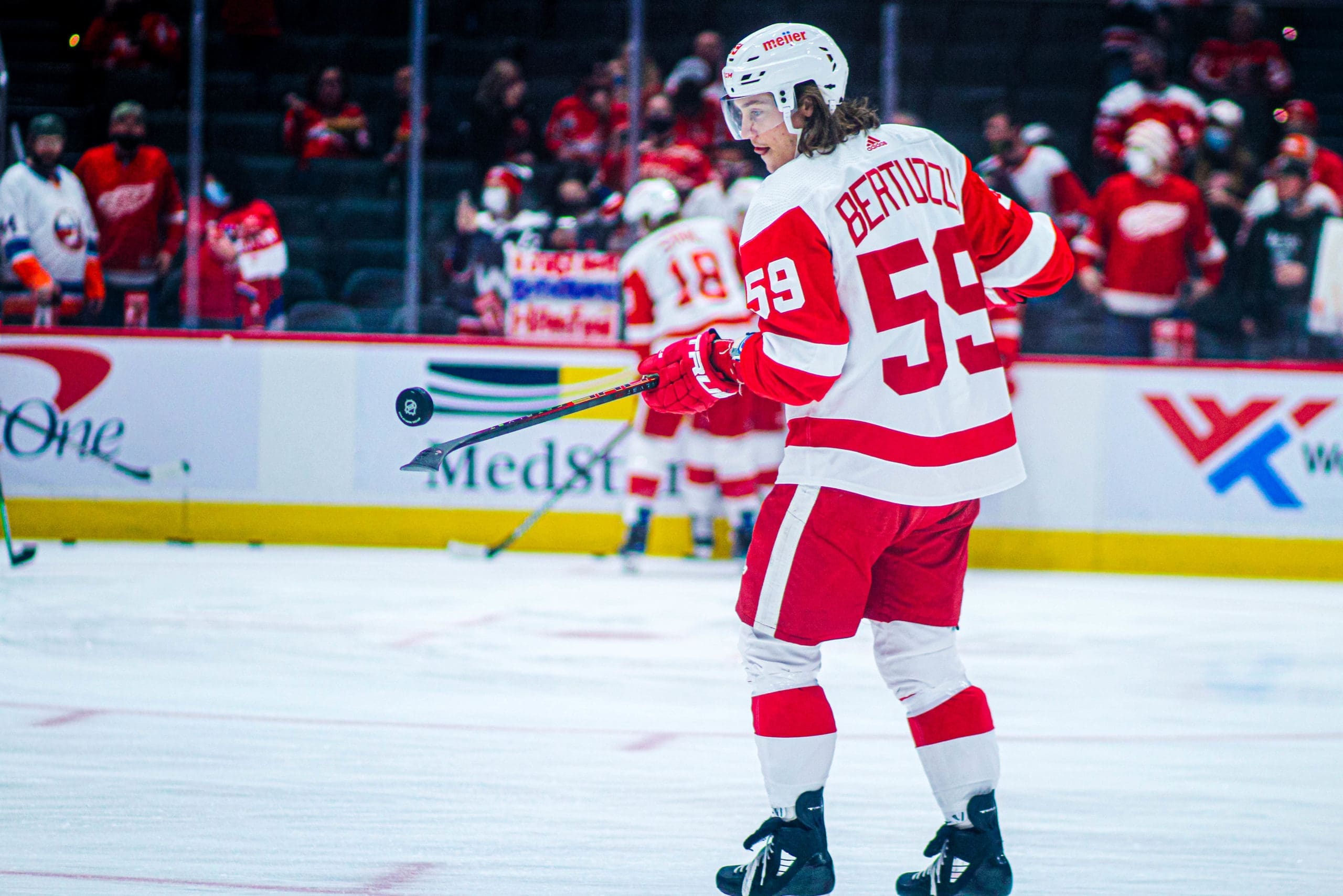 Just because Detroit Red Wings Coach Derek Lalonde believes Tyler Bertuzzi has been "good" since returning from his hand injury doesn't mean he can't wish for more production.
Bertuzzi has one goal and two assists in the six games he has logged since coming off the injured list. That's light for a player who netted 30 goals this season.
"I think he's trying to find his game," Lalonde said. "I hate the fact he missed those games through injury, one, because he's a real good player, and two, we were working on some things within our game, the turnovers, we were starting to limit turnovers, the risk in our game, the ability to get above, he missed a lot of that teaching and structure and now he's coming in a bit late and you can see he's still having some issues at times managing the puck."
Tonight vs. the @BuffaloSabres:
– Alex Nedeljkovic in net
– Rasmussen 2C w/ Bertuzzi & Perron
– @KenKalDRW's thoughts on the matchup!@DetroitRedWings #LGRW pic.twitter.com/IxyJSRCiat

— Daniella Bruce (@daniellabruce_) November 30, 2022
Lalonde believes Bertuzzi simply has rust from not playing for a month. He was injured blocking a shot on Oct. 15 against New Jersey and returned Nov. 15 at Anaheim.
Rust on Finishing Touch
"He could have 4-5 goals already," Lalonde said. "A little of that rust is maybe his finishing touch, too. He's around it, he's involved in a lot of offense. Good sign for us. It's just a matter of time. I'd be more concerned if he wasn't getting those types of looks but he's getting those looks."
Clearly, Bertuzzi wants more production too because his contract is expiring. Undoubtedly, he is hoping for a big payday. There's been no word about how negotiations are progressing or not progressing.
BetMGM Sportsbook
States: All States Where Legal
GET THE APP
SIGNUP BONUS
UP TO $1,000!


Up To $1000 Paid Back in Bonus Bets
BET NOW
In his continuing search for the right lines, Lalonde has Bertuzzi playing in practice this week on a line with center Michigan Rasmussen and wing David Perron. They should be together tonight in the game against Buffalo.
Perron is looking forward to playing with Bertuzzi during a game.
"I love his game," Perron said. "Coming from the outside, you know he's a hard worker. He always finds a way to be around the net, around the puck. He finds open areas of the ice. I haven't played with him yet, so it's going to be interesting for sure. I'm excited. "
Bertuzzi adds a layer of pure belligerence to a twosome who are also hard to play against.
"I think he's a guy that also can make more plays than maybe he gets credit for, so I also have to be
ready in those situations," Perron said. "..I think he's a guy that will make those little plays and maybe create that cycle game that I like to play as well.