21 Red Wings Questions Heading Into The New Year: Part One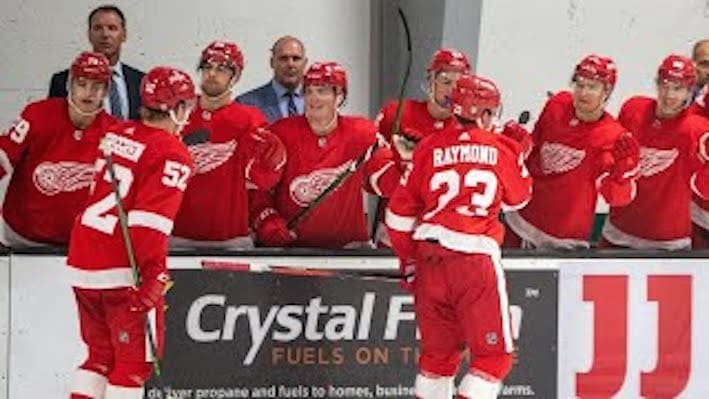 As the New Year dawns, the Detroit Red Wings are in a more favorable position than where they were at a season ago. At 16-12-7, Detroit sits five points out of the final playoff spot but have a pair of games in hand.
A season ago? Detroit was 15-14-3. The year 2022 would usher in some brutal losses, though, and before long, playoff hopes were dashed. Then head coach Jeff Blashill was relieved of his duties and general manager Steve Yzerman brought Derek Lalonde in to take over.
Many changes have taken place. Some factors are remaining similar. Within a few days with roster moves looming, management will be needing to make some tough decisions.
So as 2023 begins, here are the first seven of 21 Red Wings-related questions to ponder.
Six Red Wings Roster-Related Questions
#1: Should the Red Wings Keep Jonatan Berggren in Detroit? 
Yes. The 2018 second round pick has been a boon to Detroit's offense. Look no further that his work during Thursday's game, where his efforts led to the Red Wings' second goal. Go back and watch his goal against Pittsburgh, keeping the rally alive.
Jonatan Berggren brings the Red Wings within one goal after trailing by four 👀 pic.twitter.com/LGy0tTjMiP

— Sportsnet (@Sportsnet) December 29, 2022
He's not only making the scoresheet, he's doing the little things that Lalonde is looking for from his players. In theory, he should be staying up but keeping players on the roster who are not expendable via waivers will ultimately determine Detroit's decision making.
#2: What about Elmer Soderblom being sent back?

Soderblom is another option ot be assigned to AHL Grand Rapids without clearing waivers. Throwing a wrench into those plans are the fact that the 6'8 forward has been very good for Detroit in the last three games. With Jakub Vrana set to return after his conditioning stint, and Robby Fabbri right around the corner, it throws some chaos into the lines. That doesn't even put into consideration the kerfuffle in the goal crease.
#3: Does Soderblom Need Time in Grand Rapids? 
Seasoning back in Grand Rapids would help because he'll rack up the ice time. But if Detroit is making a presumed playoff push, having the towering forward on the fourth line is enticing. Also, Bally Sports Detroit's Ken Daniels reminded viewers during Thursday's broadcast that it was Yzerman who insisted on Soderblom being in Detroit.
With his last three games being very good, would they really opt to send him back?
#4: Would the Red Wings consider sending Joe Veleno back down?
Veleno going back is still an option. He has 12 points in 34 games, and has been more visible this season. He's also been having a heck of a week.
Ben Chiarot finds Joe Veleno in the slot, and he buries it! Just like that, the @DetroitRedWings are back to within two! #LGRW I @ThinkFordFirst pic.twitter.com/QbDw6Rskww

— Bally Sports Detroit (@BallySportsDET) December 29, 2022
The flux of experience and talent coming back certainly pushes him down a line. He's likely centering the fourth line with Soderblom, Oskar Sundqvist or Adam Erne. It seems likelier that Veleno, of the three, would remain with the team. But his waiver-exempt status certainly makes him a possibility, albeit the most distant possibility.
#5: What do they need to Be doing With the goaltending situation?
 
Ville Husso is obviously safe. But then it becomes a question of Alex Nedeljkovic or Magnus Hellberg as the backup goalie. The former hasn't come to close what the Red Wings (or he) expected in terms of performance, while the latter has been solid in relief and in the tandem role. If the Red Wings make the decision to be exposing Hellberg to waivers, he's likely on his way out (again). Nedeljkovic is a more interesting case. Would Yzerman risk putting him through waivers? Might a team pick him and his salary up?
#6: Would Yzerman pull off a trade to clear out some room? 
Later for sure. But Detroit hasn't had much opportunity to play with their full roster all season. With news that Vrana, Tyler Bertuzzi, Fabbri, and Filip Zadina could all be back within a matter of weeks, it certainly changes things in terms of how the roster shapes up. A trade opening some spots would certainly ease the logjam, but seems unlikely right now. There's something to be said for having the roster stocked.
#7: So when everyone is back and healthy, how might things realistically look? 
The Red Wings would potentially start by putting Filip Zadina on a conditioning stint, similar to Vrana. Maybe a similar route for Bertuzzi as well. This would allow them to punt some decisions down the road a bit.
When the four return, here's how the roster would look:
Forwards: Raymond, Larkin, Perron, Copp, Suter, Rasmussen, Kubalik, Sundqvist, Veleno, Berggren, Soderblom, Erne, Vrana, Fabbri, Bertuzzi, Zadina
Defense: Seider, Chiarot, Maata, Hronek, Walman, Oesterle, Lindstrom
Goalies: Husso, Hellberg, Nedeljkovic
The easiest way to handle it certainly seems like one of the most unpopular — shipping a couple of wavier-exempt players like Veleno, Soderblom, and Berggren back to Grand Rapids. This won't go over well with the fan base, but it appears the likeliest, if not safest of the options.
DraftKings Bet $5 Win $150
All States Where Legal
GET THE APP
SIGNUP BONUS
BET $5, WIN $150


New Player Bonus
BET NOW
Such a move would be alllowing one of the three to be staying with the team–likely Veleno–while either Hellberg or Nedeljkovic would be going through waivers.
Perhaps all three go down and the Red Wings stick with three goalies. That seems risky carrying only one extra forward to have a three-headed monster in the crease.
As the Red Wings bring back more of their players, it will be interesting to see how Yzerman addresses the soon-to-be abundance on the roster.
To Read Part 2 of the series, click here.