Which Red Wings Could Be Gone After The NHL Trade Deadline?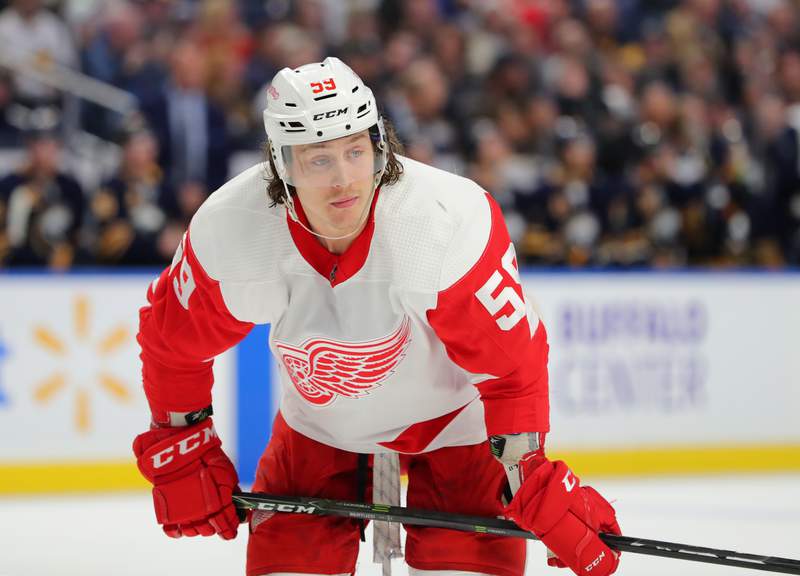 The NHL trade deadline is just over six weeks away, and general managers are already writing their shopping lists. The Colorado Avalanche are looking for a No. 2 center. The New York Rangers and New York Islanders need a scorer. The Los Angeles Kings need an impact defenseman. The Toronto Maple Leafs want a warrior who can help them get out of the first round of the playoffs.
The Maple Leafs have been looking for that same guy for 17 years.
BetMGM Sportsbook
States: All States Where Legal
GET THE APP
SIGNUP BONUS
UP TO $1,000!


Up To $1000 Paid Back in Bonus Bets
BET NOW
Coach Derek Lalonde's Detroit Red Wings are hoping they are in the playoff race and not worrying about who is going to be shipped out. But with Pittsburgh winning last night, the Red Wings are now seven points out a playoff spot. Plus, there are four other teams also trying to catch the Penguins. It's possible the Red Wings will be in the race in March, but not probable.
What it means is GM Steve Yzerman will have some decisions to make about whether to move some of his players. Here is a list of players who could draw interest:
Tyler Bertuzzi
If Yzerman and Bertuzzi don't have a contract agreement by the March 3 deadline, the logical move is to trade him. A rebuilding team can't allow him to leave without receiving some compensation.
Even in his injury plagued season, Bertuzzi will have value on the open market. His gritty, net-front game is perfect for the NHL playoffs. Let's not forget he scored 30 goals last season. GMs around the NHL haven't forgot that. Would guess the Edmonton Oilers, Toronto Maple Leafs, Tampa Bay Lightning, Carolina Hurricanes among others will be interested.
Would be surprised if the Red Wings didn't come away with a first-round pick and a prospect for a Bertuzzi rental.
Maybe we will be surprised, and Bertuzzi and Yzerman will reach an agreement. But be honest: Haven't you felt all along that Yzerman might not get Bertuzzi signed?
Adam Erne
Erne leads Detroit in hits and that alone might be enough to interest teams. Hits matter in a seven-game series because they have a cumulative impact over the course of a series. Teams wear down if they get hit enough.
That said, there is still probably only slight chance that he is dealt. Maybe the Lightning would be interested because they know him.
Dylan Larkin
Whenever you talk to anyone around the NHL, one of the first questions is: What's going on with Dylan Larkin? Nobody believes he's not signed yet.
Still believe a deal will happen. But as each day passes, it's easy to become more convinced that they are far apart on the dollar amount. Because it's Yzerman, nothing about the negotiations has leaked out. But you can guess that Larkin is being asked to be paid like a captain, No. 1 center and a homegrown popular player. As coach Derek Lalonde has said more than once, Larkin drives offense.
But Yzerman is watching every dollar because he knows he's soon going to have pay Moritz Seider, Lucas Raymond, etc. Plus, he's undoubtedly thinking he will need his cap space to land a major free agent. You can't build strictly through the NHL draft.
There's also the issue of the Red Wings' lack of success. From what I've heard, Yzerman wants to pay players based on how they contribute to a winning team rather than how their statistics compare to other players around the league.
Even if this drags on, it's hard to see Yzerman trading Larkin at the deadline, even though he would fetch a handsome return. Nashville's David Poile didn't deal Filip Forsberg in a similar situation and managed to get him signed after the season. The Predators knew Forsberg wanted to stay in Nashville, like the Red Wings know Larkin wants to stay in Detroit.
Yzerman also let Steven Stamkos play out when he was in Tampa Bay and Stamkos stayed with the Lightning
But it would be risky for Yzerman not to trade Larkin if he isn't sure he can sign him. As popular as Yzerman is in Detroit, he would face criticism if Larkin leaves through free agency.
Olli Maatta
If you're a team looking for a depth defenseman, Maatta could be a good option.  He's been a good addition for the Red Wings. He's a dependable, defense-first competitor who understands what he needs to do to be effective. He can surprise you a bit with his occasional offensive charge.
You can't have too many defensemen in the playoffs. Some teams could have Maatta on their list. At $2.25 million, Maatta is cheap enough to squeeze under the cap.
Before Yzerman trades Maatta, he probably will consider whether he might want to re-sign him.  That may depend on if Yzerman believes any of his young defensemen might be ready to play in Detroit next season.
Alex Nedeljkovic
Let's see how many goalies around the NHL end up on the injured reserve before we say for certain that no team will want Nedeljkovic. For the sake of argument, let's say Nedeljkovic stays in Grand Rapids and plays exceptionally well.
If a team has two goalies nursing injuries, a team might give up a draft pick to have Nedeljkovic around as a No. 3 insurance goalie.
Oskar Sundqvist
Big guy. Can play center or wing. Hard to play against. Won a Stanley Cup with the St. Louis Blues in 2019. Of course, teams are going to call about Sundqvist. He can be the valuable role player that a playoff team needs.
Sundqvist also has a reputation for being a fun, likeable teammate. He checks most of the boxes to be a NHL trade deadline acquisition. Would expect him to move for a draft pick.
Pius Suter
He's not going to be high on any team's list. But he's also a versatile player who can play center or wing. He's a smart, two-way forward. Plays an honest game. If you are a team needing some extra offense from a third line, Suter could help. Possible he could move, not likely.
Jake Walman
Would expect Yzerman to soon be talking to Walman's agent about a new contract, if he hasn't already started that process. Walman has developed into a top four defenseman this season. He's part of Detroit's future if he wants to be.
He could test free agency next summer. But why leave a team that gave you the opportunity to show that you can be an impact player?  Would expect he will be a Red Wing after the deadline.