Vrana talks life in GR and getting back to Red Wings
Vrana showing significant improvement with Griffins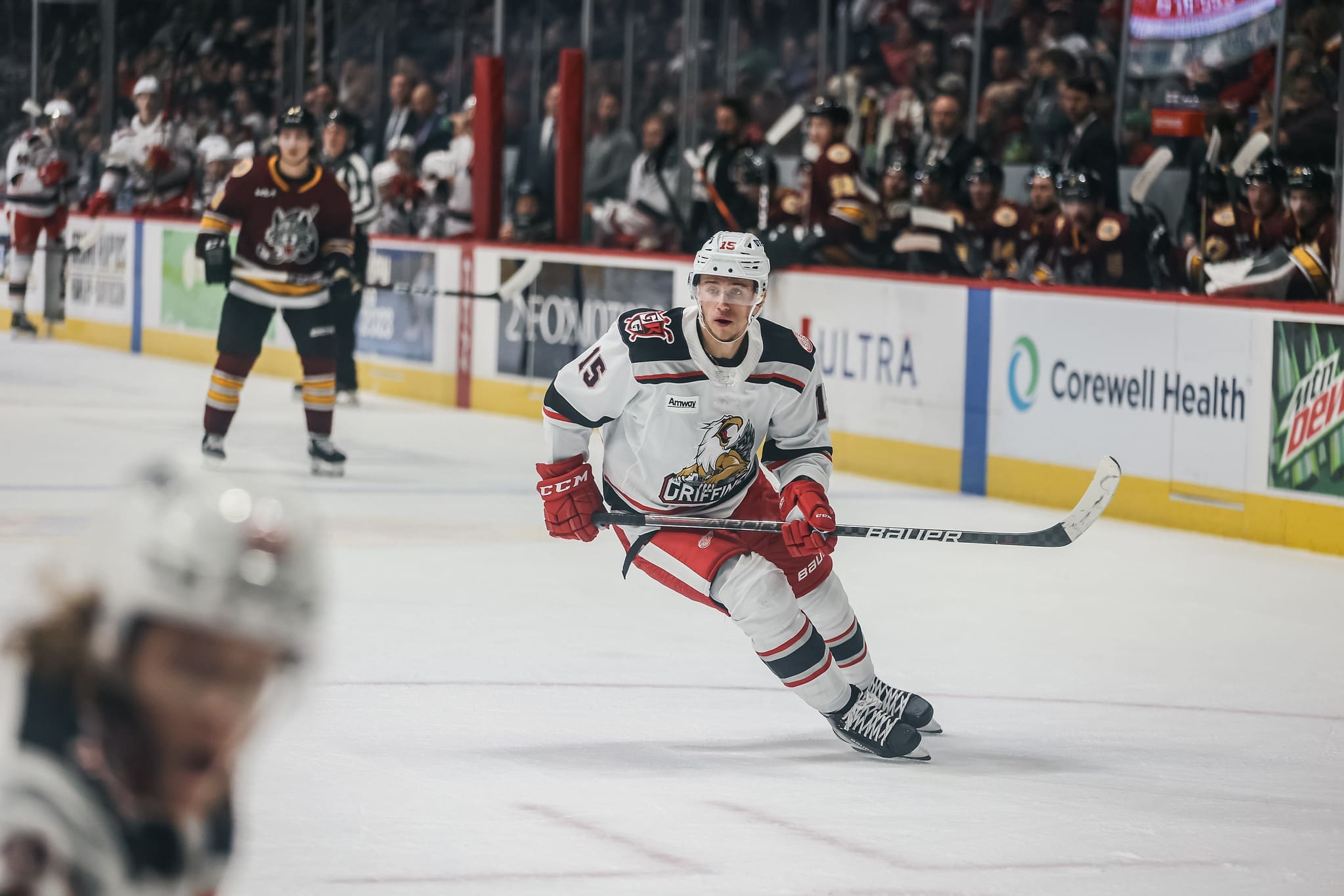 Two seasons in a row, the Detroit Red Wings began the season by penciling in forward Jakub Vrana as being a big piece of their puzzle. And two years in a row, unfortunate circumstances have taken Vrana out of the picture.
Last season, it was shoulder surgery following the first day of training camp that left him on the sideline until March. This season, Vrana was entering the NHL/NHLPA Player Assistance Program after just two games of the campaign in October. He stayed in the program that treats players for mental health, alcohol and substance abuse issues until late December.
After completing a rehab assignment with the AHL Grand Rapids Griffins, Detroit's top farm club, the Red Wings made the decision earlier this month to place Vrana on NHL waivers. Once he was clearing waivers, Vrana was given full assignment to GR.
Who doesn't love a Vrana goal???

2-0 Grand Rapids #GoGRG pic.twitter.com/LYGGrYiv2D

— Griffins Nest (@GrGriffinsNest) January 22, 2023
He's been there ever since, and it's been a struggle for him. Lately, though, Vrana is showing signs of the player who has tallied 22 goals in 39 games for the Red Wings.
"I thought his game (Saturday) was the best game he's played all year" Griffins coach Ben Simon said following Saturday's 3-2 overtime loss to the Springfield Thunder. "He's skating, he's moving his feet, and he's way more competitive with and without the puck.
"He's taking steps in the right direction."
Vrana Confident He'll Be An NHLer Again
In 10 games with the Griffins, Vrana is showing 2-1-3 totals and a -4 rating. But he's scored in consecutive games for Grand Rapids.
"I'm just starting to put pucks in the net," Vrana told reporters after the game. "I've been getting chances. It's a matter of time now."
No one outside of his inner circle knows for certain why Vrana sought out help. He's chosen not to discuss the matter. He says his objective now is get back on the path that not only leads him back to the NHL, but also to a healthier overall lifestyle.
"I get back from the program and I am basically doing what I am told," Vrana explained. "For me, I'm just trying to get better as a person, on the ice, it doesn't matter. I'm just working on myself."
First and foremost, Vrana is a hockey player by trade, and for the previous five seasons, he was a full-time NHL left-winger. It's a role he's certain he'll once again be filling before long.
"I'm a confident guy," Vrana, 26, said. "I will never lose that. I'm gonna find a way, I'm gonna find my game. I'm gonna work on myself on the ice until I find it. That's how I am. That's how I've always been, so I'm not worried about that.
DraftKings Bet $5 Win $150
All States Where Legal
GET THE APP
SIGNUP BONUS
BET $5, WIN $150


New Player Bonus
BET NOW
"I'm here right now and I'm doing my best to help the team with my game. I can only control what I can control. I'm feeling great, I'm feeling unbelievable."
Vrana Uncertain About Red Wings Future
Will that NHL return come in Detroit? On that subject, he seems less confident.
"I can only do what I can do," Vrana said. "I do my best. The rest I cannot decide.
"I feel like am I doing what I can possibly do with myself and my life, but I don't decide those decisions."