Lucas Raymond Injured in Red Wings Practice; Walman Also Day-to-Day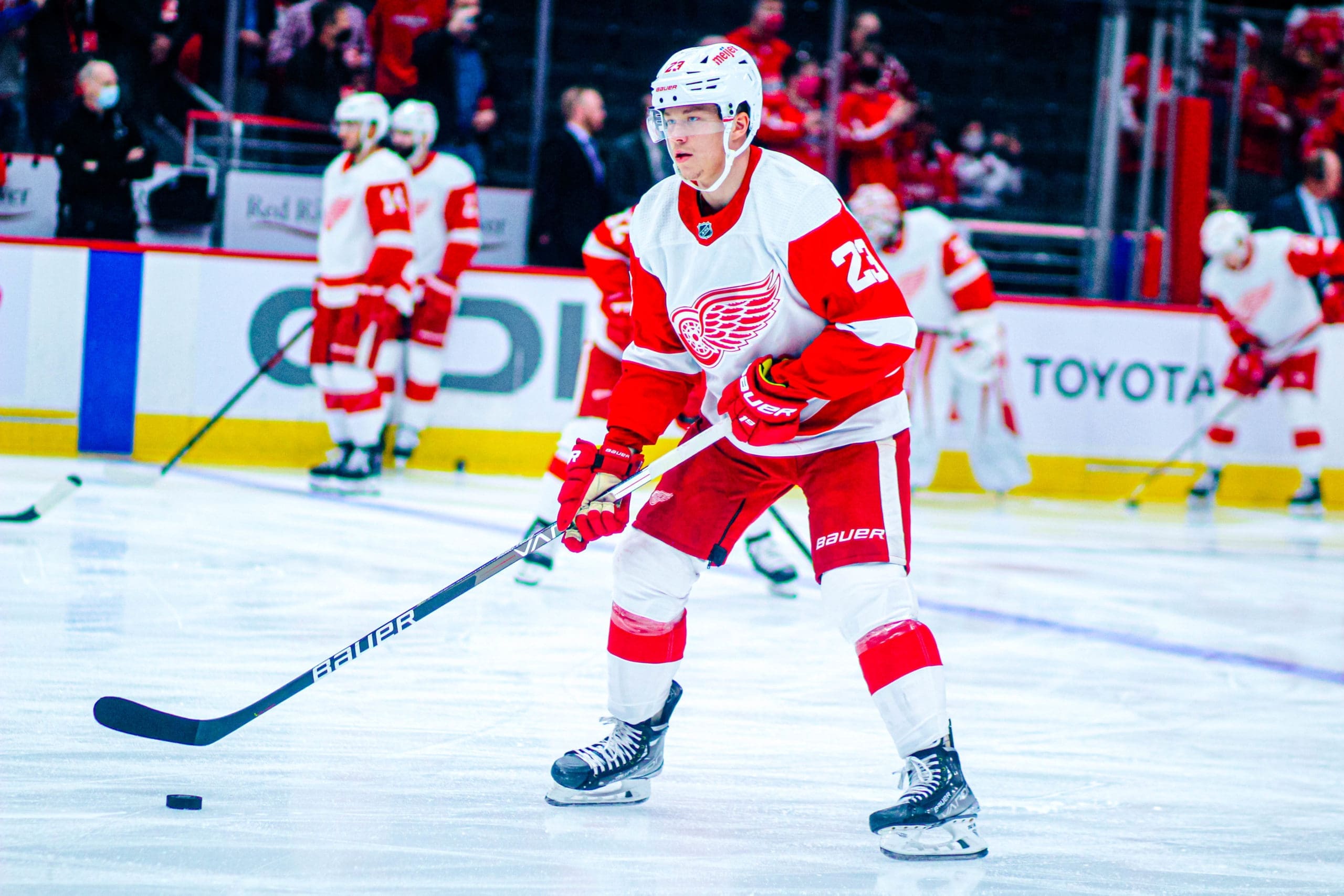 Lucas Raymond is in danger of missing his first game as an NHL player Saturday when the Detroit Red Wings play the Vancouver Canucks in a matinee game.
Raymond was scheduled to see a doctor Friday afternoon after colliding with defenseman Ben Chiarot in practice. He limped to the Red Wings' dressing room after talking to a trainer.
"Probably be in that day to day range," Detroit coach Derek Lalonde said.
Raymond, 20, has played 132 consecutive games for Detroit. If Raymond can't play, then Dominik Kubalik returns to the lineup. He was a healthy scratch for Detroit's 2-1 win against the Calgary Flames Thursday.
Defenseman Jake Walman also didn't practice Friday, leaving his status unclear for Saturday. He suffered an upper body injury when he went down on a punishing hit by Calgary defenseman Nikita Zadorov with seven minutes to go in the first period Thursday.
Jake Walman leaves the game hurt after this big collision with Zadorov. #LGRW pic.twitter.com/vJp3CA5ENW

— Ryan Hana (@RyanHanaWWP) February 10, 2023
Walman Has UBI
Walman had to be helped off the ice, but then came back in the second period. But he couldn't practice today.
"Don't know if we'd expect him tomorrow," Lalonde said. "We'll get a better feel in the morning."
The injury appeared to be a left shoulder, but that hasn't been confirmed.
"I don't think it's anything alarming," Lalonde said. "But I don't know if we'll have him for tomorrow."
Lalonde said it was a clean hit. "The other kid took a fall, too," Lalonde said. "It was a collision. He gave as much as he took. It was shoulder on shoulder, clean. He's just a real big boy, Zadorov."
BetMGM Sportsbook
States: All States Where Legal
GET THE APP
SIGNUP BONUS
UP TO $1,000!


Up To $1000 Paid Back in Bonus Bets
BET NOW
Kubalik hasn't been the same player he was early in the season.
"Obviously it's frustrating," Kubalik said. "You always want to play. You don't want to be the guy who's not…I want to get back to my game, what it was at the beginning of the season. I think that's the main goal right now. Be at those shooting areas, be hungry around the net. And shoot the puck. That's usually the No. 1 thing and in the last couple of games I haven't done it."
Increased Competition
With a healthy lineup for the first time this season, the Red Wings' competition for playing time is intense.
"We have so many guys in a similar situation, I wouldn't call that a healthy scratch, I wouldn't call that not being good enough to be pulled out of the lineup," Lalonde said. "I just think we were finally healthy with 13 guys and I think you're going to see some guys rotate out."
But Lalonde is looking for more from Kubalik.
"When he's skating he's assertive with his game," Lalonde said. "That's when he's at his best. You saw parts of it the other night; he split the ice down the middle, breakaway, where he almost scored. It felt like he would have two or three of those a game, not once, in 2-3 games. Good player for us, been good for us. I don't know if he warranted coming out. It was more about giving Zadina an opportunity."