Red Wings do needful before embarking on road journey
Detroit leaving for five-game road trip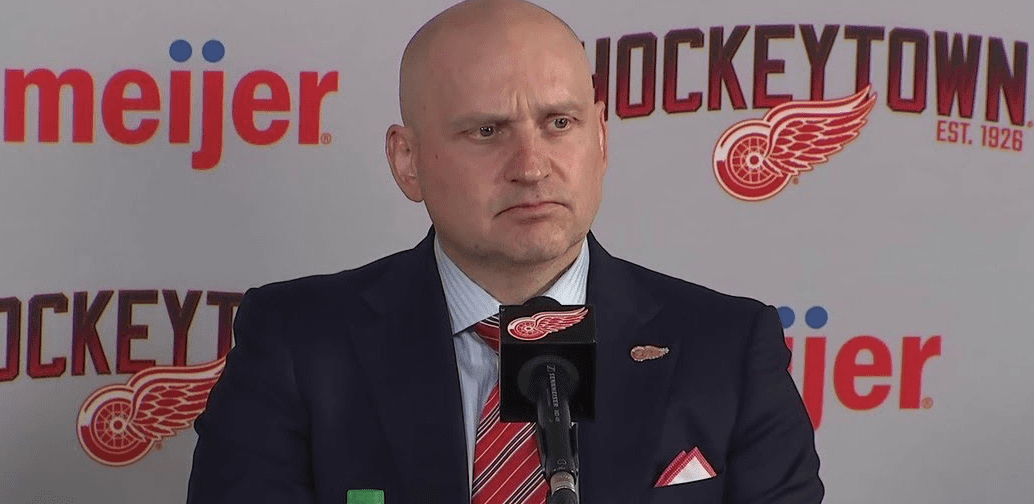 There were moments – several of them in fact – when things could have gone south for the Detroit Red Wings during Saturday's 5-2 victory over the Vancouver Canucks.
A 2-0 lead before the three-minute mark of the first period was a bonus for a team that has often turned the opening stanza of games into horror shows.
However, as this team proves time and again, they are not ones to embrace prosperity. The Canucks were going to come charging back. You just knew it.
The beautiful game. pic.twitter.com/4tNGIL54Tr

— Detroit Red Wings (@DetroitRedWings) February 11, 2023
And of course they did. Especially with the Red Wings being so insistent on holding the door open for them.
Three squandered power plays in a row, including a four-minute man advantage, passed with a red lamp being illuminated. When the Canucks scored on their own power play in the second period to narrow the gap to 2-1, it was easy to sense that Detroit was teetering.
"There were some moments in those power plays that kind of zapped us of some momentum," Red Wings coach Derek Lalonde was admitting. "And then just the way the second period started. We take a penalty and they score.
"You could feel momentum going. They clearly won the second period when you look at chances for/chances against, any underlying number."
Red Wings Captain Cashes In With Huge Tally
That's when the Red Wings were afforded another power play. This time, captain Dylan Larkin was cashing in with his second goal of the day. Detroit would be taking a 3-1 advantage into the final frame.
"Probably the difference in the game," Lalonde said. "Getting that goal to go into the third up two goals was huge."
This was their captain doing what he must do. Driving the bus. Leading the charge. Showing the way. Saving the day.
"He's gotta," Lalonde said. "He's our go-to guy for us.
"We're challenged to create offense. He plays as our No. 1 center. He's on our power play, he's on our penalty kill. Tonight his minutes were a little higher than usual. I think he was in that 22-minute range (22:29), which is understandable with all the special teams. But when we treat him like that, he needs to drive us like that."
Detroit Struggles To Lock It Down
The reason why that third goal was so significant came into play in the third period. On the scoreboard, the Red Wings were racing to a 5-1 lead. Still, they were struggling to get this race to the finish line.
"I don't know how much experience we've had with big leads in the third," Lalonde said. "I don't think we handled it great. A little sign of our immaturity.
"It's interesting in the third we were willing to put our body on the line to hold that lead with the amount of blocked shots we had. But we didn't use our head very well with a few of those turnovers where we kind of left (goalie) Ville (Husso) out to dry a bit."
Ultimately, though, the two points were banked for a second straight game on home ice, setting the stage for a five-game road sojourn that is figuring to play a major role in outlining what the immediate future is holding for this team.
BetMGM Sportsbook
States: All States Where Legal
GET THE APP
SIGNUP BONUS
UP TO $1,000!


Up To $1000 Paid Back in Bonus Bets
BET NOW
It starts Monday night in Vancouver against these same Canucks. There's a back-to-back Battle of Alberta showdown, followed by trips to Washington (to play Seattle) and then D.C. (to face the Capitals).
"This will be a really tough road trip," Lalonde said. "Four good teams, two we just beat."
Once again, with two successive wins, Detroit is poised to get on a roll. all season long, they Red Wings have never cobbled together more than three victories in a row.
"We're a team we've talked about where we're flirting with .500 most of the year," Lalonde said. "We've been unable to put a big streak together. I understand that they way we are built, what we are.
"We've have to be good every night to win. The top teams in our league can have an off night and win. That's not us. This just gives us an opportunity to build off something."
These next five games go a long way in determining whether they'll be building a bridge to playoff contention, or a bridge to nowhere.