Red Wings' Fourth Consecutive Win Foreshadowing More?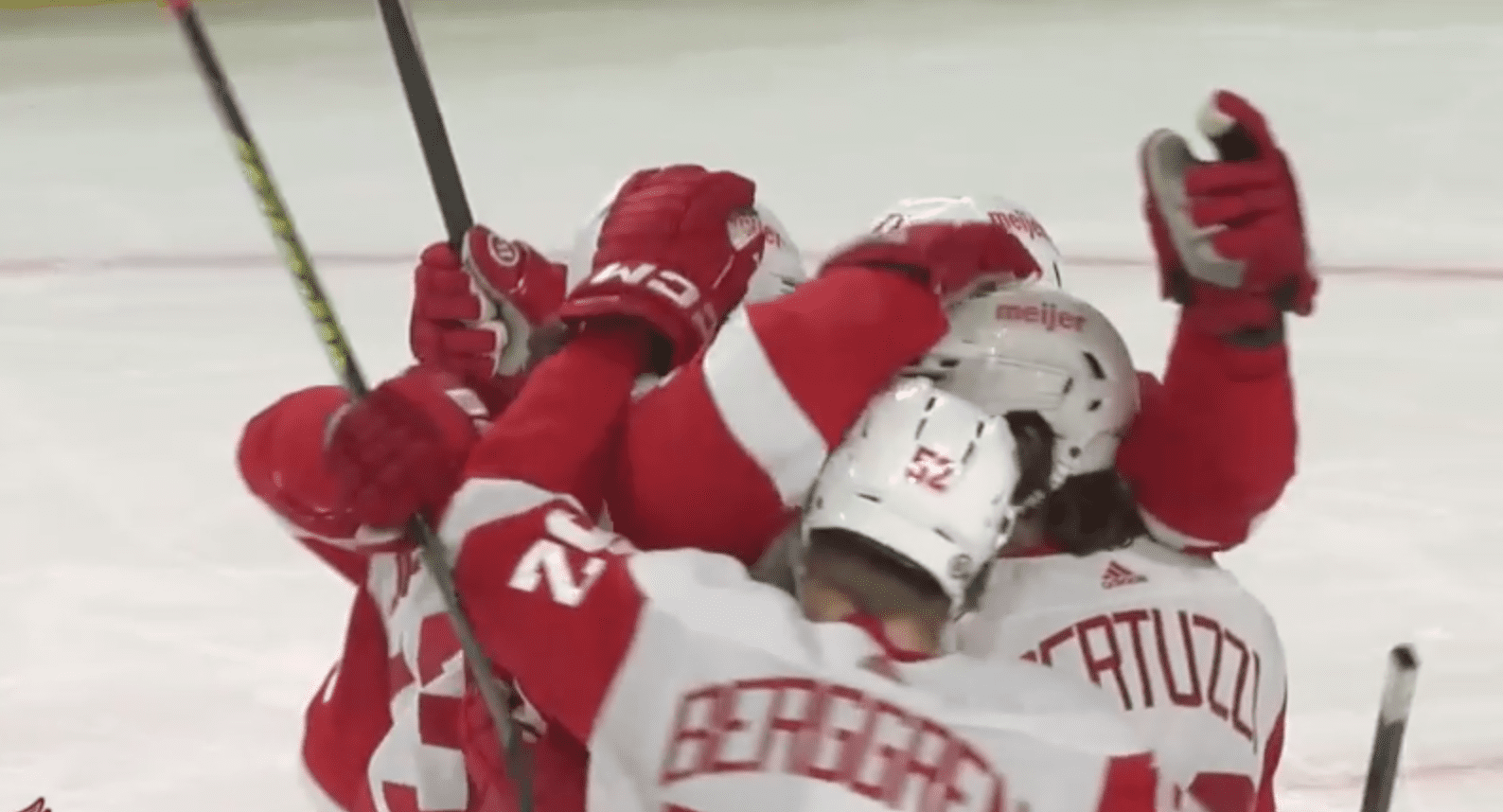 The Detroit Red Wings have shuttled between the peaks and valleys of the NHL season, teetering at times but remaining steady. While they stumbled into the abyss last season, might this year be seeing a reversal?
Detroit will move past the halfway mark of its five-game road trip against Calgary tonight, hoping the victory in the early hours of the day against Edmonton will result in another against the Flames as night falls.
With two victories in as many games and collecting all four points, could something more be brewing?
"The guys are all pulling in the same direction," Lalonde told Trevor Thompson post game via Bally Sports Detroit.  "And it's fun to be a part of. I've emphasized all year long we'll give you structure–we'll give you direction. But if we're going to have any kind of success here, it's gotta come from the room. And right now they're making a really good push."
Rebuilding Red Wings Rising
It's mid-February and certainly Detroit has a good chunk of work to still do. But when is the last time a Red Wings fan has felt the stirrings of a playoff appearance this late in the season? They're still chasing four points, but like Lalonde noted, the four-game win streak is giving some hope that appeared to be evaporating in January.
Defenseman Olli Maatta, a two-time Stanley Cup champion, certainly exudes confidences when it comes to the team's effort.
"I think it's huge," Maatta said postgame on Bally Sports Detroit. "These games, good teams have to find a way, playoff teams have to find a way. Sometimes you don't have it, you have to grind it out. We did that."
Indeed they did. It was certainly a game the Red Wings would have surrendered a season ago. It's not unlikely to think they might have sputtered a few months ago.
But closing the deal against a presumed Stanley Cup contender certainly points to things trending in the right direction. It's not as if playoff tickets can be printed. But certainly there's signs of progress.
February Continues To Be a Measuring Stick for Detroit
Not only will the road trip answer many of these questions, so too will the month of February. And for all the questions that may be answered, some new ones will understandably pop up.
As March dawns, the Red Wings will have 60 games under their belt. On March 2 when they host Seattle at home, the trade deadline will loom. Will they be buyers? Sellers? Might they already be done?
Before the deadline even hits, when might Jakub Vrana suit up? What personnel shifts could happen when Lucas Raymond returns from the IR?
Or maybe the biggest of all–if Dylan Larkin continues his offensive tear, will a contract extension already be yesterday's news as the Red Wings are skating on trade deadline eve?
The four-game winning streak certainly shifts perspectives a bit. Collecting four out of six points on the rest of the road trip will keep the playoff chatter going. The path certainly doesn't get any easier, but the scenario is certainly an oasis in what has been a rebuild wilderness for some time.
It's been a long playoff drought for all of Detroit's sports teams. "It's the hope that kills you," is often the rallying cry of a fan protecting themselves from eventual heartbreak. But if the Detroit Lions inspired optimism after their late season rally, what is one to make of the Red Wings if their little streak keeps going?
Perhaps Robby Fabbri puts it best.
"We're feeling a little something in that room right now," Fabbri said postgame to Thompson via Bally Sports Detroit.  "The results that are coming are from the way we've been playing. It just shows our character. We weren't getting the results, but we didn't change anything. We're not going to stop now. We got to keep going."