Red Wings prospect Edvinsson finding comfort zone; posts four-point night for Griffins
Edvinson leads Grand Rapids defenders with 4-18-22 totals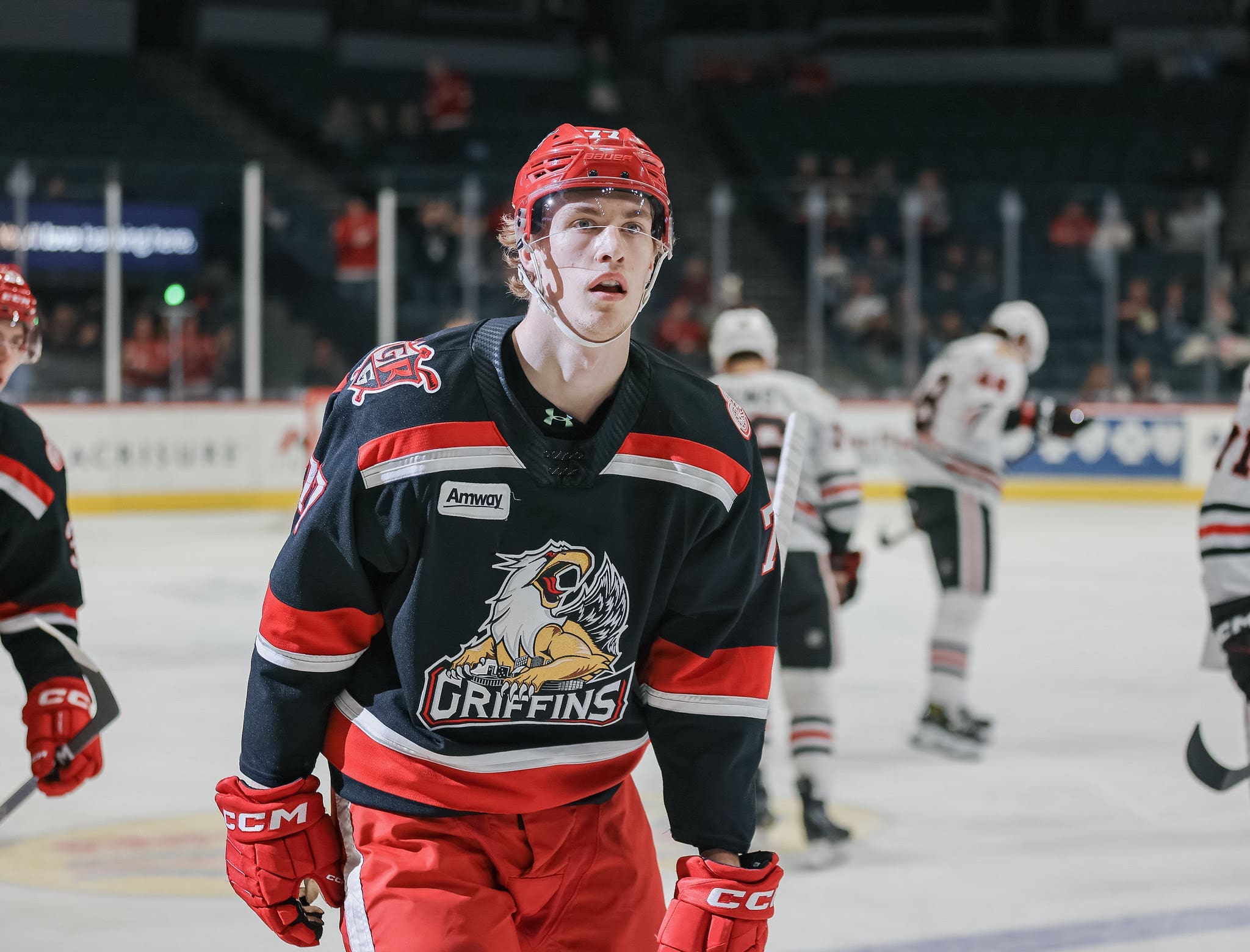 i iingsingOn a night when he was posting a career high for points, the point that most excited Detroit Red Wings prospect Simon Edvinsson is the one he feels he's arriving at in his tenure with the AHL Grand Rapids Griffins.
The teenaged Swedish rookie defenseman is locating a comfort zone, both between the boards and in terms of life in general.
"I think I am starting to play easier all over the rink," Edvinsson said after collecting a goal and three assists in a 5-4 win on Wednesday over the Rockford IceHogs. "I think I can be more creative in the offensive zone now, because I play easier in the defensive zone, more physical.
Edvinsson with a burst of speed past the defenders and draws a penalty #GoGRG #LGRW pic.twitter.com/sHS5yxUISN

— Griffins Nest (@GrGriffinsNest) February 16, 2023
"I'm feel better now than I did before when I came here in the start of the season. Everything feels a lot better now."
It's been a rough North American pro debut for the 19-year-old defenseman who was drafted sixth overall by Detroit in the 2021 NHL entry draft. There's been plenty of ups and downs for Edvinsson in his rookie North American pro campaign.
Finding A Smooth Path
"It's been kind of a roller coaster," Edvinsson admits. "When I first got here, I feel like it was a little bit I didn't know what I was going into."
However, he's feeling that it is all coming together for him of late, and that's leading to a steadier flow on and off the ice.
Edvinsson making some silky plays at both ends of the ice #LGRW pic.twitter.com/UsjkAKXZTJ

— IcehockeyGifs (@IcehockeyG) February 11, 2023
"I think the latest games after Christmas have been pretty good for me in general," Edvinsson said. "It feel like I've been keeping it straight now. I don't have this downhill. I'm keep my game on a pretty good level.
"I feel like that brings you confidence to do the stuff. I feel like that brings the coach's confidence as well, to let me do the stuff out there on the ice. Everything feels like it's falling into place. I feel like I do the right stuff in the right times. I don't have these bumps in the road as you call it."
Edvinsson Underestimated His Challenging Transition
The transiiton game is a vital component of a defenseman's repertoire. In the case of Edvinsson, that transiiton has been as much about what has transacted for him away from the rink as it is about learning the nuances of the North American style of play.
In retrospect, he's certain that he didn't give enough credence to how much this move was going to be impacting upon his life.
"I wasn't really prepared mentally I think," Edvinsson acknowledges. "I think I took it a little too easy on that and how it's gonna be.
"Going from where you've been born, raised, you have your parents close. You play for your home team, you know the people in the stands. It's a lot of differences.
"I think think it's been a good experience for me coming here and just finding my game. I'm just happy it's feeling good again. I battled my way through it."
On the ice, the adjustment has come in terms of his decision making as the game is unfolding at a more frenetic pace. He's coming to learn that often, less is more.
"I don't think it was the speed," he said. "I think it was I wanted to do too much. My decision making wasn't quite there.
"There's different stuff you need to do at the right time and I feel like I've been finding that kind of pace in my game."
Simon Learning From Edvinsson
As Edvinsson was adjusting to his new surroundings, he was also inadvertently helping Griffins coach Ben Simon get through a life adjustment of his own.
Simon's teenage daughter is a first-year college student and like Edvinsson, away from home for the first time in her life.
"We've had a lot of conversations of the year and it's been good for me," Simon said. "I've got a daughter who's out at college. She's a 19-year-old kid and she's called, crying, homesick.
DraftKings Bet $5 Win $150
All States Where Legal
GET THE APP
SIGNUP BONUS
BET $5, WIN $150


New Player Bonus
BET NOW
"When a player comes in and you're talking to a player, it kind of puts it into perspective. He's in a totally different country, living on his own for the first time. He doesn't have a cozy dorm to stay in.
"He is on his own. He's got grown up responsibilities here and this is a career. He's a 19-year-old embarking on what we hope to be a prolific, long career with the Red Wings. He is a young kid who's learning his way and he's slowly but surely finding his way."