Larkin Has Conflicting Emotions About Gaining Contract and Losing Bertuzzi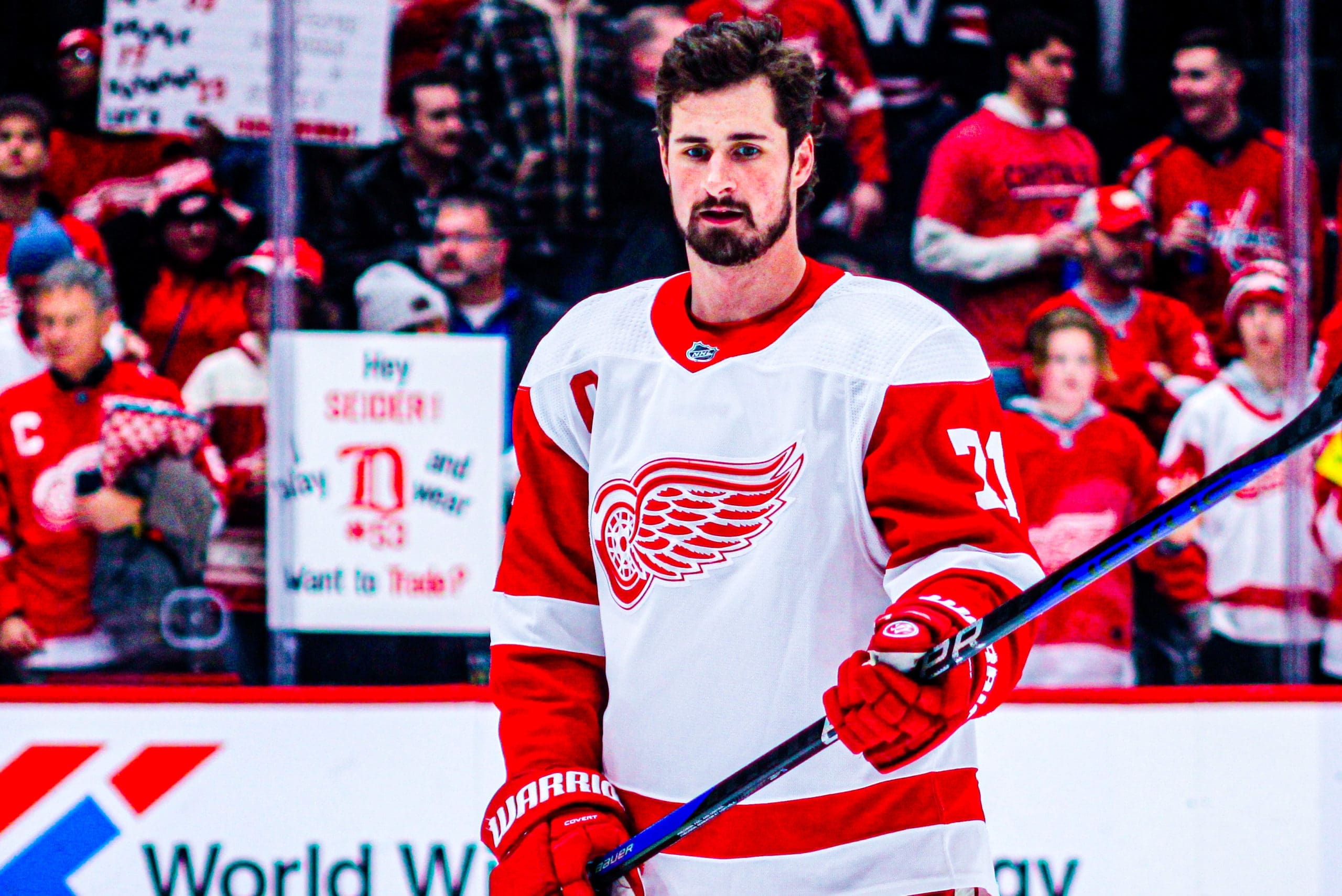 Detroit Red Wings captain Dylan Larkin was forced to fight back tears when he met the media today in a formal press conference. They were not tears of joy about his new eight-year $69.6 million contract. He was experiencing genuine sorrow over the fresh news that close friend Tyler Bertuzzi had been traded to the Boston Bruins.
"Really difficult," Larkin said, lowering his head to turn away from the TV camera. "That one. With how this season's gone, especially for Bert, but the position our team's in now, it hurts. He's one of my best friends. It hurts."
Larkin was driving to the rink when his fiancee called to say she heard Bertuzzi was traded.
"The last 24 hours has probably been one of the hardest days on the business side of it," Larkin said. "Being excited, being happy talking to Tyler yesterday. Him being happy for me. And the I saw him this morning and he was upset and I am, too."
Larkin experienced the high and low of professional sports all within a 24-hour span. The human toll of player trades is often overlooked. On Wednesday, Larkin received congratulations after he and Yzerman were pictured, in Larkin's kitchen, with arms around each other at the contract signing. On Thursday, Larkin was receiving condolences because his buddy was moving to Boston.
Larkin and Bertuzzi have spent much time together, particularly when they were both recovering from injuries going into the 2021-22 season. Larkin and Bertuzzi were more than linemates.
"You saw it last game in Ottawa. He was the first guy to jump in there and protect me," Larkin said. "It's gonna be tough. I've always really loved playing with him and feel I'm at my best when I play with him. But he's going to a team where they're loading up for war. There's no one I'd rather have on my team than Tyler Bertuzzi in that situation."
Why Bert and Larkin Meshed
Larkin is the Flash on skates and Bertuzzi always looked like he was ready to rumble.
"He's very unique in his style," Larkin said. "I've said it many times, it doesn't look pretty but it's really effective. The stick's flying everywhere and the hair is flying everywhere. He always comes up with a big toothless smile and is always the first one to laugh if something happens."
Larkin will obviously give himself some time to grieve about losing his buddy, but he also knows there's work to do keep the Red Wings competitive. In addition to trading Bertuzzi, general manager Steve Yzerman also dealt top four defenseman Filip Hronek. In each instance, Yzerman got draft picks, not players who can help them in their quest to make the playoffs for the first time in seven season. Detroit is five points out of a wild card spot with 22 games to play.
"I'm not going to lie to you guys," Larkin said. "You can see it. It's really difficult right now. It's gonna be hard but we're gonna have to come to the rink tonight and forget about it. Not totally, but I'm gonna have to come back and play a hockey game. The message this morning, we had a team meeting and what happened with the two guys being moved, it can't really affect what we're trying to do. If it does, we gotta our own time to grieve and do whatever. We're trying to win hockey games right now and that was the message this morning. It's gonna take a little time but I'm gonna have to come back and be ready to go."
Larkin Didn't Want to Leave
It's clear that there is no other job that Michigan native Larkin wants more than captain of the Detroit Red Wings. He could have played out this contract and explored his options this summer as an unrestricted free agent. From the beginning of negotiations, Larkin said he wanted to stay in Detroit.
Even when negotiations moved slowly, Larkin said he didn't want to leave.
"At certain times my agent (Pat Brisson) was probably saying to stop saying that I wanted to be there," Larkin said. "It was truthful. It was where I wanted to be. I'm fortunate, really to have a support system – my fiancee, my parents, my brother, my close friends and teammates. I'm really fortunate. There was a lot of ups and downs this year but they kept me able to keep going."
On a day one the No. 1 topic of conversation was the departure of Hronek and Bertuzzi, Detroit coach Derek Lalonde took time to speak highly of Larkin. He said Larkin has done more than fans would realize.
"For Dylan, his play speaks for itself," Lalonde said. "The things we've asked of Dylan behind closed doors, he's done. He's been a great leader. Sometimes things have been uncomfortable this year and he's acted accordingly, trying to get this organization to the next level. I generally like Dylan as a person and I like working with him as a captain."
Lalonde Appreciates Larkin
His reaction to the news that the Larkin contract was done?
"I was absolutely ecstatic, maybe jumped two inches in the air and a fist pump because I know how significant that is." Lalonde said. "Enjoy working with him and what we're trying to build here."
Larkin said he doesn't take the job of captain lightly.
"I got to watch Henrik Zetterberg, someone I look up to," Larkin said. "Probably of anyone in my life he's up there on the list of people I look up to."
By signing an eight-year contract, Larkin said he's putting a lot of trust in  Yzerman and others who help run the organization. "I trust Steve," Larkin said.
Added Larkin: "Yeah, we lost two important pieces, two guys that I know were loved by the fan base. But there's hope. There's more guys coming. I'm excited to be a part of it. I hope this isn't my last contract in my career, or in Detroit. And I hope at the end of it I'm taking significant pay cuts because we're adding guys at times like this."