Red Wings GM Yzerman: Ottawa and Buffalo Are 'Ahead of Us'
Red Wings failed exam in Ottawa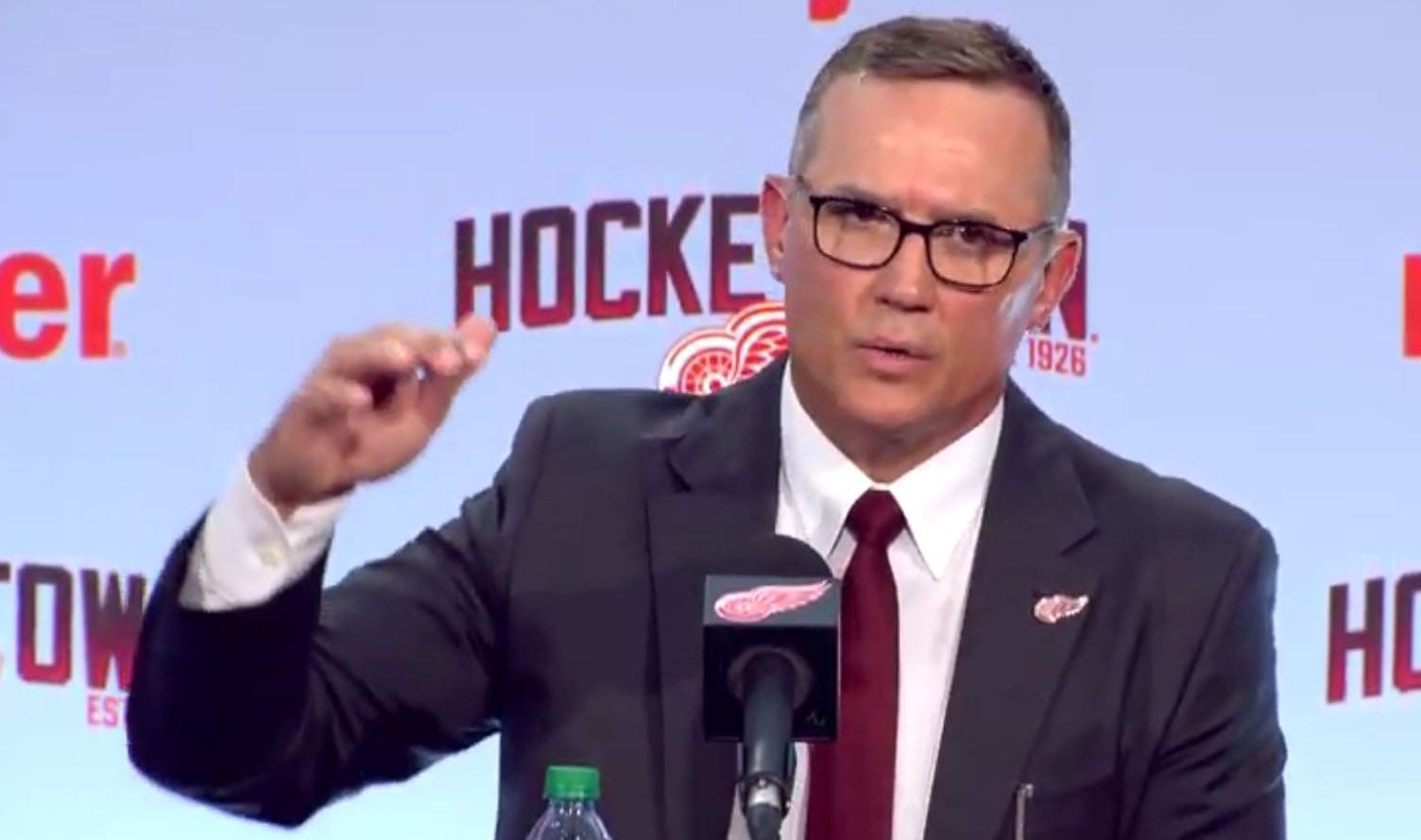 Detroit Red Wings GM Steve Yzerman's blunt assessment of his hockey team is that they're not good enough. Then again, you probably already were guessing that to be the case, based on the deals the club made leading up to Friday's NHL trade deadline.
Yzerman sent four veterans packing – forwards Tyler Bertuzzi, Jakub Vrana and Oskar Sundqvist and defenseman Filip Hronek – determing that his club has a ways to go to be at the level where he wants them to be.
"Do I think we're a Stanley Cup contender this year?" Yzerman asked rhetorically. "No. Did I think we had a chance to make the playoffs? Yes. And if I thought we were a Stanley Cup contender, I would not have traded our unrestricted free agents. I would have continued to play it out."
Steve Yzerman stuck to his plan at the trade deadline.

"If I thought we were a Stanley Cup contender, I would not have traded our unrestricted free agents," the Red Wings GM said. "We're not at that point yet." pic.twitter.com/sepxS8ND3p

— Brad Galli (@BradGalli) March 3, 2023
As much as he values playoff hockey, Yzerman has no desire to build a team that is going to sit on the bubble year after year. Maybe get in the playoffs, maybe not.
That isn't his style. It wasn't how he built his club in Tampa Bay. Certainly, it wasn't how things were playing out for the majority of his career as captain of the Red Wings.
Yzerman wants the Wings to be the kind of team that people look at each fall and realistically believe they have a chance to win the Stanley Cup.
Yzerman Saw Ottawa Losses As A Tell
To Yzerman, the 6-2 and 6-1 setbacks at Ottawa earlier this week were determining factors that this team isn't ready for prime time.
"The two games in Ottawa kind of reaffirmed where I think we're at," Yzerman said. "I'm pleased with the development of our team but obviously disappointed in how the games played out.
"Those two games in Ottawa were the closest – it may not be saying much to our fanbase and the media – but those are the closest we've had to playoff games."
In those two games, it wasn't simply the fact that Detroit lost. The Red Wings simply didn't show up. They were outplayed in all areas of the game, completely manhandled by the Senators.
"I hope all our players moving forward look at those two games in Ottawa and say, 'We weren't ready to step up and play and compete in those two games,'" Yzerman said. "It's only two games, I don't put it all to those two games, but it was pretty indicative of guys, so many areas of the game that we need to improve upon."
Red Wings Chasing Senators, Sabres
The Red Wings don't have a player with the combination of skill and tenacity that Ottawa's rugged Brady Tkachuk brings to the ice. They aren't suiting up a purse goal scorer the ilk of Buffalo's Tage Thompson.
Yzerman succinctly recognizes these facts of life.
"Our competition, the Red Wings' competition today isn't Tampa, it's not Boston, it's not the Toronto Maple Leafs' Yzerman explained. "Our competition we gotta be looking at is Buffalo, Ottawa. These guys are young. Even Montreal with a lot of picks, a lot of good, young players, that's the groups of teams we gotta be watching, because when they're good, we're hoping to be good as well."
The numbers don't like. in head-to-head competition this season, Detroit is 0-2-1 against Buffalo and 1-3 against Ottawa.
"Ottawa continues to get better," Yzerman said. "Buffalo continues to get better. Montreal's coming.
"We gotta be in there, too. We need to continue to draft and find young players. I like the nucleus that we have."
Still Work To Be Done
At the same time, Yzerman is succinctly aware that they still don't have enough.
"I look at Ottawa and Buffalo, and in all honesty, I think they're ahead of us with their group," Yzerman said. "Now having said that, they've probably been drafting higher and longer than we have, so I expect them to be ahead of us.
BetMGM Sportsbook
States: All States Where Legal
GET THE APP
SIGNUP BONUS
UP TO $1,000!


Up To $1000 Paid Back in Bonus Bets
BET NOW
"It doesn't necessarily heighten my urgency, because I just can't come up with first-round picks. I can't come up with star players."
For Yzerman and Detroit, there's work still much work to be done. That means there's also going to be more pain before the team is good enough to gain a leg up among the NHL's best squads.