Red Wings GM Yzerman: 'We Gotta Find Players'
Detroit has two first-round picks in 2023 and 204 NHL entry drafts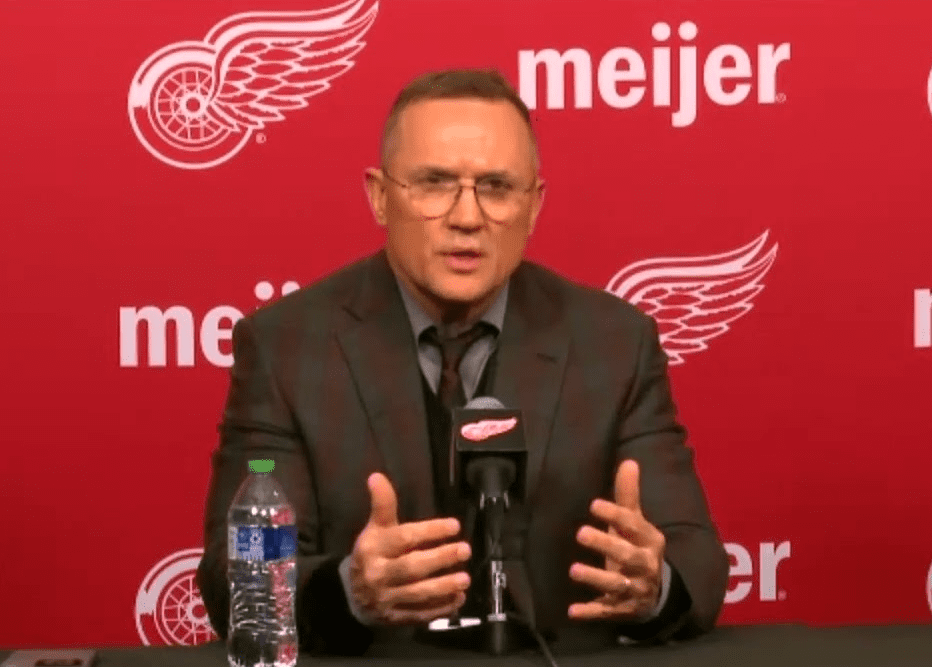 Detroit Red Wings GM Steve Yzerman is blunt when assessing the NHL trade deadline deals he engineered. He's not happy about the moves they made, for the simple fact it exemplifies that the team isn't anywhere near where he, or anyone else for that matter, wants it to be.
"I'd rather be keeping these guys, because we'd be at a different stage," Yzerman said.
The hard, painful facts? They aren't at that stage yet and no one can say for sure when they will be there.
"I can't tell you 'Here's the plan for Year 1. Here's the plan for Year 2,'" Yzerman said. "It's not a perfect process. It's gonna be up and down a little bit and hopefully over time we just continue to get better.
"I do have mixed emotions about it but again the reality is we're still building. We're still at that phase of acquiring prospects, acquiring young assets however we can do that."
Steve Yzerman joins Mickey Redmond in the broadcast booth to talk about the team's mindset after the trade deadline, how he deals with the uncertainty of the deadline, and what more needs to be done as the Red Wings continue their roster development. #LGRW | @ThinkFordFirst pic.twitter.com/Tjac9p88Xj

— Bally Sports Detroit (@BallySportsDET) March 5, 2023
The Red Wings are in the business of stockpiling draft picks. Detroit will be picking five times in the first 50 selections of the 2023 NHL entyy draft. The Red Wings are slated to make two selections in the first round this year and next year.
Again, while that looks great on paper, Yzerman is facing up to the daunting reality of the draft. It's the task of him and his staff to turn those choices into quality NHLers. And the data on that happening with any level of frequency is not good.
Red Wings Face Daunting Task Finding Players Through Draft
"We all love trading for first-round picks, trading for second-round picks," Yzerman said. "It's great. But you gotta turn them into players."
History shows that if a team gets two players out a of draft year, that's a win. Three is considered to be a home run.
"Just look at the draft," Yzerman said. "I've said that time and time again. Go back and look at the drafts.
"On draft day, all the shows are hyping up these kids. They're gonna be this, they're gonna be that. And then go back and if you could replay that and then see five years later, 10 years later, it's a daunting task doing it through the draft but we have to do that."
The fact of the matter is that so far, the Red Wings don't have much to show from beyond the first round in terms of NHLers from drafts taking place during the Yzerman regime.
If you listen to Steve Yzerman's presser, that is a man with a firm grasp on reality and how to properly manage a team. He hit all the right notes. Red Wings fans should feel good about the team's progress and future with him at the helm.

— Rachel Doerrie (@racheldoerrie) March 3, 2023
The only player to make it to Detroit to date who wasn't selected in the first round is forward Elmer Soderblom. He was claimed 159th overall in 2019. Along with defenseman Moritz Seider (sixth overall), that makes the 2019 draft a win for Detroit. Defenseman Albert Johansson (60th overall) is playing well with AHL Grand Rapids and could potentially make it three players from this draft class who play in the NHL.
As far as 2020, the jury remains out. Lucas Raymond (fourth overall) is already a bona fide NHLer. Defensemen Donovan Sebrango (63rd), Emil Viro (70th) and forward Cross Hanas (55th) are playing in Grand Rapids.
There's certainly hope for the class of 2021. Defenseman Simon Edvinsson (sixth) and goalie Sebastian Cossa (15th) are starting to display their unique talents as rookie pros. Among forwards, Carter Mazur (70th) continues to look like the real deal in college hockey at Denver. And NHL scouts believe that center Red Savage (114th), currently at Miami (Ohio) could play in the show.
Red Wings Still In Rebuilding Mode
At this stage, and as slow and as painful as it seems to the fanbase, Yzerman is left with no choice but to keep rolling the dice at the draft table and counting on his hockey operations staff to unearth diamonds in the rough.
FanDuel Sportsbook Promo #1
ALL STATES WHERE LEGAL
GET THE APP
SIGNUP BONUS
$1000 No Sweat Bet


$1000 No Sweat Bet
BET NOW
"We need these picks to either try and trade for a star player, which just doesn't happen that often, or we gotta continue to draft and regardless of where we're picking, find a player who is an impact guy," Yzerman said. "Not every first rounder, not every second rounder, but you gotta find some guys.
"We gotta find players."