The Daily: Sundqvist Debuts Tonight For Wild; Habs Eye NCAA FA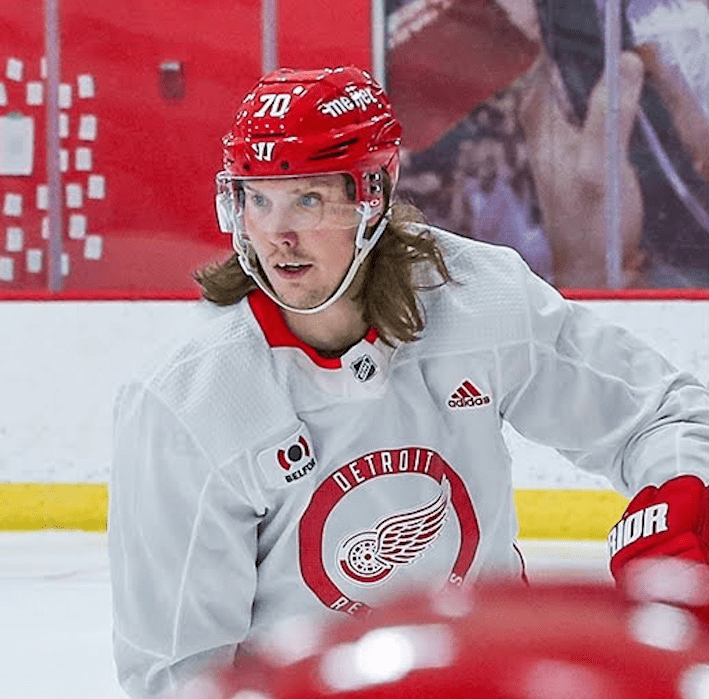 Former Detroit Red Wings forward Oskar Sundqvist will make his Minnesota Wild debut tonight in a home game against the Calgary Flames. But the Minnesota Wild already seem to know he's a perfect fit.
The Wild are a big, physical team and the 6-foot-3, 220-pound Sundqvist has been slotted into the third line with Marcus Foligno (6-foot-3, 226) and 11-goal scorer Frederick Gaudreau. All three can check and chip in offense.
In terms of size, strength and being hard to handle, Sundqvist is the replacement for Jordan Greenway. The Wild gave the Red Wings a 2023 fourth-round draft pick to obtain him.
"Being reliable on the ice and playing my game. I'm very excited to get going."

🗣️ Sundqvist on his role in the #mnwild lineup. pic.twitter.com/zM4s5JMgK9

— Minnesota Wild (@mnwild) March 6, 2023
"Playing with Moose, (Sundqvist) should be a handful to look after down low, for sure. Looking forward to seeing that line play," Minnesota coach Dean Evason told the Minneapolis StarTribune.
The Wild knew Sundqvist from butting heads with him for a few years when he played for the St. Louis Blues. Sundqvist played on the Blues' 2019 Stanley Cup team. That's another reason they wanted him. He knows how to climb to the top of the mountain.
"Playoff experience is important and knowing how it is to go through all that you have to go through during the playoffs," Sundqvist told the StarTribune "Definitely important. I'll try to do my best and help in my way to show a little bit of playoff experience."
Identifying Top College FAs
Marco D'Amico of Montreal Hockey Now is reporting the Montreal Canadiens  would like to sign one of the blue chip college free agents. He lists some of the top ones, including Jake Livingstone, a right-shot defenseman from Minnesota State U-Mankato.
Several teams are interested in Livingstone. The Red Wings need right-shot defensemen, but it's unknown whether they have interest in the 6-foot-3 Livingstone.
Would love if Don Sweeney was able to sign underdrafted college free agent, RHD Jake Livingstone of Minnesota State University! He is 6'3" and 205lbs. His stats are remarkable!#NHLBruins pic.twitter.com/4N5Y0RADwl

— Jared (@JJHockey_15) March 3, 2023
Red Wings In Case You Missed It
Detroit Red Wings GM Steve Yzerman says the team has to cash on their draft picks. They have four first- round picks over the next two seasons.
Sebastian Cossa is making progress playing for the Toledo Walleye this season.
Haven't we seen this before? The Red Wings are back to a familiar place.
Red Wings' Next Game
The Red Wings (28-26-9) play a home game against the Chicago Blackhawks on Wednesday. Detroit is trying to halt a six-game losing streak.The Blackhawks are 31st in the NHL standings, but are 6-4 in their last 10 games
Hockey Now Network
Boston: TSN Analyst Craig Button says he doesn't see "anybody that's close" to the Boston Bruins. 
Colorado: Avalanche call up Jonas Johansson to be the team's backup goaltender. Colorado Avalanche.
Florida: Veteran forward Eric Staal still believes in the Florida Panthers: "I believed in this team right from the summer." Florida Panthers.
FanDuel Sportsbook Promo #1
ALL STATES WHERE LEGAL
GET THE APP
SIGNUP BONUS
$1000 No Sweat Bet


$1000 No Sweat Bet
BET NOW
Montreal:  The Canadiens are pursuing some of the top college free agents. Is one of them Jake Livingstone, a right-shot D man from Minnesota State U- Mankato. The Red Wings also need right-shot defensemen. Montreal Canadiens. 
New York: Stefen Rosner explains how the New York Islanders are surviving without the injured Mathew Barzal. New York Islanders 
Philadelphia: Coach John Tortorella played 11 forwards and seven defensemen to get more playing time for Owen Tippett. Philadelphia Flyers.
Pittsburgh: Ron Hextall has made multiple mistakes as the Pittsburgh Penguins' general manager,  but this is his biggest one. Pittsburgh Penguins
Vegas: It's clear to see that the Golden Knights helped themselves with their NHL trade deadline acquisitions. Vegas Golden Knights
Washington: Rasmus Sandin is showing he's worth the first-round pick the Capitals gave the Toronto Maple Leafs for his services. Washington Capitals