Red Wings Prospect Savage Has NHL in His DNA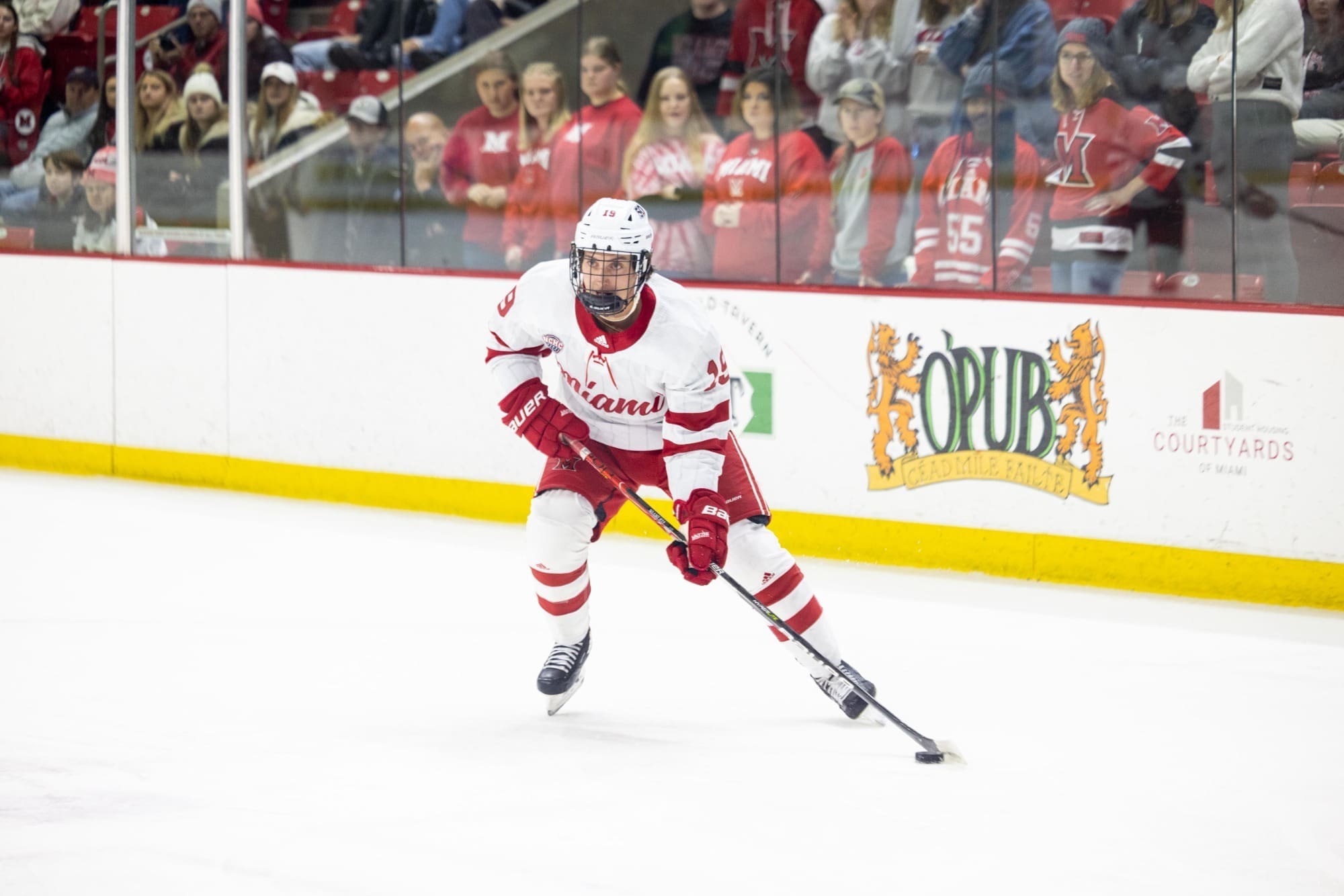 Many NHL prospects initially draw attention because of what they can do with 75 feet in the offensive zone. Miami center Red Savage may play for the Detroit Red Wings someday because of what he does with the other 125 feet of an NHL ice sheet.
"To me, he's the 200-foot player that every team needs," said former NHL goaltender John Vanbiesbrouck who oversees USA Hockey national teams.
Vanbiesbrouck watched Savage grow up in the U.S program and appreciates that Savage takes pride in being a full service player. He works and thrives at the sport's less glamorous roles.
"He can be very aggressive on the forecheck and in the neutral zone it's not a problem for him to have the puck and make a play," Vanbiesbrouck said. "In the D zone, that's probably where he probably excels the most. He kills a lot of plays, really bears down taking draws."
Savage's Miami team plays Game 1 of a National Collegiate Hockey Conference playoff series against Denver tonight. Red Wings prospects Carter Mazur and Shai Buium play for the Pioneers.
Future Red Wings Role Player?
The Red Wings drafted Savage 114th overall in the 2021. He's not generally listed among the team's top prospects, but the Red Wings are paying attention to his progress. When the world's top teen-age players gathered last December for the World Junior Championships, Savage was one of the leaders and most effective players for the U.S. team. He assisted on the bronze-medal winning goal.
"It's an honor you get the opportunity to wear the USA jersey," Savage said. "Going into the tournament, I thought this might be the last time I ever to wear it unless I make a men's national team or an Olympic team. So definitely a lot of emotions going into it. I was super happy to get that leadership role, to be able to contribute as much I could."
Smart. Determined. Effective. Dedicated. High hockey IQ. Those are the scouting words often used about Savage. He keeps in touch with the Red Wings. He says the Red Wings view him as a middle six or bottom six center. They want him to continue to work on refining his 200-foot game.
"If it takes a couple of years in the minors to develop I am prepared for that,"  Savage said.
But he doesn't want to limit the expectations he puts on himself. "I don't want to say I don't see myself as a top six forward, but I understand that I have to play as good of a defensive game as I can," Savage said. "And I really enjoy shutting down top lines that I play against. It's a role I'm comfortable in."
Lives and Breathes Hockey
When you talk to Savage, it's clear that he has a mature perspective about his game, the competition and his place in the sport. He has lived in hockey rinks since he was a toddler. Savage is the son of former NHL player Brian Savage. The elder Savage played 674 games over 12 seasons for the Montreal Canadiens, Phoenix Coyotes, St. Louis Blues and Philadelphia Flyers. He netted 192 career goals and boasted four seasons of scoring 21 or more goals.
"This is a boy that has been part of a hockey family since birth," Miami coach Chris Bergeron said. "… Red is definitely someone who sleeps and dreams hockey, basically his whole life. Now you are seeing the rewards of that."
Red Savage has seven goals and 14 points for a struggling Miami team this season. That ties him for second in team scoring.
"He's a work in progress," Bergeron said. "But what's in place is he's a winner of a kid and he always has been."
Bergeron's assessment of the younger Savage fits with how Red sees himself.
"Yes, he's the No. 1 center for us," said Miami coach Chris Bergeron, "But as he moves on in his career, going to the next level, he's probably going to be more of a complimentary role, not to say that he can't create offense, not to say he can't play on the power play, because he can do those things."
Arizona Native
Savage was born in Arizona when his dad was playing for the Coyotes. The young Savage started his development with the Junior Coyotes program before moving to the Detroit area to play with Belle Tire and Compuware. He won a national championship with Belle Tire. He also played for the Red Bull program in Salzburg, Austria.
"Quite a culture change, pretty insane experience," Savage said.
Savage's dad coached him and his brothers, but Red said his dad always made sure that he didn't get in the way of his sons'  team coaches. He was never the overbearing dad.
"He kind of taught us away from the rink," Red Savage said. "Work ethic stuff, the intangibles. He is someone I favored for that. But we've had a great coaching system surrounding us since we were little."
Brian Savage also played at Miami. He turned pro after his junior season. Red is a sophomore. They play different styles. Red is 5-11, 185 pounds and Brian Savage is 6-foot-2.
"He was a lot more of a goal scorer, in and around the net," Red said. "I'm more of a 200-foot player who plays on the penalty kill. My dad was a bigger offensive threat."
Decision Pending
While Miami has struggled as a team this season, Savage feels like he is continuing to improve. He's not sure how the Red Wings feel about whether he is ready to turn pro or whether he should stay in college.
"It depends a lot on what the Red Wings want, and what they want to do with my development," Savage said. "I think there will be decisions made at the end of the year."
Savage seems prepared either way.  "There is definitely a lot of things to learn in your time in college," Savage said. "A lot of it is off-ice stuff, like learning to live on your own, time management with school and hockey and everything. On the ice, I'm trying to improve the things I'm good at, I've tried to become more offensive and really hone my defensive game."
Whatever decision Savage makes, Vanbiesbrouck believes in his NHL potential.
"He's going to play," Savage said. "He's got enough quickness and determination. He plays bigger than his size and that might weigh heavy on his body. His skating is very good and his vision is very good. He's going to be a very good complimentary player. Everyone is going to love to play with Red."
Regardless of his final decision, Savage's college coach also has faith in him.
"He's a prospect when the time is right, " Bergeron said. "If it's at the end of this year so be it, if that is after next year,  we would love to have him back."