Red Wings Stock Index: The Prospects Ahead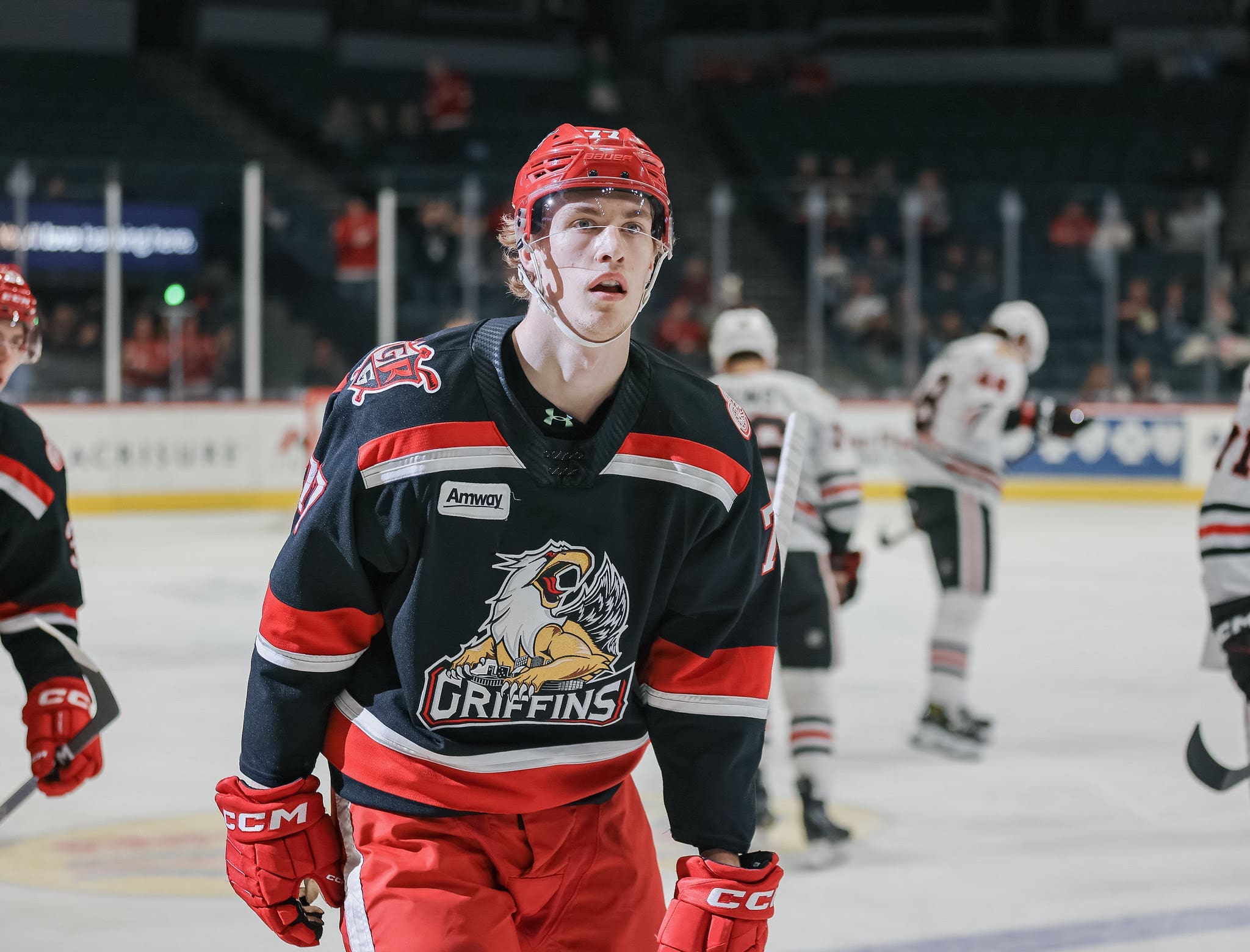 With the sell off that Detroit Red Wings general manager Steve Yzerman had with Filip Hronek and Tyler Bertuzzi, the offense went into a tailspin. Wednesday's 4-3 victory over the Chicago Blackhawks breathed some life into a team reeling from a six-game losing streak. Despite the win and though a playoff berth seems unlikely, Detroit is likely heading into another offseason wondering what is ahead.
The Red Wings bulked up last offseason. Sitting with two first-round picks and three second-round choices, Detroit can add more to the prospect pipeline. There's also the possibility of trading the capital, too.
But before those decisions even occur, how are the prospects in the system currently doing and might they find their way to Detroit next season? Here's a look at a couple in a two-part series.
Marco Kasper
Drafted by the Red Wings: 2022 1st round, eighth overall
Current Team: Rögle BK
Stats: 51 Games; 23 points (8-15)
Kasper is a prototypical Yzerman pick. High hockey IQ, polished, and from the looks of it, excellent character.
Kasper was recently the recipient of the Granitpucken Award, which is given to a Rogle player every year. According to the team, Kasper has shown "incredible professionalism" and who leads with his "attitude and play."
That description personifies the type of player Yzerman wants for his team. So alongside Simon Edvinsson, it seems Kasper may very well be on the quick trip to Detroit. Lucas Raymond has always seemed a good measuring stick for Kasper. Raymond joined the Red Wings when he was 19–Kasper will be the same age heading into the summer with an April birthday. Beyond that, Raymond had 18 points (6-12) in 34 games in the season prior to his first with Detroit. Kasper's point-per-game production is at .45, which is just .07 less that Raymond's production in the SHL.
Marco Kasper's michigan attempt doesn't go, but his strength on the puck is displayed afterwards #LGRW pic.twitter.com/qQm73kC2gh

— IcehockeyGifs (@IcehockeyG) March 9, 2023
But the numbers aren't of concern. Kasper is projecting to be another well rounded selection from Yzerman and surely seems like another teenager that with a good camp, could be suiting up in Detroit for the 2023 home opener.
Yzerman isn't ruling anything out, either.
"Certainly when the season's over and in the summer, we'll talk about a bit of a plan for next year as far as training camp and whatnot," Yzerman said.  "There is a possibility that he plays here but we'll determine what our plan is in the summer and we'll try to keep every option open."
Likelihood of playing in Detroit in 2023-24: High
Simon Edvinsson
Drafted by the Red Wings: 2021 1st Round, sixth overall
Current Team: Grand Rapids Griffins
Stats: 47 games; 26 points (5-21)
Probably the most anticipated prospect to make his Detroit debut, Edvinsson has gotten stronger as the year has gone on and will undoubtedly make his NHL start with the Red Wings when camp breaks next year. Then again if things continue on the positive track, might he make his way up for a cup of coffee this season?
"Whether Simon gets recalled or not is dependent on his play," Yzerman said. "If he plays well enough to earn a call up and for us to think he's worth taking a look at him or think he can help our team or we want to take a look at him to see where he's at for next year, he's going to have to play well enough for us to decide we want to take a look at him in the NHL."
DraftKings Bet $5 Win $150
All States Where Legal
GET THE APP
SIGNUP BONUS
BET $5, WIN $150


New Player Bonus
BET NOW
Of the Red Wings prospects on the cusp, Edvinsson seems the likeliest to not only get a brief stint this season, but spend all of the 2023-24 season with Detroit. There was considerable debate before the 2022 opener if Edvinsson would stick or be sent back. Ultimately, the Red Wings brass wanted him to earn more experience in Grand Rapids.
The prospect pool is oozing with defensive talent, something Yzerman has drafted often in his four seasons in Detroit. Edvinsson seems the first of likely many that will find his way to Detroit in 2023-24.
Likelihood of playing in Detroit in 2023-24: High