Live Blog: Edvinsson First Game With The Detroit Red Wings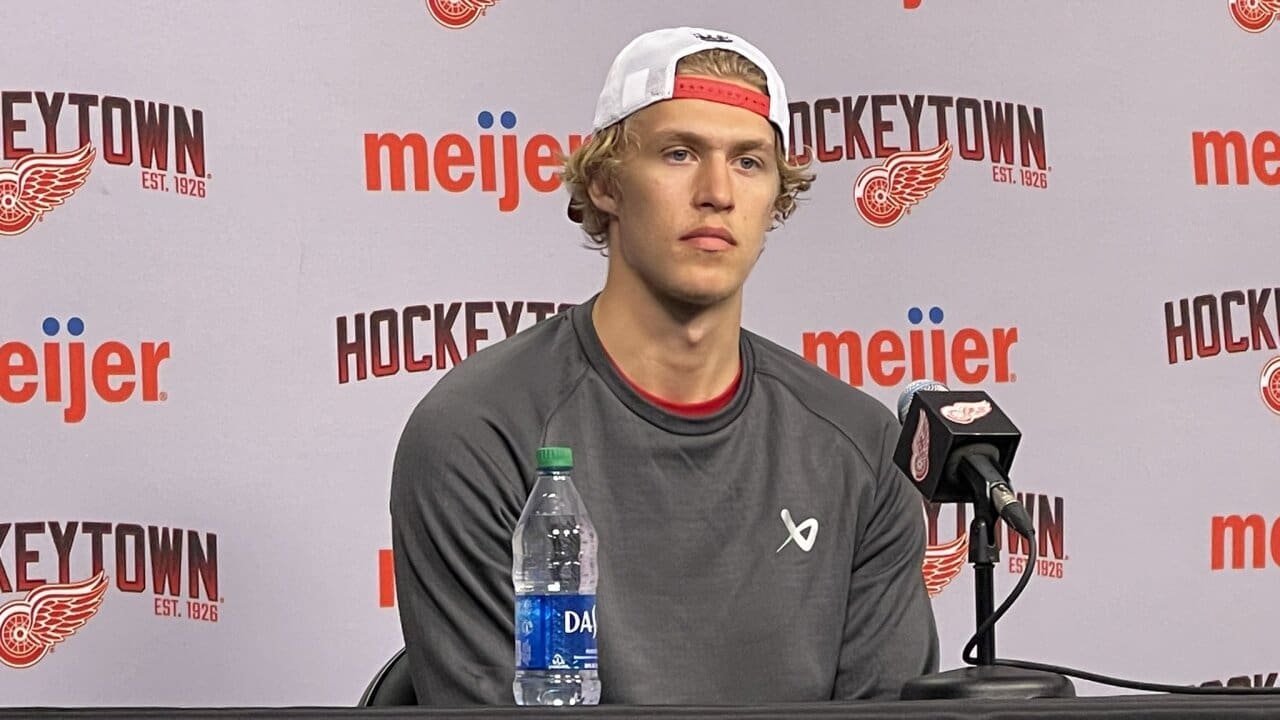 Simon Edvinsson (drafted No. 6 in 2021) was called up Friday from the Grand Rapids Griffins as an emergency replace for injured Gustav Lindstrom. He is making his NHL debut with the Red Wings, starting at 1 p.m., against the Colorado Avalanche. He is expected to play on the third pairing with fellow Swede Robert Hagg. He is wearing No. 3.
We will chronicle how he does in a live blog:
Edvinsson also said it's pretty crazy that he'll make his debut against Colorado being that the first NHL game he watched was a matchup between the Red Wings and Avs. He specifically mentioned Nick Lidstrom and Peter Forsberg. #LGRW

— Daniella Bruce (@daniellabruce_) March 17, 2023
Butterflies?
Edvinsson admitted to some anxiousness before his playing his first game. His called his parents in Sweden, in the middle of their night, to tell them the news.
"I'm kinda nervous," Edvinsson said Friday. "I was nervous when I was driving up here. I'm looking forward to it."
First Shift
Handles the puck cleanly twice. Makes crisp outlet pass. No scoring chances. Off in 30+ seconds.The kind of shift you want to shake off nervousness.
Second shift
Strips puck from Colorado forward behind the net and moves it along boards. Rubs out Nathan MacKinnon on a zone entry. Looks comfortable. Stays on ice 40+ second.
Simon Edvinsson's FIRST BIG HIT is on Nathan MacKinnon! #LGRW pic.twitter.com/ZcHPILlAUn

— Red Wings Rant (@Red_Wings_Rant) March 18, 2023
Third shift
Plays 48 seconds after coming on the ice after Pius Suter goal ties the game 1-1. Immediately plays the puck in the Colorado zone. With Colorado on the counterattack, Edvinsson uses active stick to break up a zone entry. Before going off, he  makes a quick 100-foot outlet pass to Adam Erne
First Power Play 
As you would expect, rookie Edvinsson doesn't leave the bench on either power play
— Grand Rapids Griffins (@griffinshockey) March 18, 2023
Numbers for First 20 minutes
Edvinsson ended up with seven shifts for 4:51. Partner Robert Hagg played just a little bit more because with time running out, in the priod  the Red Wings put out Olli Maatta with Hagg.
Sportswriter Humor
When the period was over, colleague Bob Duff impishly asked: "What's the verdict? Hall of Famer or first-ballot Hall of Famer?"
That's sportswriter humor for, "How did you think he played?"
Thought he played a strong, safe period, no critical errors, you can sense his potential every time he takes the ice.
Second period
On his second shift, Edvinisson makes an errant pass that results in an icing. Colorado's fourth line was on the ice and no harm was done. .
Edvinsson thus far: during the preseason, he was far too fancy/slow making pretty offensive plays, and didn't care for playing defense.

After 2/3 of a year in the AHL, he's more precise offensively, and he actually gives a flurg about defense.

His skating is still stellar.

— George Malik (@georgemalik) March 18, 2023
First Penalty
With eight minutes left in the second period, Edvinsson picked up his first NHL penalty for tripping JT Compher behind the Detroit net. The Red Wings killed off the penalty.
Numbers after 40
Edvinsson played another 4:40 in the second period to give him 9:31 for the game.
True dat

— Ken Kal (@KenKalDRW) March 18, 2023
Third Period
Edvinsson forced Andrew Cogliano to trip him. A penalty was assessed at 2:26 of the second period. The Red Wings had a power play, but Lars Eller scored a shorthanded goal to give Colorado a 4-1 lead. The Red Wings have now given up more shorthanded goal (12) than any team in the NHL.
First Minus
Rodrigues was driving to the net and Edvinsson couldn't deny his pass. Mikko Rantanen scores to increase lead to 5-1. Edvinsson
Switch pairings
Midway through the third pair, the Red Wings switch up the second and third pairings on defense. Robert Hagg is now playing with Olli Maa
First shot
With 6:44 remaining in game, Edvinsson takes a feed in high slot and fires a shot that results in his first shot on goal. Alexandar Georgiev makes an easy glove save.
Offensive Flair
In the waning moments of the game, Edvinsson makes a couple of move and fires a shot wide of net. You can see this 20-year-year has the skating and talent to be a high impact player.
Total Numbers
Coach Derek Lalonde ups his time in the third period to 6:04. Edvinsson finishes with 15:34 playing time. He has one shot on goal, one hit, no blocked shot, one two-minute penalty. Edvinsson is -1 in his NHL debut.
Analysis:
Good start to his NHL career. He's a work in progress, but you can envision how much better the Detroit defense will be with Seider, Edvinsson, Ben Chiarot, Olli Maatta and Albert Johansson. He could have been the defenseman called up if he hadn't been injured. He's two years older, thus more experienced than Edvinsson.
Congrats to Simon Edvinsson, who became the 202nd Griffin to play in the NHL! pic.twitter.com/euWCVDxFwH

— Grand Rapids Griffins (@griffinshockey) March 18, 2023