Will Tonight Be NHL Road Debut For Red Wings Simon Edvinsson?
Edvinsson still hasn't played on road in NHL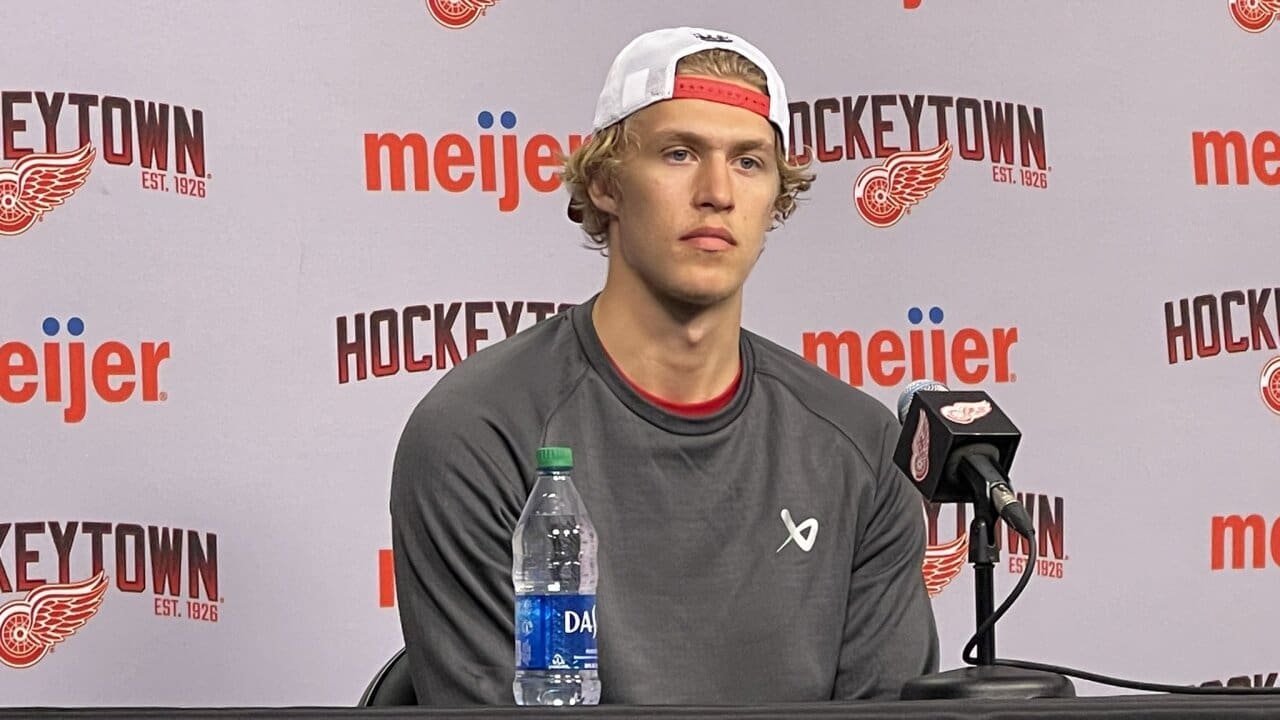 Without question, the Detroit Red Wings are giving the late-season NHL bow of Simon Edvinsson the kid glove treatment. They've been careful with his on-ice assignments. As of yet, the rookie Swedish defenseman is still waiting to make his first NHL appearance in a road game.
Detroit coach Derek Lalonde promises that day is coming, though.
"It's part of his development," Lalonde explained. We've already talked about it (him and GM Steve Yzerman). Obviously, he's . . .  going to play nine (games maximum), not to burn a year (of his ELC) and we will get him in on the road.
Simon Edvinsson is a funny guy. https://t.co/ZRY1tKJN7d

— Arthur J. Regner (@ArthurJRegner) April 1, 2023
"I don't know if we'll play him in the back-to-back situations but it's all part of his growth and development."
Could that road debut be coming Sunday, as Detroit visits the Toronto Maple Leafs? It certainly would present a challenge for Edvinsson were he to play at Toronto and be facing tough matchup assignments such as Maple Leafs forwards Auston Matthews, Mitch Marner and John Tavares.
If it is indeed a case, it will be a challenge that Edvinsson will be embracing excitedly.
"Of course," Edvinsson emphasized. "You have to play everybody. It's great learning for me as well. I just have to play my best against those guys as well. It's gonna work out good I think."
Boughner Likes Edvinsson's Assertiveness
Edvinsson isn't the only one who's viewing the potential for that opportunity in a positive light. Red Wings assistant coach Bob Boughner, who handles the Detroit defense, is seeing a much different version of Detroit's 2021 first-round draft pick than the Edvinsson who failed his training camp audition for the NHL.
"I think what we saw the first couple of games he's played here after his call up, he's again a little bit of a different player than we saw at training camp or preseason," Boughner said. "I think his game's more assertive. He's bringing that physicality to his game.
"He's making smarter, easier decisions, quicker decisions with the puck. That comes from just getting down there (with AHL Grand Rapids) and playing games and learning the North American game."
There's no guarantee that Edvinsson will be in the Detroit lineup on Sunday. However, he didn't play during Friday's 6-2 loss at Winnipeg. After a poor performance such as that, it would be only logical to suspect that there will be lineup changes.
"It's little bit of a feel right now," Boughner suggested about Edvinsson's deployment. "It'll be good to see him on the road. We haven't seen him on the road yet.
FanDuel Sportsbook Promo #1
ALL STATES WHERE LEGAL
GET THE APP
SIGNUP BONUS
$1000 No Sweat Bet


$1000 No Sweat Bet
BET NOW
"I think that'll be a good challenge for him. We don't get the last change and obviously he's gonna be out there against some of the other team's top players. And just that experience of playing on the road in a different building that he's never seen before against some good teams we're playing here in the next couple of weeks. He's gonna get a good test."
A test that could be coming Sunday night.