Raymond on Brink of Claiming Exclusive Place in Red Wings Century Club
Raymond keeping comany with Detroit legends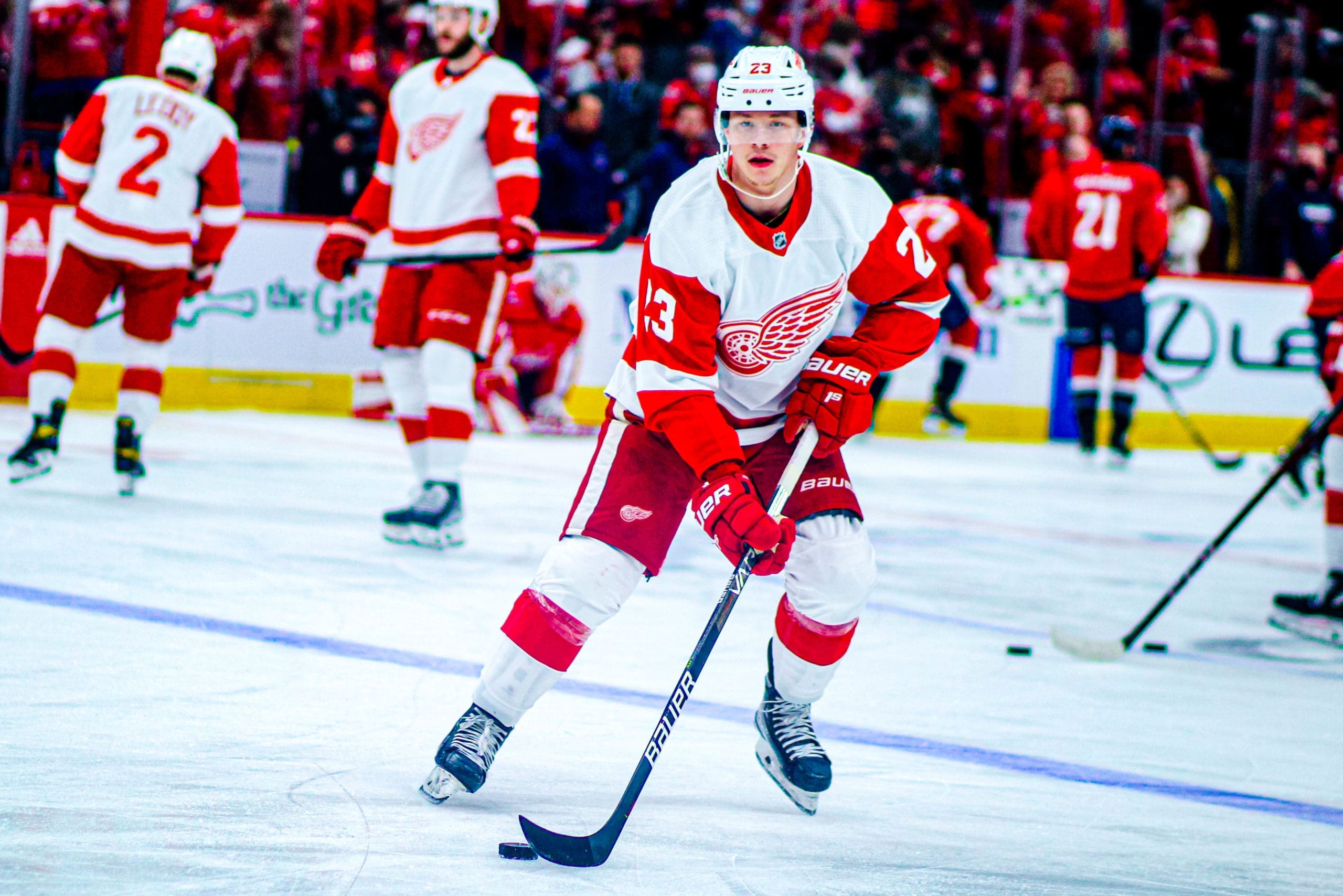 When Lucas Raymond reaches this point – well, actually two points – he'll join his boss and Mr. Hockey in a very exclusive Detroit Red Wings fraternity.
Heading into Thursday's game against the Buffalo Sabres at Little Caesars Arena, Raymond is sitting on 98 points as an NHLer. He accounted for 23 goals and 34 assists Detroit as a rookie in 2021-22. This season, the ledger is showing the Detroit left-winger with 17 goals and 24 assists. He opened the scoring in Tuesday's 5-0 win over the Canadiens at Montreal's Bell Centre.
Razor 🎯 pic.twitter.com/3CT3uhVg30

— Detroit Red Wings (@DetroitRedWings) April 4, 2023
That all adds up to 98 points, leaving Raymond only a pair of points from reaching the 100-point plateau. When he gets there, Raymond, who just turned 21 on March 28, will be the third-youngest player to record 100 points for the Red Wings in franchise history, according to research conducted by Swedish hockey writer Gunnar Nordstrom. And he'll be keeping some very exclusive company in this club.
Raymond Will Join Stevie Y, Mr. Hockey
Current Red Wings GM Steve Yzerman is the Red Wings player who was the youngest to register 100 NHL points for the club. He was 19 years and 274 days of age when recording his 100th point. It was an assist on a goal by John Ogrodnick during a 4-3 loss to the Penguins at Pittsburgh on Oct. 30, 1984.
FanDuel Sportsbook Promo #1
ALL STATES WHERE LEGAL
GET THE APP
SIGNUP BONUS
$1000 No Sweat Bet


$1000 No Sweat Bet
BET NOW
Next in line is Detroit's all-time scoring leader Gordie Howe. Mr. Hockey was 20 years and 350 days old when he assisted on a Ted Lindsay goal for his 100th NHL point in a 6-2 home-ice win at Olympia Stadium over the New York Rangers on March 16, 1949.
Raymond is accustomed to accomplishing impressive feats on the ice quickly. He was only 16 when making his SHL debut with Frolunda during the 2017-18 season. As a Red Wings rookie, Raymond collected a hat-trick and an assist in a 6-3 win at Chicago. Only 19 at the time, with that performance, he was also joining Yzerman and Howe as the only Red Wings to record a four-point game as a teenager.