Red Wings Don't Play Spoiler Role Against Crosby and Penguins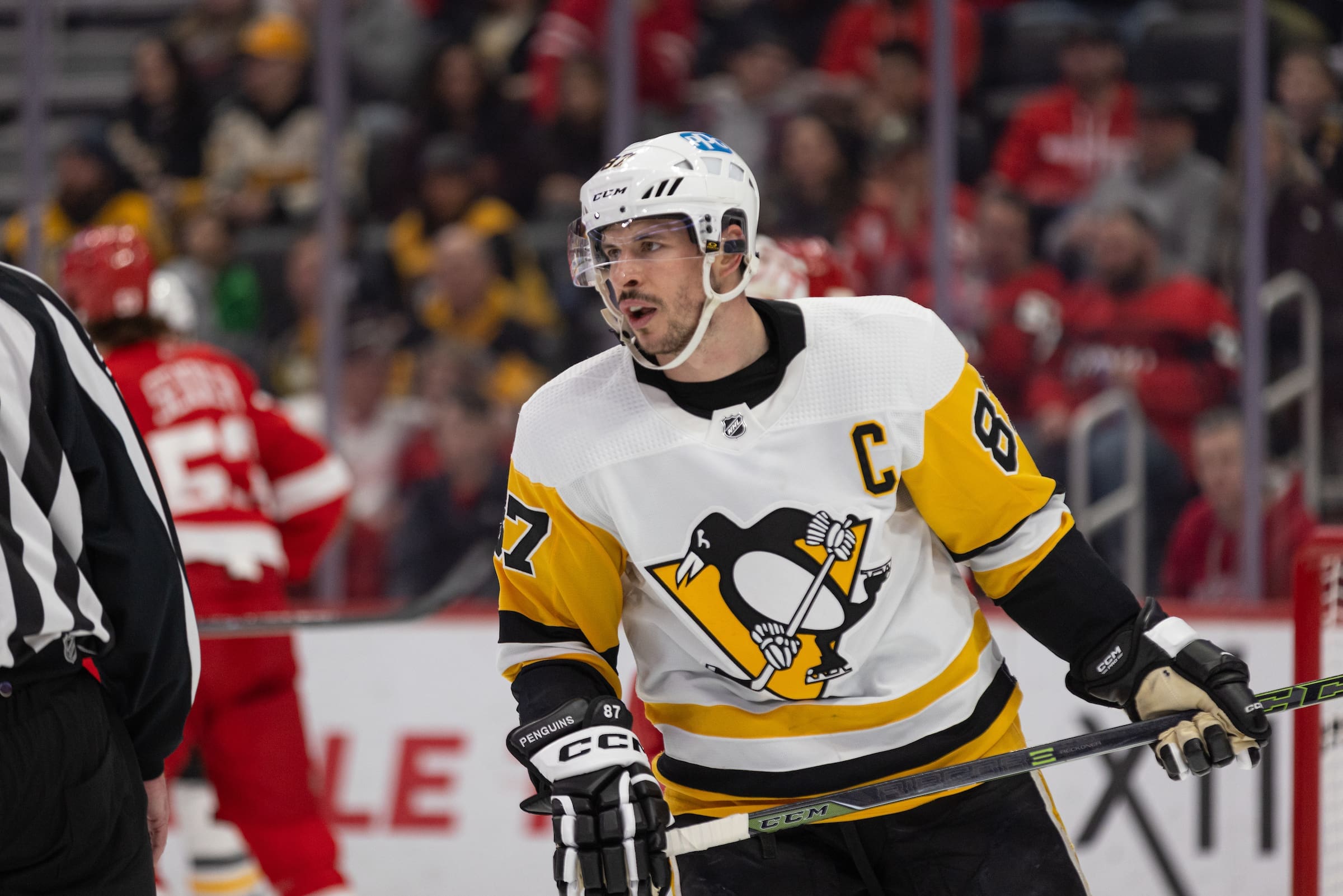 DETROIT — Give Sidney Crosby a second or two and he'll come up with a way to remind that Detroit Red Wings fan base that he is their nemesis.
Crosby did it Saturday by scoring with with 1.5 seconds remaining in the second period and adding another goal and assist for a three-point game to lead his Pittsburgh Penguins to a 5-1 win against the Red Wings.
Fans hauled out the traditional "Crosby sucks" chant just before he scored at 3:01 of the third period for the 1,500th point of his career. Crosby leads all active NHL players in points.
"That was pretty impressive," Detroit coach Derek Lalonde said. "…(Detroit assistant coach) Alex Tanguay between periods, obviously we reflect on some things, what our message is, obviously he's played 1,100 games so he's been around a lot, his exact quote was, 'Sidney wants to get in the playoffs.' And he was pretty darn good. "
Crosby's late goal in the first period was a crusher for the Red Wings. Jake Guentzel caused Detroit defenseman Jake Walman to commit a turnover in the slot area. Crosby seized the puck and scored on a backhander.
"That's a team fighting for their playoff lives and they played a really good game," Lalonde said of the Penguins.
Detroit's anti-Crosby sentiment dates to 2008 and 2009 when the Red Wings played the Penguins in back-to-back Stanley Cup Finals.
Evgeni Malkin also scored for Pittsburgh. He has 41 points in 27 career games against Detroit.
To Learn How to Bet on NHL Games, Click Here:
The win has importance for the Penguins. They move into wild-card playoff spot in the Eastern Conference, at least until tonight's game are completed. PIttsburgh was one point behind the New York Islanders and Florida Panthers coming into the game against Detroit. Each of them had three games remaining.  Florida is at Washington tonight and the Islanders are at Washington.
Shot at Bedard?
For the Red Wings, the loss keeps them in the Connor Bedard Lottery. They are currently 10th from the bottom in the NHL standings and the bottom 11 will have a shot at Bedard. At 10th from the bottom, the Red Wings would have a long-shot 3.5% chance.
The Red Wings had beaten the Penguins twice this season, including by a 7-4 verdict at Little Caesars Arena last week. But they couldn't get started offensively against Pittsburgh Saturday. Pius Suter scored his 14th goal of the season in the second period.
Ville Husso was in net for Detroit. Simon Edvinsson played, meaning he can only play one more game for Detroit this season or the Red Wings burn year of his contract. They are not going to do that.