Glowing Praise, Growing Pains All Part Of Edvinsson's Development With Red Wings
Edvinsson learning on the job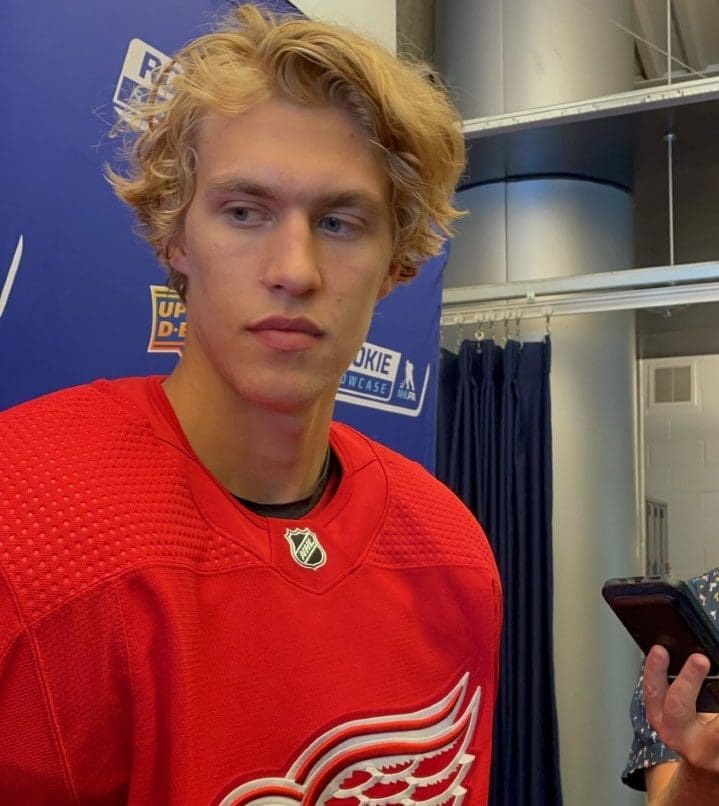 It's more than likely that Detroit Red Wings rookie defenseman Simon Edvinsson will be playing his last NHL game of the season on Monday.
"It might make sense to give him the home games and go from there," Detroit coach Derek Lalonde was saying late last week.
The Red Wings finish their home slate on Monday with a game against the Dallas Stars at Little Caesars Arena. They close out the season with two difficult road opponents, the Carolina Hurricanes (Tuesday) and Tampa Bay Lightning (Thursday). they don't want Edvinsson playing more than nine NHL games, because then he'll burn up a year of his entry-level contract.
Make that two goals in 48 seconds, and we're all tied up thanks to rookie defenseman Simon Edvinsson! #LGRW I @ThinkFordFirst pic.twitter.com/ZpvAMbHVOV

— Bally Sports Detroit (@BallySportsDET) April 7, 2023
Through his first eight NHL games, Edvinsson, 19, is displaying the level of promise that led the Wings to be making him the sixth player chosen in the 2021 NHL entry draft. He's scored two goals, is playing 16:50 per game, has delivered 10 hits and is averaging 3.56 blocked shots per game.
At the same time, Edvinsson is -5. Among Detroit defensemen, only Gustav Lindstrom (2.09) is averaging more giveaways per game than Edvinsson (1.78).
In other words, as good as it's going for Edvinsson, there's still a long way to go.
Red Wings Want Edvinsson To Simplify Game
Lalonde witnessed plenty of evidence of the latter in Saturday's 5-1 loss to the Pittsburgh Penguins.
"Consistency in his game," Lalonde assessed as Edvinsson's biggest challenge to overcome. "His fingerprints were on some goals (against Pittsburgh). "I think that's some of that inconsistency a young D-man goes through.
"The first goal against, we hadn't given up a chance, he turns it over and compounds the mistake by attacking the rush. All the sudden it's a two-on-one on top of us, and ends up in the back of our net a few seconds later."
on thing about simon edvinsson, he's gonna snatch somebody up by their neck pic.twitter.com/oSXGu61UXl

— lex (@seiderblom) April 3, 2023
It's all part of the learning curve for any young defender. Lalonde is quick to add that Edvinsson's upside far outweighs the critical errors that are the cause of the inexperience of youth. Once Edvinsson curtails those occasional egregious errors, the finished product is going to be something to see.
"I think eliminating those type of mistakes, because you can see the skill-set, some of the things he's done offensively," Lalonde said. "But simplify your game. You're not going to get away with certain things against certain players in the league. I think (Pittsburgh) was a pretty good lesson for him.
"This would be an easy message, the good and the bad, and just learn how to limit those mistakes and manage your game."
Edvinsson's Burning Desire To Learn
One factor the Detroit coaching staff truly admires in Edvinsson's character is his passion for improvement. He's always hungry to learn what he must do in order to excel.
FanDuel Sportsbook Promo #1
ALL STATES WHERE LEGAL
GET THE APP
SIGNUP BONUS
$1000 No Sweat Bet


$1000 No Sweat Bet
BET NOW
"It's daily growth," Lalonde said. "He's eager for it. We laugh, he always comes in, 'Is Boogs (assistant coach Bob Boughner, who works with the defense) around?' And you predict when he opens the door, it's almost the same exact time every morning.
"Even though they know they have a routine, Bob's going to come see him, but he still knocks on the door and asks to see Boogs and his shift clips from the night before."