Red Wings Prospect Lombardi Recognized by OHL Coaches
Amadeus rates among OHL's smartest players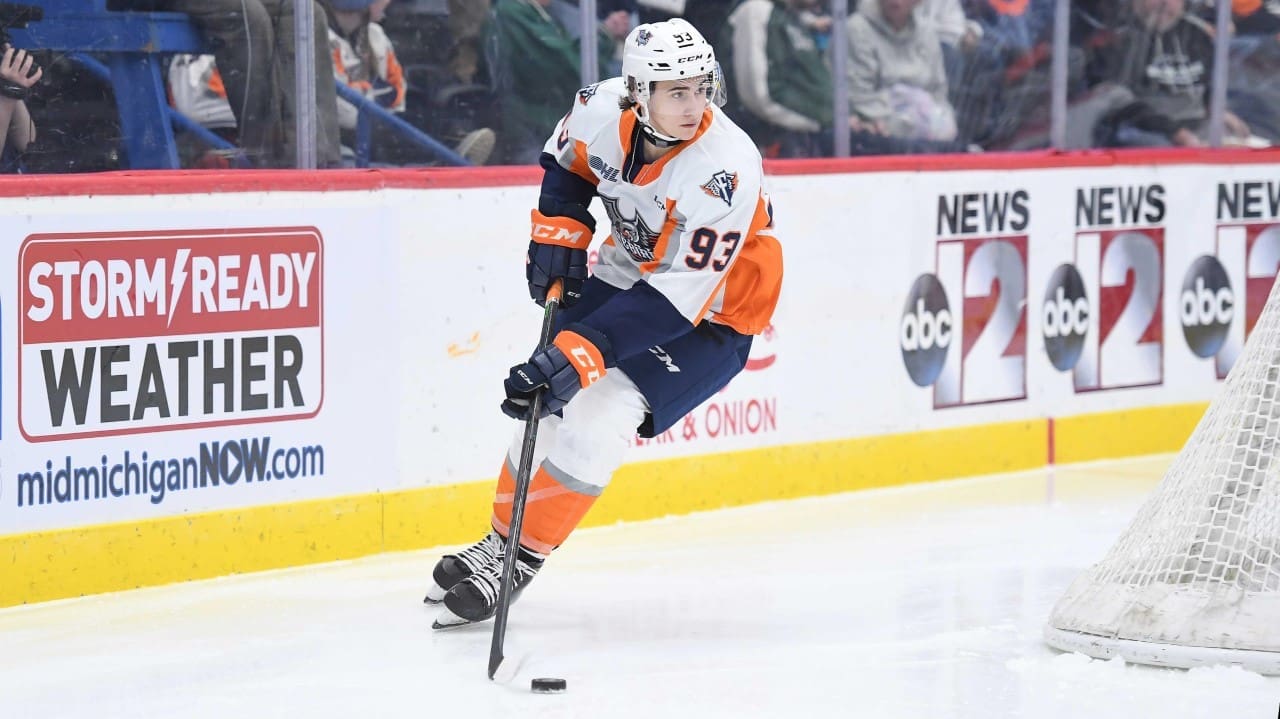 Evidently, Ontario Hockey League coaches find the composure of Detroit Red Wings prospect Amadeus Lombardi to be quite impressive. When it comes to the ways in which Amadeus conducts himself on the ice, they are equally enamored with the tune he's been playing.
The results of the annual OHL Coaches Poll are out and Lombardi, Detroit's 113th overall selection in the 2022 NHL entry draft, was faring well in a number of categories.The Flint Firebirds center was the runaway winner in balloting for the smartest player in the league's Western Conference. Lombardi garnered 39 points, easily outdistancing second-place finisher Shane Wright (12 points) of the Windsor Spitfires.
Amadeus Lombardi is ON ANOTHER LEVEL 🤯

The @DetroitRedWings prospect breaks the 0-0 tie once again, this time scoring a highlight-reel goal to give the @FlintFirebirds their first lead in Game 7.#OHLPlayoffs | #SAGvsFLNT pic.twitter.com/o2kRhvdmmh

— Ontario Hockey League (@OHLHockey) April 10, 2023
Wright was the fourth overall selection in the 2022 draft by the Seattle Kraken. He's already been playing in the NHL, with eight games under his belt. During that yime, Wright was collecting a goal and an assist.
The Coaches Poll is tabulated when each team submits one nominee per category, and coaches then vote for the top three players for each category within their conference. Players receive five points for a first place vote, three points for a second place vote, and one point for a third place vote. Clubs are not permitted to vote for players from their own team, allowing for a maximum of 45 possible points for each winner.
Lombardi Puck Skills Lauded
Lombardi was the second-place finisher in two other categories. He came in No. 2 as both the best playmaker and best stickhandler. Lombardi wound up third in OHL scoring during the regular season with 102 points from 45 goals and 57 assists. He was one of five players in the league to finish with over 40 goals and in excess of 50 assists.
MAMA, THERE GOES THAT MAN… AGAIN! 😤

Shortly after Coulson Pitre made it 3-2, who else but Amadeus Lombardi, as the @DetroitRedWings prospect ties it up at three for the @FlintFirebirds.#OHLPlayoffs | #SAGvsFLNT pic.twitter.com/6FiblKld7t

— Ontario Hockey League (@OHLHockey) April 11, 2023
"My speed and my hockey sense help me," Lombardi said. "I am a pass-first player but I can chip in with goals. I think I have pretty good hands."
FanDuel Sportsbook Promo #1
ALL STATES WHERE LEGAL
GET THE APP
SIGNUP BONUS
$1000 No Sweat Bet


$1000 No Sweat Bet
BET NOW
Lombardi was one of only two OHL players getting his name on the list in three separate categories. Sault Ste. Marie Greyhounds defenseman and Vancouver Canucks draftee Kirill Kudryavtsev finished in the top-three of three separate categories including best shot blocker, best defensive defenseman and most underrated player.
On Monday, Lombardi and the Firebirds saw their season come to a conclusion. Despite two goals from the Detroit pick, Flint dropped a 6-3 verdict to the Saginaw Spirit in Game 7 of their opening-round playoff series.