Lalonde Says Red Wings are 'Probably Exactly Where We Belong'
Detroit hasn't seen playoff hockey since 2015-16.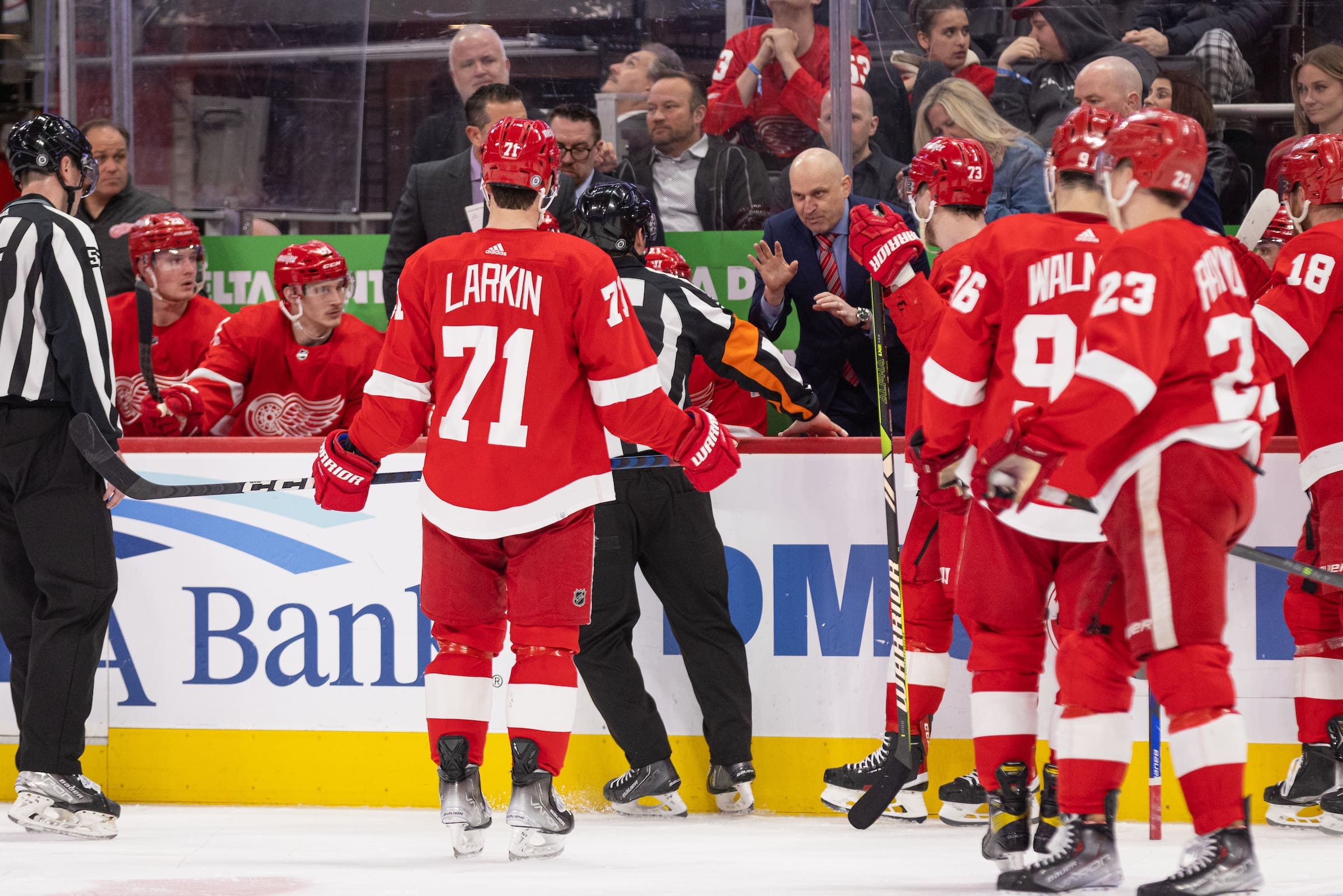 He kept the notion to himself but deep down, as he was readying for his first NHL season as a head coach of the Detroit Red Wings, Derek Lalonde the playoffs weren't going to be the prize found at the end of the rainbow.
"I think I was realistic with what my expectations were with this team," Lalonde said. "I did not have this team – I have no problem saying it now, and I never would have said this to this group all year – I didn't see this as a playoff team.
"Player for player where our roster was stacked up against our division, stacked up against the Eastern Conference, I did not feel this was a playoff team."
Of course, in the end, Lalonde was proven right. Posting a 35-37-10 record, Detroit wound up 12th in the NHL's Eastern Conference and 12 points out of the playoffs.
Team Sought To Prove Lalonde Wrong
Along the way, though, it's with delight how he recollects his team doing their utmost to be proving him wrong.
"Now, it's my job to push them there and get them there, but this group thought they could get there," Lalonde said. "I think that's why you saw them there right before the (NHL trade) deadline."
The Wings put together a 7-1 run to move into eighth place in the East. It only last one day, but for that day, Detroit was a playoff team.
Best fans. 🙌

📽️ » https://t.co/N78PFXP9oH pic.twitter.com/TEzg2yTJAo

— Detroit Red Wings (@DetroitRedWings) April 14, 2023
"I think that surprised me," Lalonde now admits. "I remember when the leadership group came to me and we were flirting with .500, competitive in a lot of areas and they're like, 'We're in a good spot. If we can go 9-3 these next 12 games we'll be right there.'
"I said 'absolutely' but in the back of my mind I'm looking at the schedule and I don't realistically see that happening. Sure enough, we were 8-2.
"It was that push we talked about before the deadline, and that came from the room. That's a credit to this group. There was a nice little push from this group that we can build off going forward, there was a lot of belief in that room."
It's stretches like that which give Lalonde cause for optimism, a belief that this team is closer to turning a corner than most think is realistic.
Red Wings Somewhere In Between
Realistically, Lalonde realizes his team isn't as good as the one that assembled the 7-1 run.
"We were in the playoffs," he says with a smile. "We had games in hand. I'd probably be spending my coach of the year bonus already on some trip somewhere (had they sustained that level of play).
"I think that's a huge credit to the guys. I do feel in some ways it was probably a little overchievement for us, probaby not a true indicator of the entire season."
FanDuel Sportsbook Promo #1
ALL STATES WHERE LEGAL
GET THE APP
SIGNUP BONUS
$1000 No Sweat Bet


$1000 No Sweat Bet
BET NOW
At the same time, Lalonde recognizes his team isn't as badly off as the injury-addled squad that would be losing the last four games of the season while being outscored 20-3.
"What happened here the last 5-6 weeks certainly is not an indicator," Lalonde said. "Probably the reality is somewhere in between. Right, wrong or indifferent, we're probably exactly where we belong and that's not playing (in the playoffs) on Monday or Tuesday."