Tomorrow's Red Wings: Mazur Half-Step Away From NHL?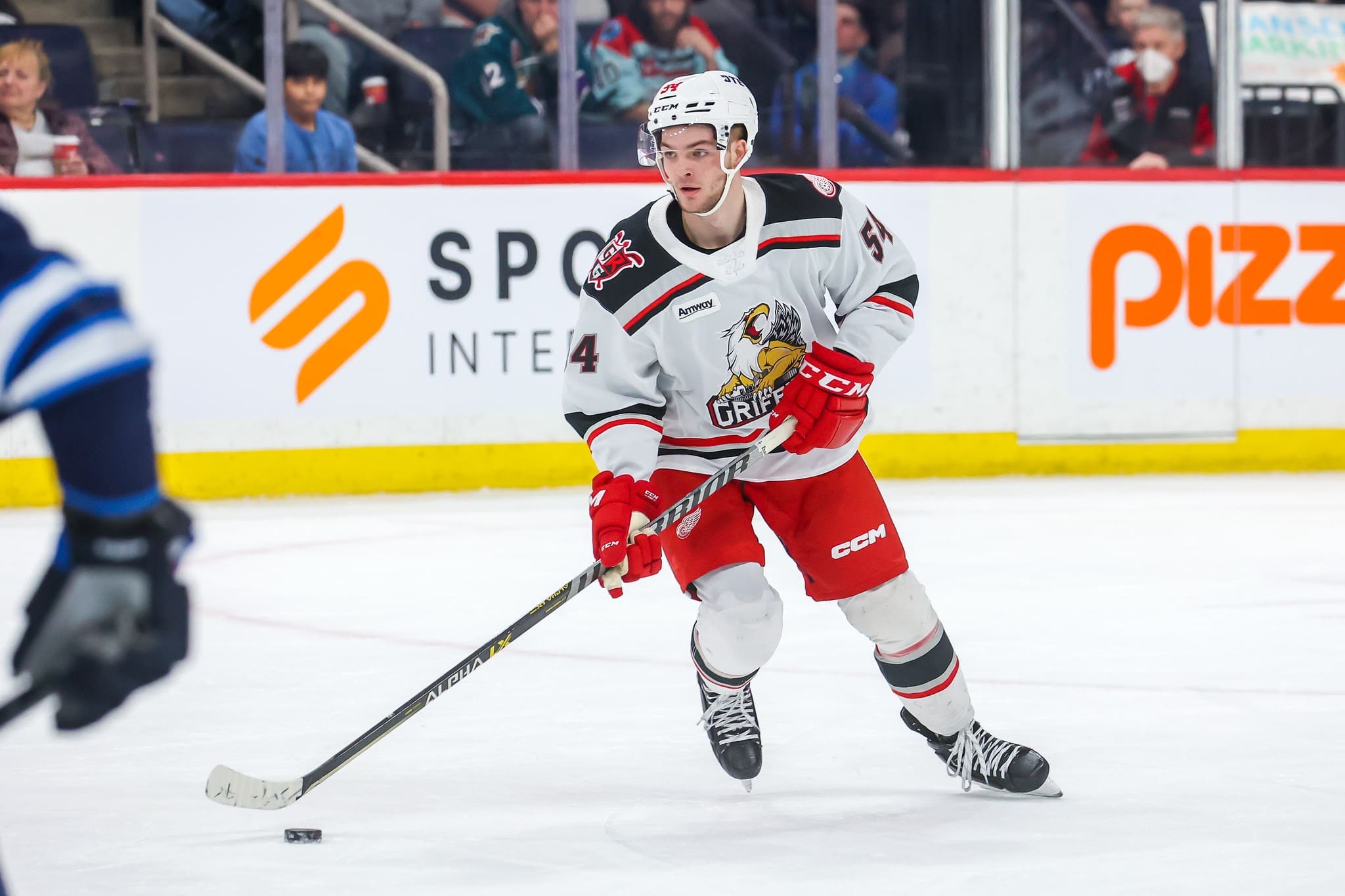 (Editor's Note: This is the third installment in Detroit Hockey Now's Tomorrow's Red Wings series about some Detroit Red Wings' prospects)
Detroit Red Wings general manager Steve Yzerman doesn't over-hype his prospects. That's not his style. He patiently waits for draft picks to earn their place before saying too much.
That's why it seems telling that Yzerman seems more willing to speak about Carter Mazur's potential.
"We signed him and he's played a half dozen games in GR and he looks like a real good prospect," Yzerman said. "Is he ready to play next year? Maybe. Maybe not. But he looks like a good prospect."
Not over the top. But it is certainly an optimistic tone.
"He looks like an NHL player," Yzerman said. "He skates well, he's got good hands, he knows where to go on the ice."
Extended highlights of Carter Mazur's pro debut with the Grand Rapids Griffins #GoGRG #LGRW pic.twitter.com/MVJ4aNt6E7

— IcehockeyGifs (@IcehockeyG) March 30, 2023
Feisty Forward
What you hear from scouts is that Mazur already carries himself like a pro on the ice. He is expected to mature into a Tyler Bertuzzi style forward. Feisty. Skillful. Hard driving.
He helped Denver win an NCAA championship as a freshman and scored 22 goals and registered 37 points in 40 games as a sophomore. He added three goals and three assists for Grand Rapids in six games.
"He's gonna be on our team and I think he's gonna be a real good player for us sooner than later," Yzerman said. "Is it September, October? I'm not sure."
young man as well, so we have optimism for him."
FanDuel Sportsbook Promo #1
ALL STATES WHERE LEGAL
GET THE APP
SIGNUP BONUS
$1000 No Sweat Bet


$1000 No Sweat Bet
BET NOW
Analysis:  The Red Wings are excited about Mazur's potential. He has some push-back in his game and enough skill to play in the top six forward group. The only question is how soon he will be ready.
Forecast:  It seems like Mazur will come to training camp with a chance to make the team. He will have to play impressively well to cash in on the opportunity. Yzerman is crystal clear that prospects have to earn their place on a roster.