Red Wings, Yzerman Continue the Process as Time Marches On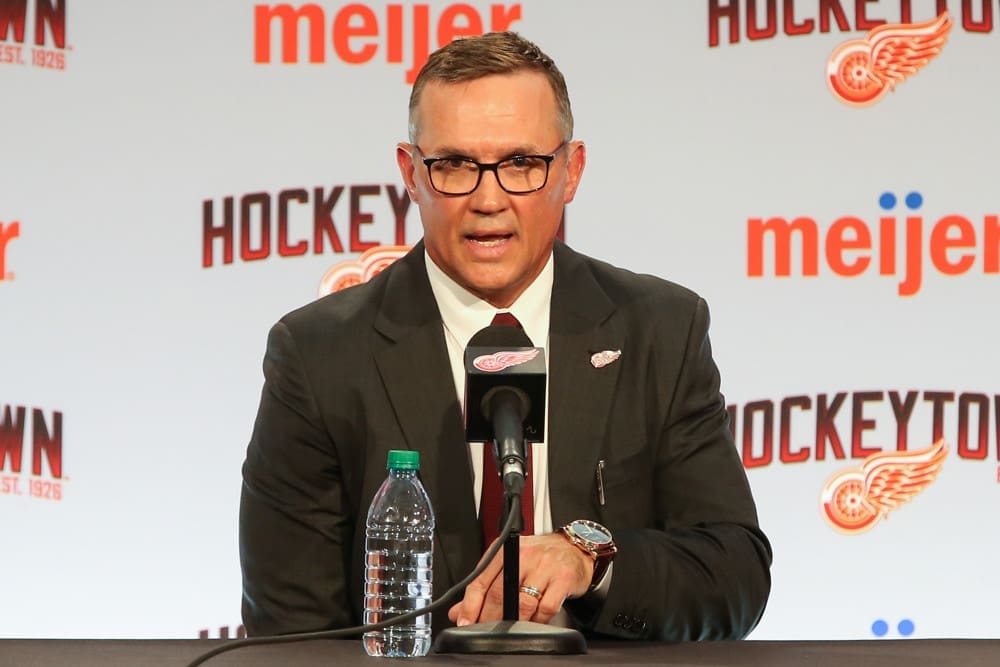 When Detroit Red Wings General Manager Steve Yzerman was asked about fate when it came to his hiring on April 19, 2019, he could only laugh. After all, Detroit's long time captain wore the number nineteen throughout 22 seasons.
So when he finally did answer if fate was involved, it came with a chuckle.
"Well, I'll let you know in five years." Later in his answer, Yzerman chalked the timing of the press conference up to needing to get to work.
While it hasn't been five calendar years, the time from that press conference to now has Yzerman entering his fifth offseason with the club.
Of those five, this one certainly has all the makings of pushing Detroit into a coveted playoff position.
Red Wings In A Different Spot Than Before
Though the team was improved, not even the most diehard fan believed the Red Wings were a playoff team in 2022-23. Expectations shifted when they spent 24 hours in a playoff spot back in February. But that was short-lived and then vanquished after the trade deadline.
With each season, Detroit has seen improvement. The first iteration was a brutal campaign in which Detroit recorded just 39 points for the season. The tanking didn't even result in the top overall pick. But the Red Wings still won with the drafting of Lucas Raymond.
The 2021 campaign was an improvement on an abbreviated schedule due to the Covid-19 pandemic. The first real chance to witness an Yzerman managed team was the 2021-22 season, when Raymond and Moritz Seider made their debut. There was another step forward, but a second half slide ushered in a change with Jeff Blashill not being renewed.
Last season has been well chronicled and now, heading into the offseason, it certainly feels like the playoffs are close. All that remains is what will Yzerman do to make it happen?
Prospects Will Be Counted on in 2023-24
Marco Kasper and Simon Edvinsson are all but penciled into the opening night lineup when Detroit takes the ice in October. But there are other possibilities, starting with Carter Mazur, who notched six points in six games with Grand Rapids. Amadeus Lombardi was a revelation in the Ontario Hockey League and notched an assist in his first, and only professional game.  The latter might be a leap to make the opening-night roster. But it seemed a leap that Raymond would make the team in 2021-22.
Elmer Soderblom started with the team, but had important minutes in Grand Rapids that should help in his development. William Wallinder was strong in both Sweden and his abbreviated time in Grand Rapids. It can't be missed, either, that there is a glut of defensive talent in Grand Rapids that could be shuffled into Detroit. Albert Johnansson, Jared McIssac, Donovan Sebrango, and Eemil Viro are just a handful of names.
It also shouldn't be overlooked that Sebastian Cossa's had an incredibly strong second half in Toledo. Though he's not likely to be in Detroit quite yet, predictions of his play falling off were sorely mistaken.
From the drafting and development perspective, there's potential oozing
"We're optimistic," Yzerman said.  "We've got a group of them coming. I hope to see one or two of them next year but if we don't, I think they're coming sooner than later."
Finding the Final Pieces That Will Complete the Puzzle
It won't all be on the prospects and certainly, there are already players in place on the team. But as fans, the front office, and the coaching staff can see, Detroit is still short some of the players that gets team into playoff position–and beyond.
Yzerman once again will get back to work.
"From where we sit here today from four years ago, I'm not disappointed at where we're at," Yzerman said.  "I guess I'm OK with it. I intend to stick with the process, the plan. Nothing is going to dramatically change. We'll continue to look for opportunities to expedite the process. That is difficult to do but we'll continue to do that."
One potential way to expedite the process could be acquiring Ottawa Senators winger Alex DeBrincat. DeBrincat is the type of scorer Detroit desperately needs, a two-time 40 goal scorer. He was down a bit this season, with just 27, a 14-goal drop from 2021-22. But with a hefty price tag attached to his name and also being a divisional foe, would either team want to help the other?
Yzerman noted that the free agent crop isn't expected to be strong but there are potential pieces if need be. Trades might be the other viable, likelier option.
Regardless of what it is, the five-year mark Yzerman mentioned four seasons ago is but a year away. The noise to make the playoffs grows louder and Yzerman, fully aware, is one who will make the changes needed to get them there.
But as it has been since that opening press conference, he'll go at the pace that ultimately works best for the team.
"I'm OK with where we're at," Yzerman noted before adding:  "Like all of you, I wish we were further ahead."