Fabbri Would've Played Had Red Wings Made Playoffs
Fabbri was missing for latter part of regular season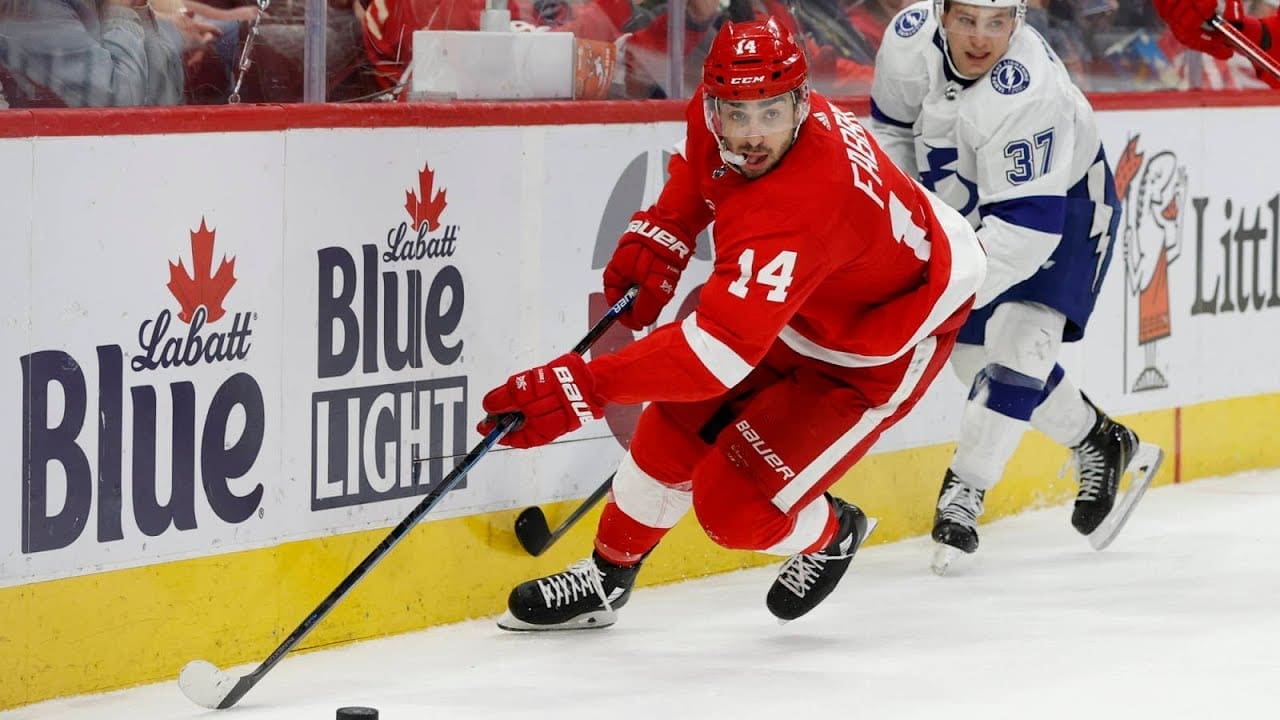 Detroit Red Wings forward Robby Fabbri says you shouldn't be at all concerned about the clean up procedure he underwent late in the season on his knee.
On the surface, it's easy to assume that in the case of anyone who's had both knees surgically repaired – one of them twice – any time they need to go under the knife for further work on on either knee is a deadly serious matter.
Fabbri, though, insists that simply isn't the case with him.
Perseverance.
Sportsmanship.
Dedication.

Robby Fabbri is our 2023 Bill Masterton Memorial Trophy nominee. 👏 pic.twitter.com/QoLrz1Zy9X

— Detroit Red Wings (@DetroitRedWings) April 11, 2023
"Just a quick clean up," Fabbri said of the surgery he underwent last month. "It's nothing like I dealt with before."
The Detroit forward isn't concerned at all about being ready to play in time for training camp next fall.
"For sure, ready for Day 1 in camp," Fabbri said. "This is a little quicker rehab for sure.
"I'm back training right now. We're just slowly ramping everything up. Obviously, there's no rush in the rehab process right now with having the summer here but we're slowly ramping it up in the gym, doing everything – upper body, lower body, biking – and the knee's feeling good, so we're in a good spot."
The surgical procedure was done to clean up a minor issue with Fabbri's meniscus in his right knee. He underwent surgery on that knee late last season and didn't return to playing with the Red Wings until Jan. 4 of this season. Twice previously, he underwent major surgeries on his left knee.
Red Wings Fabbri Injured In Game Against Blackhawks
A hit by Chicago's Tyler Johnson in a March 8 game caused inflammation in Fabbri's right knee. The decision was made to shut him down for the season and ultimately, undergo the surgical procedure.
However, had Detroit been maintaining a playoff position, indications from Fabbri are than an entirely different process would have been unfolding. He's certain that he would've played in the playoffs had the Red Wings been postseason qualifiers.
BetMGM Sportsbook
States: All States Where Legal
GET THE APP
SIGNUP BONUS
UP TO $1,000!


Up To $1000 Paid Back in Bonus Bets
BET NOW
"It would have been a decision with the team whether to do the procedure right away and be ready in about 3-4 weeks or to rehab it and get back to playing without the procedure and just a matter of where we were at, the schedule, the timing, where we were at in the standings," Fabbri said. "All that would have come into play.
"I can definitely tell you if playoffs were starting this week, I'd be playing one way or another."