Tomorrow's Red Wings: Edvinsson a Star in the Making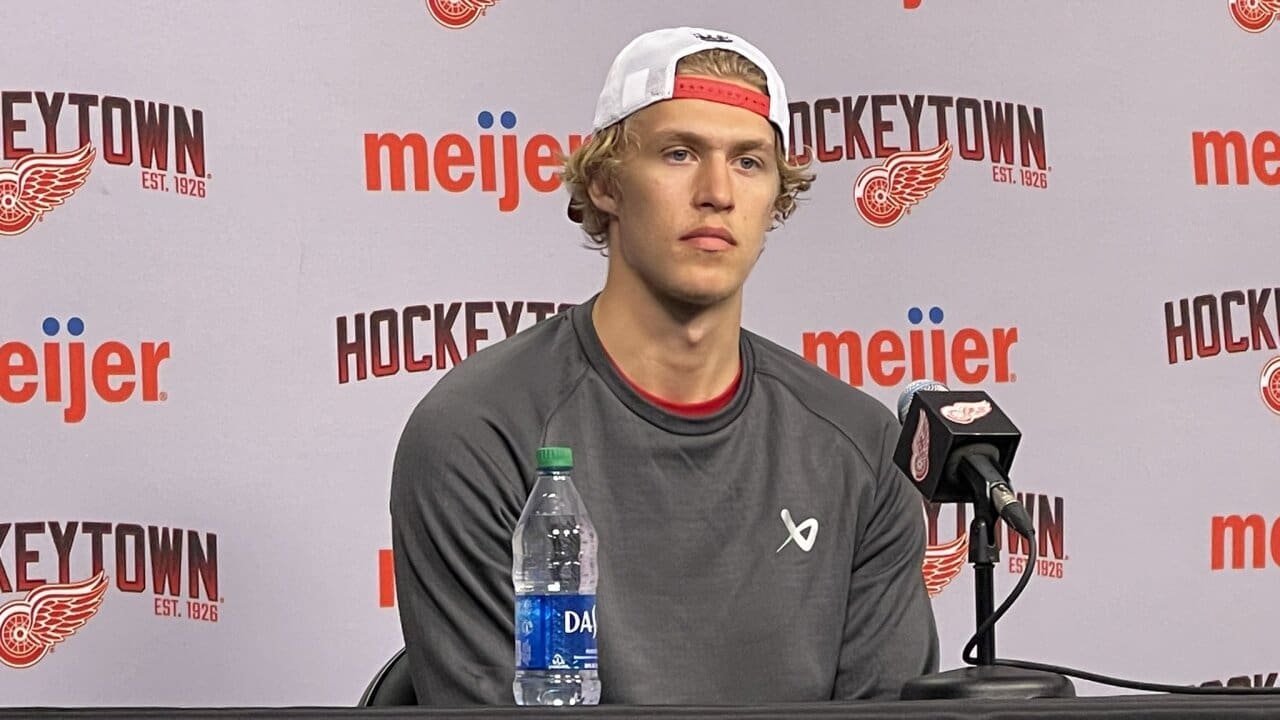 (Editor's Note: This is the eighth installment in Detroit Hockey Now's Tomorrow's series about Detroit Red Wings' prospects).
Red Wings defenseman Jake Walman had simple advice for Simon Edvinsson on the eve of playing his first game with Detroit.
"Before that first game against Colorado I said, 'If you can play against these guys you can play against anybody,' Walman said.  "I thought he had a good showing and I'm sure everybody is excited and has been talking about him for a while."
Arguably Detroit's top prospect for the past two seasons, Edvinsson is about to graduate from prospect and likely into NHL regular heading into the 2023-24 season. The buzz from the fanbase is one thing. But even his teammates can see the special attributes there for the 20-year-old defenseman.
"I think he was awesome," defenseman Olli Määttä said of Edvinsson's nine games in Detroit. "For a young guy obviously he's a big guy. He plays with a lot of edge. He can skate, he has a lot of skill also. I think seeing him and seeing Marco (Kasper) play that game and practice with us, it seems like there's a lot of good players coming that would help us, help us a lot."
Edvinsson was one of the AHL's best defensive defensemen this season. #LGRW https://t.co/cZfEv6SG7U pic.twitter.com/c1W4g3JRfj

— Jacob Stoller (@JLStoller) April 18, 2023
A Rising Star for the Red Wings
Edvinsson is the prototypical Steve Yzerman defenseman: Smart, big, and skilled. Standing at 6'6, a decade of offenses having to tussle with the likes of Moritz Seider and Edvinsson makes any opposing GM's head spin….if indeed it all comes together.
From Seider's perspective, it may very well have already started.
"I think (we) bonded right from the start pretty well and it will just be better and better from every season now," Seider said.  "I think we have a really good D corps. We signed guys early during the year and I think everybody on the D corps is very happy with each other. We will continue to get better, build more chemistry and hopefully be a really tough D corps to play against."
Edvinsson played in 52 games for Grand Rapids, notching 27 points (5-22) and then potted two goals in nine games for Detroit. Beyond the stats, it was the maturity that stood out for many.
"It's tough not to get excited with what we saw in those nine games," head coach Derek Lalonde said. "He'll need to have a great offseason. I think what he did between the American League and here, I certainly hope he's going to be pushing for a spot on the team, but I saw growth from when he left us to Grand Rapids to when we got him back, and hopefully he continues to grow this summer."
Analysis
Everything is trending the right direction for the young defenseman and an offseason regiment that continues that momentum can only help matters more. Edvinsson may be solid on the ice with his IQ, but in a similar vein to Seider, he'll mix it up and show snarl when necessary. Everything is teed up and ready for Edvinsson to step into the opening night lineup. Bulking up some and maintaining conditioning will only help there.
FanDuel Sportsbook Promo #1
ALL STATES WHERE LEGAL
GET THE APP
SIGNUP BONUS
$1000 No Sweat Bet


$1000 No Sweat Bet
BET NOW
Forecast
Edvinsson is all but a foregone conclusion to make the team. It's a very likely that like Seider during his rookie campaign, he is in a top four role by midseason. Lalonde was rightfully careful when talking about a Seider-Edvinsson pairing. Having two strong, young defenseman on separate pairings bolsters the corps as a whole. But the pairing at some point surely seems like it would be one of Detroit's top assets.