Tomorrow's Red Wings: Marco Kasper Coming 'Sooner Than Later'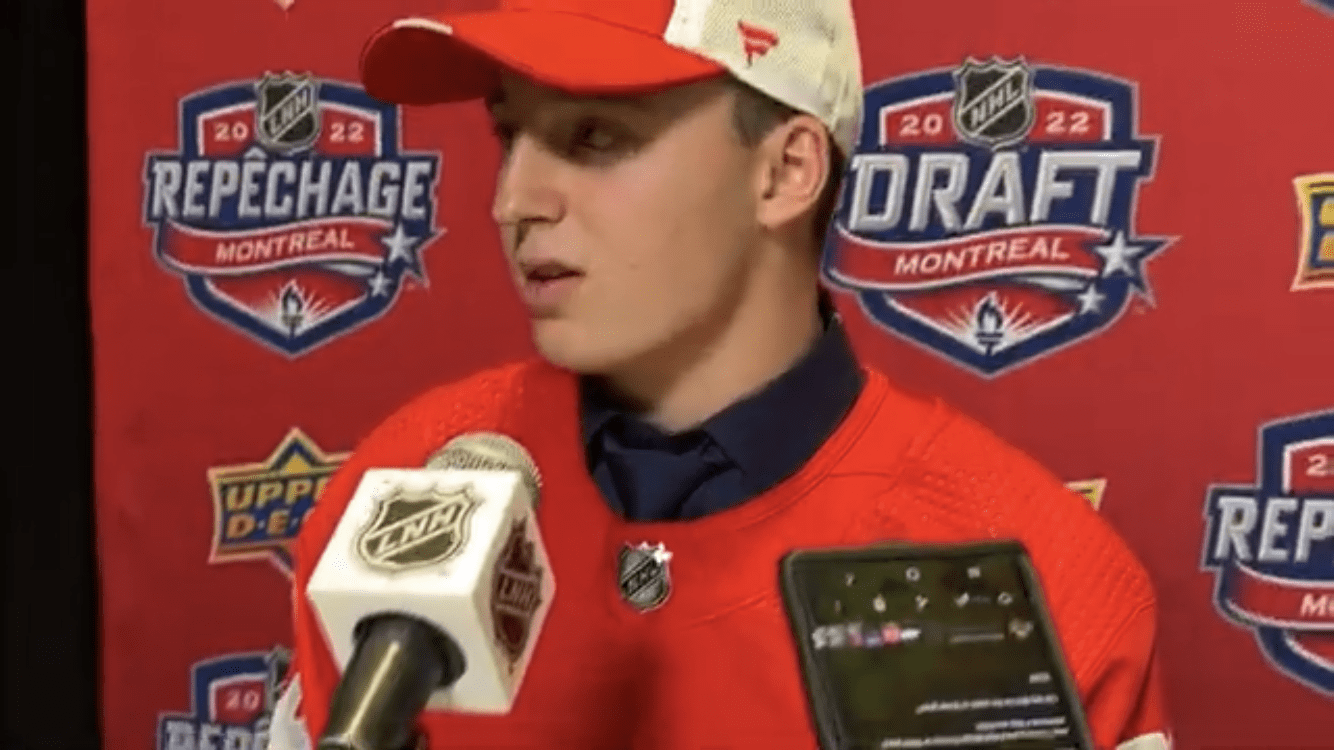 (Editor's Note: This is the 10th installment in Detroit Hockey Now's Tomorrow's Red Wings series about Detroit's prospects).
Depending on who you talk to, the Red Wings either landed a high-caliber center or a fire-breathing dragon when they drafted Marco Kasper eighth overall in 2021.
When Swedish hockey folks talk about Kasper they start by pointing out how molten his competitive juice can flow. He oozes fire and passion. At 18, he owned the third-highest penalty total (72 minutes) in the Swedish Hockey League.
"I think it's always important to play with an edge in your game," Kasper said after he helped the Red Wings defeat the Maple Leafs' 5-2 in his NHL debut April 2.
Eriksson Ek Style?
Some in Sweden compare Kasper's playing style to Minnesota Wild Swedish center Joel Eriksson Ek. He scored 23 goals this season and 26 the previous season. He's averaged 128 hits per season over the past two seasons. Eriksson Ek is likely to earn Selke Trophy votes for the third consecutive season. Eriksson Ek is a couple inches taller, but what does that matter if Kasper always plays big?
The Red Wings called up Kasper March 30 after his Rogle season.  They wanted to see where he is at against NHL competition. They were very disappointed that Kasper only got to play one game with the Red Wings before he was injured. He was hurt 10 minutes into the game, suffering a broken knee cap. He played the rest of the game without complaint.
Trevor Thompson catches up with Marco Kasper following his first NHL game. #LGRW pic.twitter.com/aobhnAd88R

— Bally Sports Detroit (@BallySportsDET) April 3, 2023
The Red Wings didn't get to see much of Kasper in a Red Wings' jersey, but they know he is tough enough to play in the NHL. Based on how he played in the game, he seems to have a high determination level.
No surgery was required to repair the injury. He should have more than enough time to prepare to be ready for training camp.
Analysis
The Red Wings believe Kasper can be the two-way center with an edge who can deliver key goals and be on the ice when the team is defending a one-goal lead. They see him as a top six forward with a boundless up-side.
"We're gonna give them every opportunity to be in that mix (to make the team)," Lalonde said. "I think that's a natural part of it. I hope we get to the point where they're forcing us to put them on the team for Day 1. If they're ready, great. I love playing young guys. Have no problem playing young guys. That's the way the NHL is now. It's the reality of the NHL now. At the same time, making sure we handle their development properly. I hope those two put us in some really tough decisions come camp next year."
FanDuel Sportsbook Promo #1
ALL STATES WHERE LEGAL
GET THE APP
SIGNUP BONUS
$1000 No Sweat Bet


$1000 No Sweat Bet
BET NOW
Forecast
However, Kasper will get no guarantee. That's not the way Yzerman works. He will have to play well in training camp to earn a place on the team. Otherwise, he will start in Grand Rapids.
But clearly Yzerman is excited about the possibilities that two more Yzerman first-round picks (Simon Edvinsson and Kasper) will join Moritz Seider and Lucas Raymond on the Detroit roster.
"You talk about Simon and Kasper, they're good prospects," Yzerman said. " I'm not sure when they're gonna be impact guys in the NHL. It could he next year but it may take some time. We're optimistic. We've got a group of them coming. I hope to see one or two of them next year but if we don't, I think they're coming sooner than later."