Tomorrow's Red Wings: Cossa Development Going as Planned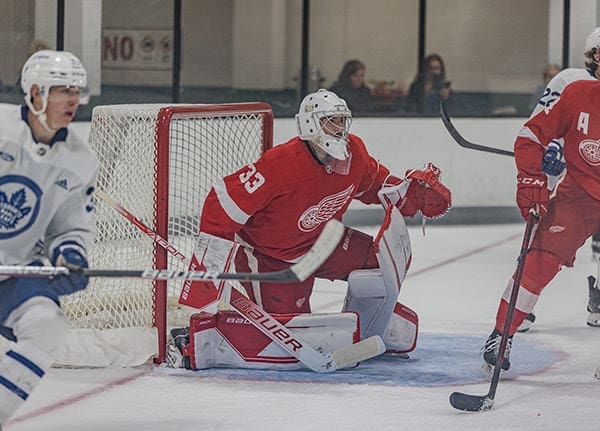 (Editor's Note: This is the 11th installment in Detroit Hockey Now's Tomorrow's Red Wings series about Detroit's prospects).
Detroit Red Wings general manager Steve Yzerman appreciates that he always has the final decision, but he's going to let someone else decide where goalie Sebastian Cossa plays next season.
Cossa will decide where Cossa plays. Or at least, his performance level will make the call.
"I think he's a good prospect," Yzerman said. "(Second),  I think he's really determined and we're just gonna let his play dictate where he goes and when we see him in Detroit, honestly… your guess is as good as mine at this stage."
Cossa just turned 20 in November, and he's current playing for the Toledo Walleye in the ECHL playoffs. Cossa and former Michigan State goalie John Lethemon, another Red Wings' prospect, each played a game when the Walleye took a 2-0 lead in the best-of-seven series against the Indy Fuel.  Games 3, 4 and 5 are tonight, Thursday and Saturday in Indianapolis.
Cossa is him 😍#LetsGoFish#OurFishOirFight pic.twitter.com/6HKLo0K3CC

— Hockeytown West Podcast (@HockeytownWpod) April 22, 2023
No Timeline
Yzerman is content to be patient with Cossa (Drafted 15th overall in 2021). That means not burdening him with a timetable. To Yzerman, the Cossa situation is about properly developing the player, not rushing him to the show.
"Going into next year, if he's the best goaltender to play in GR and grabs the reins so to speak to be the starter, he'll be that," Yzerman said. "If he's not ready for that, whether he's the backup there or he plays in Toledo, we'll let it play itself out."
Yzerman did make the right call on Cossa going to Toledo this season. Grand Rapids didn't qualify for the playoffs, and the Walleye have the potential for a lengthy run.
Playoff Test
"We're excited to see what he can do in the most important part of the year," Detroit assistant GM Shawn Horcoff said. "Playing playoff hockey is a big part of development. Being in pressure-filled games, in important games, especially in goal when you're the man, it can be a really good experience for him."
The Red Wings have appreciated Cossa's attitude this season. He's worked hard all season. The 6-foot-6 Cossa struggled early and then worked his way through it to have a strong season. Cossa posted a 26-15-4 record with a 2.56 goals-against average.
"His determination has been excellent and his play has continually improved throughout the course of the season," Yzrman said. " They have a very good team in Toledo. He's got competition in the net, which is good for him. We hope Toledo has a good playoff run and we hope Sebastian is an important part of that. I'm really pleased with his development, his progress throughout the season. It was great for him to struggle early. He had to battle and he battled and worked hard. There was no excuses, no feeling sorry for himself, no pouting. He just went to work every day and he continues to get better. We just hope he continues with that mindset and continues to get better as a goaltender.
Analysis
The ideal situation for the Red Wings would Cossa playing the majority of games in Grand Rapids. Yzerman hasn't said exactly what he is is planning to do, but it seems like he will look for another NHL goalie to backup Ville Husso and then add another experience goalies, presumably with some NHL experience, to play with Cossa in Grand Rapids.
The X Factor in the planning is John Lethemon who was recently signed by the Red Wings. He was named the ECHL Goalie of the Year with a 1.99 goals-against average and .930 save percentage. The Red Wings like him, but he will be 27 this summer. Lethemon could shuffle between Toledo and Grand Rapids, depending upon injuries.
FanDuel Sportsbook Promo #1
ALL STATES WHERE LEGAL
GET THE APP
SIGNUP BONUS
$1000 No Sweat Bet


$1000 No Sweat Bet
BET NOW
Forecast
If Cossa was ready in 2024-25, that would be a quick development. Cossa would turn 22 during that season. If he plays well, he could get called up for a game or two this season if there are multiple injuries, but no one in the Detroit organization is planning on Cossa being ready this season. Nashville Predators have prize prospect goalie Yaroslav Askarov (Drafted 11th overall in 2020). He's 20 and he was called up for on game this season.
"I think it's very important for us to bring in (another goalie) who can help him with that, help teach him how to be a good pro. He's jus. (Cossa's) just starting his development process," said Detroit Red Wings assistant GM Shawn Horcoff. "But we're obviously happy with the first step and the first year for him."