Finding Consistency The Next Step For Red Wings
Detroit must be steadier in its performance as a team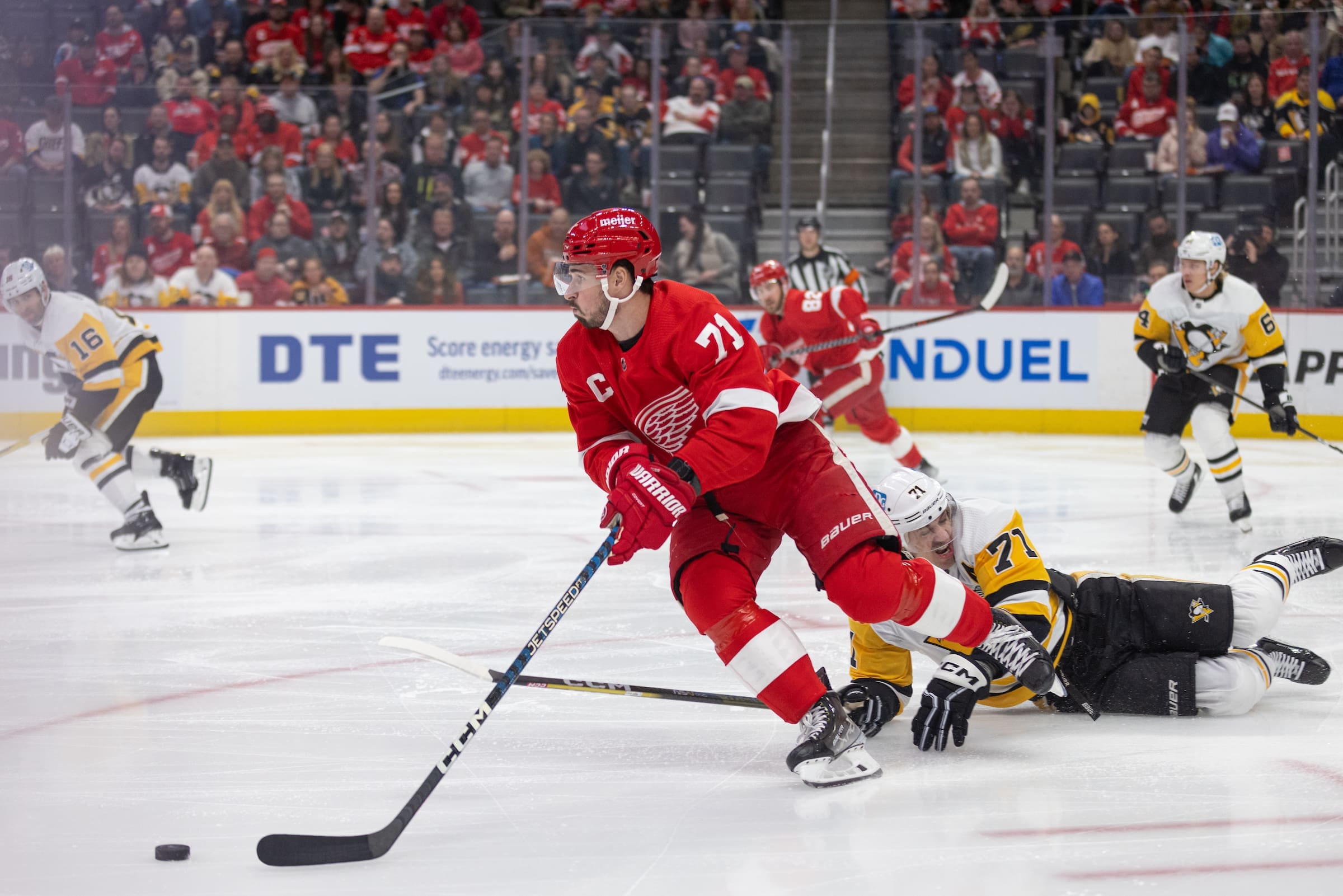 Over the years, different members of the Detroit Red Wings leadership staff have found unique ways to express how vital the need for consistency is to create a winning environment.
Mike Babcock liked to talk about players who were every dayers. Kenny Holland went on about how the NHL is a men's league. Jeff Blashill would discuss the relentlessness of the game at this level.
In the case of current Detroit head coach Derek Lalonde, his preference is to lean on the need for playing the right way every day. Follow the process, be consistent in their approach and good things should soon be on their way to the Red Wings.
He believes that the team is on the cusp of ascending to that plateau.
Off to the World Championships with Team USA…what a huge addition to our coverage. All the best, Derek. pic.twitter.com/Z3cHUH2Bdg

— Elliotte Friedman (@FriedgeHNIC) April 30, 2023
"I think we were fairly consistent with our team game," Lalonde said of the 2022-23 NHL season. "Not all the time, not exact, not where we want to be, but I certainly think something to build on."
If the Red Wings keep building that consistency into their team play, then the playoffs will come sooner rather than later to Detroit.
Red Wings Heading In Right Direction
Captain Dylan Larkin is another among the Detroit leadership group who is confident that the Red Wings are becoming more consisent in their performance. Certainly, there's evidence to bear that notion out. During the 2022-23 NHL campaign, the club was scoring more goals while allowing fewer pucks to enter their own net.
The Red Wings were displaying a dramatic reduction in the number of high danger chances the team was surrendering. At the same time, special teams were showing upticks in performance on both the power play and penalty kill.
Larkin believes the veteran presence that was the creation of the addition last season of such players as David Perron, Andrew Copp, Olli Maatta and Ben Chiarot is only going to make the transition to the NHL smoother as young draft picks like Simon Edvinsson and Marco Kasper are working their way into regular roles.
From Simon. 🫶 pic.twitter.com/dg8Y5jW5Cl

— Detroit Red Wings (@DetroitRedWings) May 5, 2023
"I felt with the younger players and guys we brought in in the summer this thing is headed in the right direction," Larkin said. "As much as you think about next year, you think with the young players coming into our lineup, it's a much better environment for them to succeed with support than we've had in the past.
"That's what I'm really excited about."
Still Work To Be Done
As much as it's great to be excited about what the future may hold for this team, there's harsh reality that is also in need of addressing. For all their promise, the Red Wings weren't able to get over that hump and into the NHL postseason in 2022-23.
The bottom line is that what the club wants to be is different right now than what they actually are.
BetMGM Sportsbook
States: All States Where Legal
GET THE APP
SIGNUP BONUS
UP TO $1,000!


Up To $1000 Paid Back in Bonus Bets
BET NOW
"I think we want to be a playoff team and we want to be a playoff team consistently," Detroit defenseman Olli Maatta said. "I think we showed some of that this year but I don't think we had that consistency in our game.
"We had some good stretches we played but also we had some bad stretches. Playoff teams don't do that. I think having that consistency night in and night out, we gotta find that."
Amidst his realism, Maatta is willing to allow that the Red Wings also aren't far off taking that step he sees them requiring to make.
"There's a lot of hope I think," Maatta said. "There's a lot of potential here and I think if we can find that consistency, with one more year of experience, I think we can be a playoff team."
Peer Pressure A Red Wings Movivator
Defenseman Moritz Seider is another who is confident that the Red Wings are moving toward where they ultimately want to be.
"I think we will do an even better job next year," Seider said. "We stayed in games that we weren't at our best and we found a way to, I don't know, get a point, or maybe even win the game. That was a big, big plus on our side this year."
He offers a simple explanation for his confidence that Detroit will be taking that next step soon. It all comes down to the peer pressure within the team's dressing room.
"Just our expectations in the locker room," Seider explained. "They just rise every year, maybe even every six months. I think we are all working very hard to get our goals and be a successful team and first of all a winning hockey team by the end of next season."