Red Wings Review: Magnus Hellberg's Future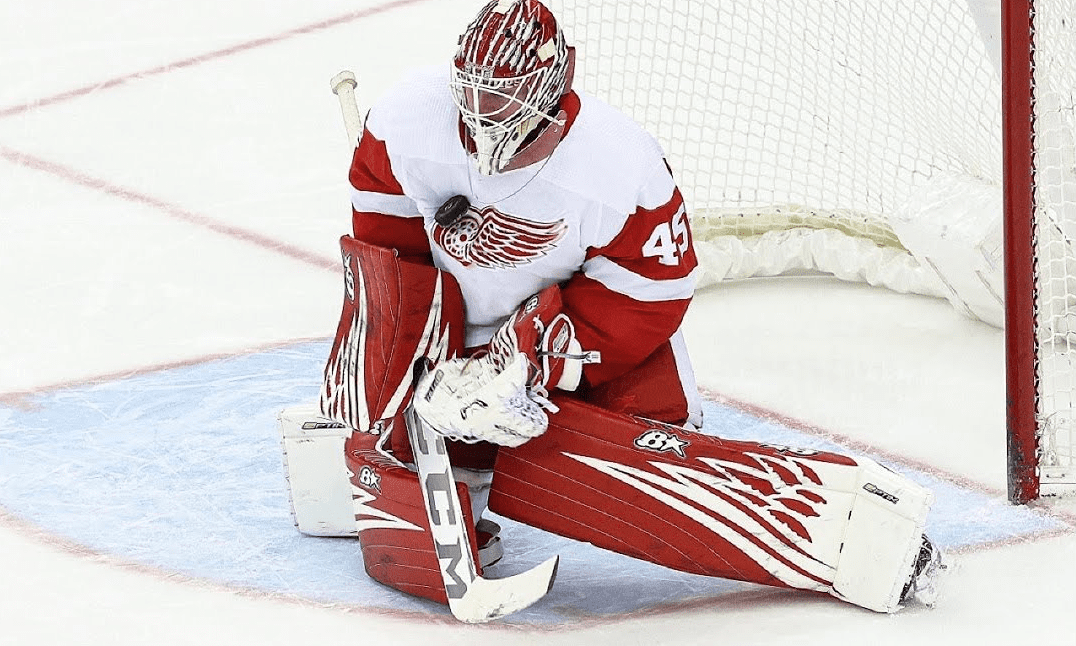 Detroit Hockey Now's Red Wings Review series is assessing every player who held a significant place in the fortunes of the 2022-23 Detroit Red Wings season. We'll be looking at the highs and lows they experienced during the recently-completed campaign, as well as what the future holds for them in Detroit. Today, we feature goalie Magnus Hellberg
Magnus Hellberg
Position: Goalie
2022-23 totals (GP-W-L-OT-GAA-Sv%): 31-17-4-8-1-3.29-.885
Contract Status: Becomes an unrestricted free agent July 1
Season Synopsis
Multiple NHL teams were interested in Hellberg's services last summer. He's 6-foot-6. Hellberg takes up plenty of net. He has looked impressive in international tournaments. He's looked sharp in the Kontinental Hockey League.  The Red Wings were interested in signing him after a tryout at the end of the 2021-22 season. But he signed with the Seattle Kraken.
The Kraken liked Hellberg, but had no room for him. When they attempted to get him through waivers so they could put him the American Hockey League, the Ottawa Senators claimed him. They also liked him, but they couldn't carry three goalies and also tried to send him to the AHL.
The Kraken reclaimed him on waivers. Surely, they thought, they could get him through waivers on the third attempt. Nope. The Red Wings claimed him because Alex Nedeljkovic was struggling.
Hellberg played well enough to replace Nedeljkovic, but he never quite played as well as the Red Wings needed him to play.
We hear from Magnus Hellberg after he makes 20 saves, pitching a perfect shootout, to help his Red Wings win in St. Louis on Tuesday. #LGRW pic.twitter.com/92aMWpDzCI

— Bally Sports Detroit (@BallySportsDET) March 22, 2023
2022-23 Red Wings Highlights
Hellberg posted 33 saves to beat the Calgary Flames 5-2 on Feb. 16 for his best performance of the season. It was the most saves he made in a winning effort.
Red Wings b LOVIN' their time out west. FIVE wins in a row now as they roll the #Flames in Calgary. Suter, Fabbri, Bertuzzi and TWO from Kubalik. Hellberg 33 saves. Going to Seattle Saturday to NOT "release the #Kraken " 26-20-and-8 now and lookin' GOOD doin't it! #NHL pic.twitter.com/sJILIaFoKv

— Parker andTheMan (@parkerandtheman) February 17, 2023
2022-23 Red Wings Lowlight
In his last six starts of the season, stretching from March 4 to March 31, Hellberg gave up 24 goals. He was pulled in the second period of one of those games.
His save percentage after Feb. 27 was .869. His save percentage in his last three appearances was .797.
 What Does His Detroit Future Hold?
Ville Husso started 56 games and won 26 (46.4%) of them. He earned points in 33 (58.9%) of those 56 starts.  When Detroit started its backup, the team won nine (34.6%) of 26 games.  The backups earned points in 12 (46.1%) of the 26.
The Red Wings are looking for an upgrade at backup goalie.
"I was pleased with Ville's play this year," Yzerman said. "But ultimately, collectively, our save percentage, our goals against average – which isn't just an individual goaltender statistic – it's a team statistic, even (save) percentage can be a team statistic … now the new one is expected goals, expected saves – those can be not just goaltender but team defensive statistics. We need to be better."
FanDuel Sportsbook Promo #1
ALL STATES WHERE LEGAL
GET THE APP
SIGNUP BONUS
$1000 No Sweat Bet


$1000 No Sweat Bet
BET NOW
Alex Nedeljkovic lost the No. 2 job to Hellberg and was demoted to Grand Rapids. But down the stretch, Nedeljkovic was more trustworthy than Hellberg.
Hellberg had a lower save percentage (.885) and his -8.2 Goals Saved Above Average (GSAA) was worse than Nedeljkovic's. Both players had five quality starts.
Feels as if the Red Wings want to acquire a dependable and proven NHL backup goalie to pair with Husso. That probably won't be Hellberg.